Market Awaits Fed Announcement
Inflation is the hot-button topic lately. It's now surpassed COVID-19 as the No. 1 concern for U.S. voters. But the actions the Federal Reserve is considering to combat inflation aren't alleviating fears. In fact, both the traditional and cryptocurrency markets alike are getting weighed down by it.
Investors in both markets are awaiting the outcome of today's Federal Open Market Committee (FOMC) meeting later today, with the crypto market remaining neutral over the past few days in anticipation.
That's because the Fed's main plan is to taper its printing. It wouldn't stop printing money, but it would drastically decrease the amount of cash printed each month.
Aggressive tapering, and/or raising interest rates would likely have a negative effect on the markets, pushing investors to move away from "riskier" assets ... such as cryptocurrencies.
On the flipside, if the Fed were to walk back any action to curb the rising inflation, Bitcoin (BTC, Tech/Adoption Grade "A-") should boom.
One thing is for sure, if the Fed loses control of the economy or inflation, then any action they take would be meaningless in the long term.
Which would mean that, despite a possible hit to cryptocurrencies in the short term, the Fed's incessant money printing proves the need for a more stable currency ... like Bitcoin.
And the Fed's floundering isn't the only factor fueling Bitcoin's bullish long-term outlook. Its fundamentals are improving across the board.
Bitcoin's hashrate — the measure of computing power dedicated to mining and processing Bitcoins — just recently hit an all-time high, and the Lightning network — a BTC Layer-2 protocol — continues to grow its user base.
Adoption growth can more easily be seen in the mainstream, as well, as more athletes now accept their salary in Bitcoin and are helping to promote cryptocurrencies in general (cough, cough, Tom Brady and FTX).
That's not even mentioning the countries and politicians who are now beginning to embrace Bitcoin.
For some reason, the U.S. is lacking in that regard. Why U.S. regulators have continued to insist on losing the race for the next great technological and financial paradigm shift is a mystery. It isn't too late for them to salvage the situation, but the clock is ticking ... especially as other countries are now beginning to attract top crypto talent and wealth.
I give it a year or two before most crypto whales own a property in El Salvador, making the country a crypto vacation paradise.
But even though the fundamentals and adoption are ticking upward, and the long-term outlook on the Fed's actions should be favorable for Bitcoin, the price action in the short term is just not keeping up.
BTC is trying to find its floor between $45,000 - $48,000, but nothing is sticking just yet. That range has acted as a pretty strong support so far, and there appears to be good volume there, however BTC has yet to bounce.
Here's BTC in U.S. dollar terms via Coinbase Global (Nasdaq: COIN):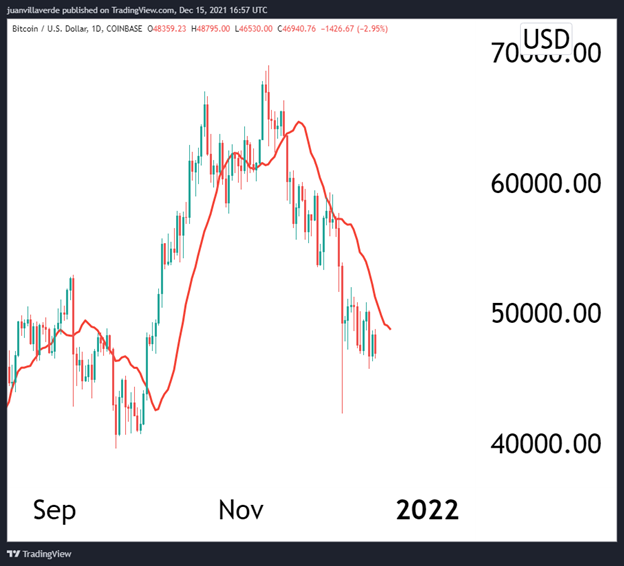 We do expect a bounce at some point in the near future, but the impending FOMC meeting is suppressing any real action in the crypto market so far.
Things could turn around for Bitcoin and the market at any point. However, unless we see a big price swing in either direction in the next few weeks, this bull market will likely extend ... and that big blow-off top so many analysts were looking for might take a little longer to play out.
Notable News, Notes and Tweets
As you prepare for holidays with your family who will inevitably ask about crypto, here are your prompts.
What's Next
This week will be a big test for the market. Most cryptocurrencies are sitting on top of some major support levels that have held up pretty well over the last few weeks and the market is overdue for a bounce and recovery, and that could happen at any time.
The announcement from the Fed today should be influential and will likely be the catalyst for a move in either direction. But there are other reasons to remain long-term bullish. Overall, it still seems like, despite what could be some short-term weakness, there is still some life left in this bull market ... and reason to remain hopeful for crypto in the medium term.
Turning to the long-term, the outlook remains very positive. The fact that investors all over the world are glued to their screens waiting on an announcement from the Fed just goes to show how weak the economy is ... and how dependent people are to the weakening dollar.
So, continue to tune into Weiss Crypto Daily for more insights into the macro backdrop for this market.
Best,
Alex