Market Holds Steady Over Holiday Break
Bitcoin (BTC, Tech/Adoption Grade "A-") is still trading range bound and appears unfazed by any market narrative.
Ethereum (ETH, Tech/Adoption Grade "A") is in the same boat, as investors seem confused by the latest price action.
Welcome to 2022!
We hope you had a great 2021 and are as eager for the new year as we are.
So, how is the start of 2022 shaping up? Very similar to how 2021 closed.
In fact, the market hasn't changed much at all. Which is expected, given that many people simply turned away from the market for the past few weeks.
Bitcoin and Ethereum have been range bound for almost an entire month now, with nothing able to push the market significantly in one direction or the other.
There aren't any other big narratives driving the market at this point and it seems that many investors are confused. We'll be evaluating the on-chain data to see how they proceed now that their back in front of their monitors.
Still, we won't be able to draw any significant conclusions about this market until either Bitcoin or Ethereum breaks out of their current ranges. For now, we can simply wait and see what happens.
In the meantime, the key support for Bitcoin is $42,000, with $52,000 acting as resistance. If one of those two levels breaks, we may be able to determine the short- and medium-term direction of the market.
Here's BTC in U.S. dollar terms via Bitstamp: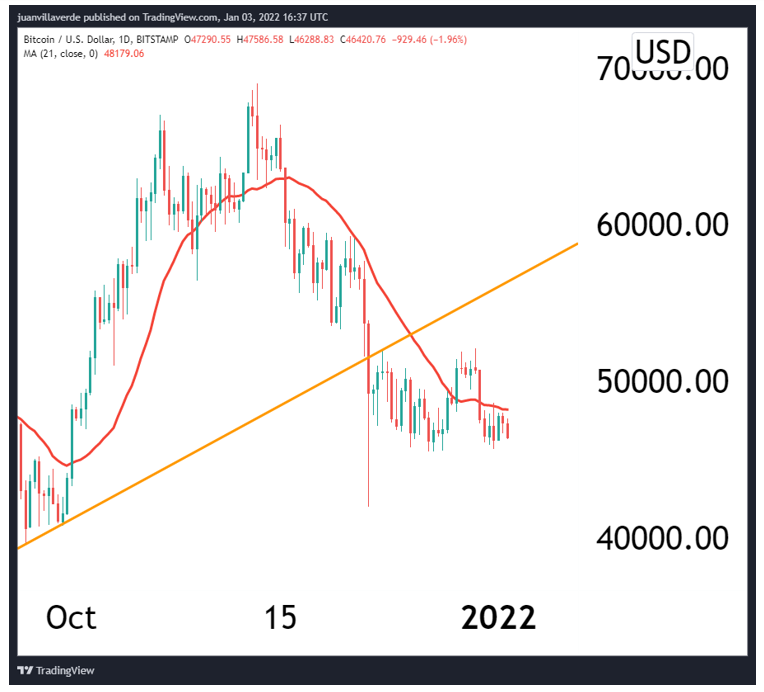 As for the long-term outlook, we're still bullish. Especially today.
That's because today is Bitcoin's 13th birthday. Satoshi Nakamoto mined the first block on this day in 2009.
The fact that this emerging asset class has lasted 13 years should tell you all you need to know about the resiliency of cryptocurrencies. Especially when the media would have you believe that Bitcoin is dying all the time.
So, let me be as clear as possible: Bitcoin — and the broad crypto market — is here to stay.
But for now, the medium-term outlook is unknown.
As for Ethereum, it's lost a bit of momentum and is no longer outperforming Bitcoin as it had been for much of Q4 2021. Now its range is between the $3,500 and $4,200 levels.
There is some resistance between recent prices — near $3,700 — and that $4,200 level, pictured by the yellow downtrend line below. If ETH can manage to break above that downtrend line, it may gain enough steam to break out of the top end of this range.
Here's ETH in U.S. dollar terms via Bitstamp: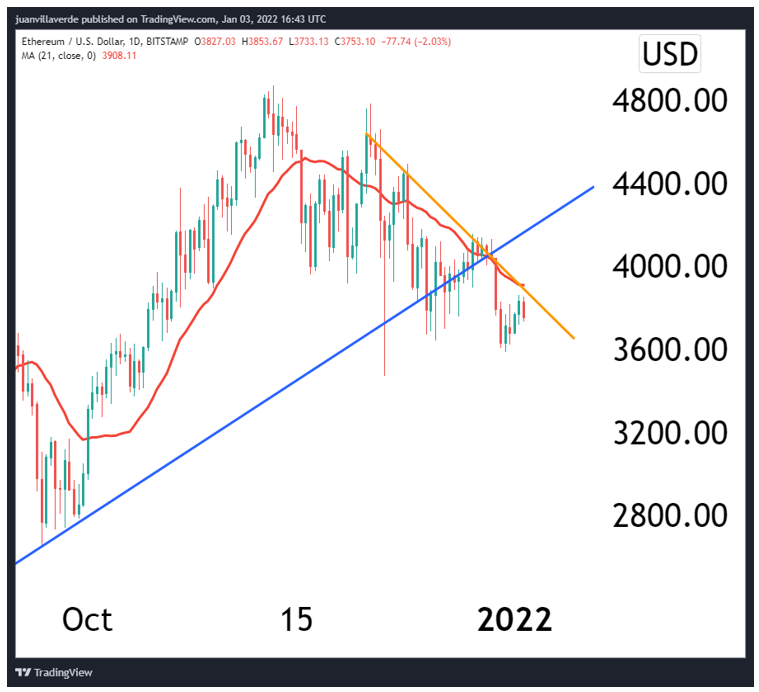 So, all eyes will be on these two top cryptos as 2022 gets going to see where the broad market will go in the near term. For now, though, it looks like we'll be stuck with sideways trading.
No narrative, news headline, story or change in fundamentals have been able to move this market over the last few weeks. We do expect that to change at some point soon, though.
As always, we will keep you closely updated on any changes to the market as we proceed into the new year!
May 2022 bring us all some joy, wealth and excitement.
Best,
Alex