Market Recovering, But Still Isn't Giving the All Clear
Bitcoin (BTC, Tech/Adoption Grade "A-") has seemingly stabilized near the $50,000 level and has not been able to definitively climb past that mark so far.
Ethereum (ETH, Tech/Adoption Grade "A") continues to outperform Bitcoin, possibly hinting at a larger trend shift.
Polygon (MATIC, Tech/Adoption Grade "B-") has been absolutely crushing it and outperforming the market so far this week.
We've seen some cryptocurrencies recover slightly after last week's disappointing market drop, though some are lagging behind.
Surprisingly, Bitcoin is one of the latter. In fact, BTC's chart looks much weaker compared to some of the other top cryptocurrencies — most notably Ethereum.
Now, that isn't to say that Bitcoin didn't recover at all; it climbed over 20% from its Dec. 4 low of $42,000. However, BTC has failed to garner any significant momentum and is losing pace to some altcoins.
This might sound like bad news if you are a Bitcoin maximalist or are only invested in the number one cryptocurrency, but in my opinion, this is actually a sign of a maturing cryptocurrency marketplace — one decoupled from Bitcoin.
Here's BTC in U.S. dollar terms via Coinbase Global (Nasdaq: COIN):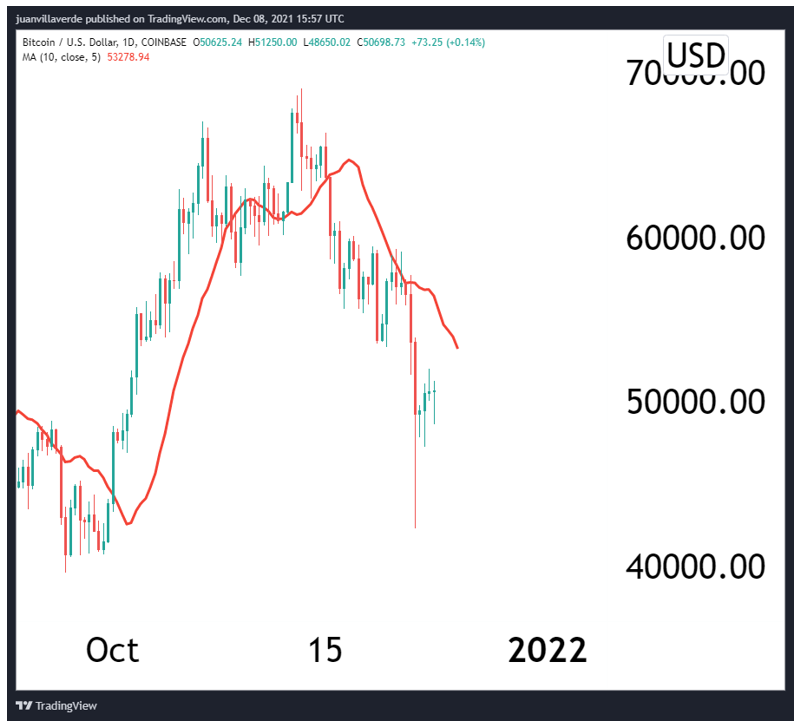 Ethereum, on the other hand, has been holding up fairly well. It never dipped below the $4,000 support level during the latest crash. Granted, it hasn't exactly blasted off during this current recovery, but it has outperformed most cryptocurrencies, specifically Bitcoin.
The ETH/BTC pair, the trading pair that denotes Ethereum's performance compared to Bitcoin, is currently breaking out of a long-term descending wedge.
In other words, ETH is outperforming Bitcoin right now and may continue to do so for some time.
Here's ETH/BTC pair via Coinbase: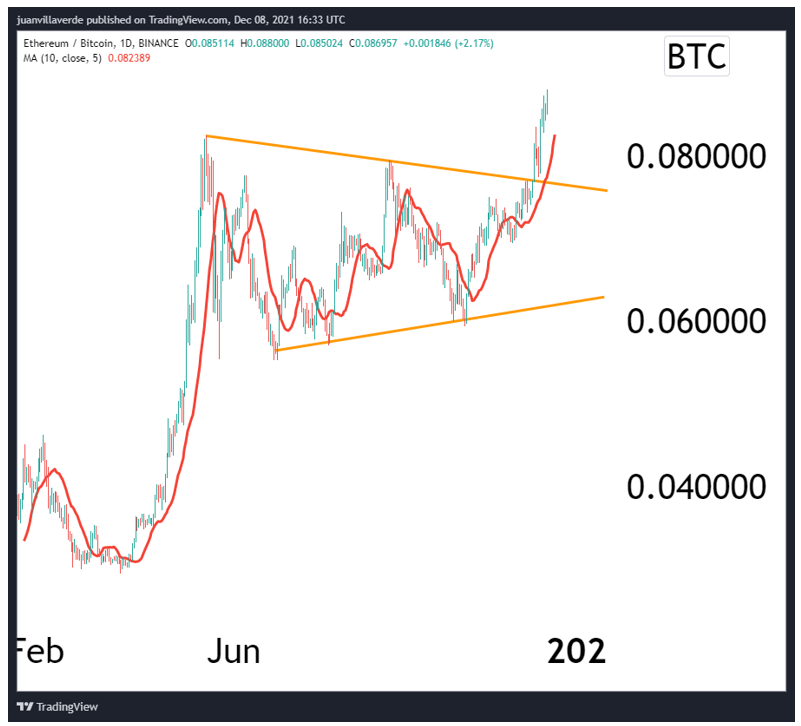 This could be the start of a new trend where Ethereum leads the pack over the rest of this bull market.
Interestingly, Ethereum has outperformed Bitcoin since this bull market began … though it had been unable to break above a key resistance level — the 0.08 mark — against its Bitcoin trading pair.
Until now.
That level was last seen in July 2018. In fact, ETH/BTC traded as low as 0.0162 in September 2019, so Ethereum has climbed itself out of a very deep hole.
ETH still needs to cross back above the $4,600 range to confirm a breakout on its dollar pair, however. If it does, we'll likely see a new all-time high for the second largest cryptocurrency by market cap.
Here's ETH in U.S. dollar terms via Coinbase: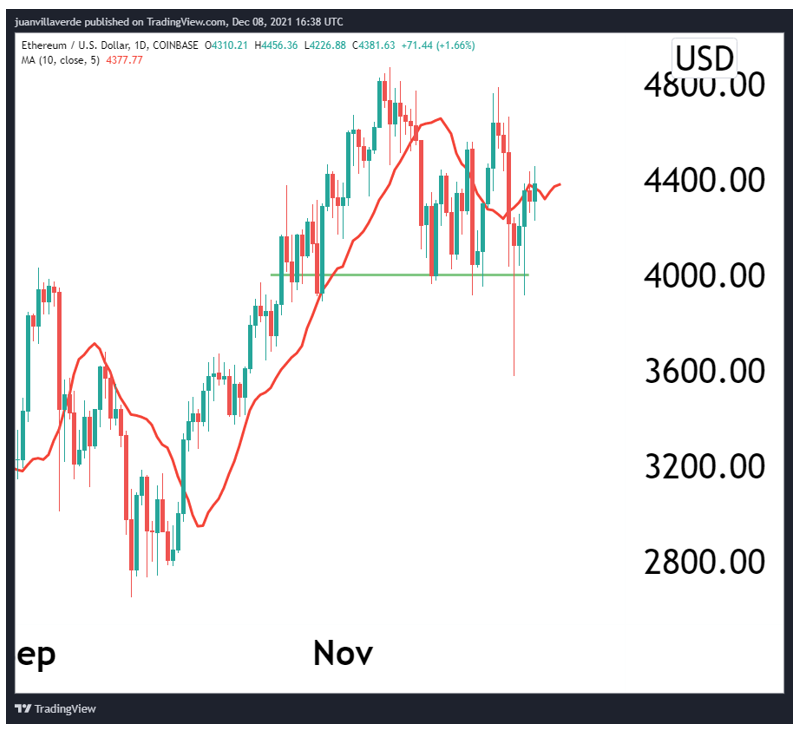 As much as ETH has been outperforming the market, it doesn't hold a candle to MATIC's performance over the past week. Very few altcoins do.
Polygon is gaining tremendously in popularity, and sentiment is building up online and on Twitter. Polygon's decentralized finance (DeFi) ecosystem continues to grow as more investors begin to explore yield farming.
The MATIC token wasn't impervious to last week's dip, as it dropped from around $2.25 all the way down to a brief low of $1.62. But MATIC almost immediately bounced back to the $2.00 level before resuming its climb toward its all-time high.
MATIC is now trading around the $2.50 level and is getting close to its highest ever daily close.
The all-time high for MATIC is about $2.82 on Coinbase. Expect a test of that level at some point this week. And if MATIC can close above that high, it'll likely head north of $3.00 for the first time ever.
Here's MATIC in U.S. dollar terms via Coinbase: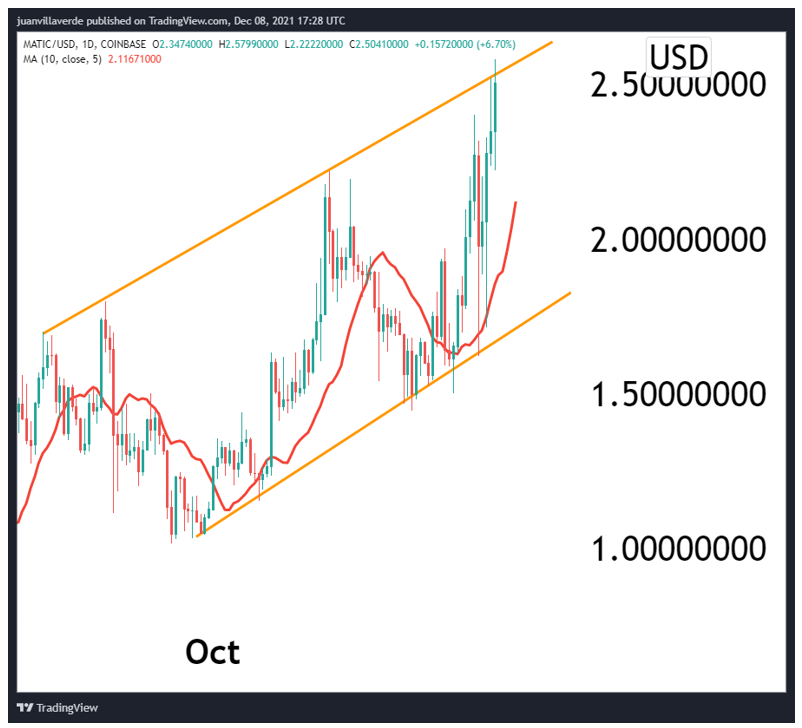 Notable News, Notes and Tweets
What's Next
The market recovery seems to be taking shape now. If the last few days of price action are any indication, we could see altcoins stealing the spotlight for a little while.
Bitcoin is by no means out of the woods; it's very much in neutral territory and needs a convincing break to the upside to fight off the bears.
For now, it looks increasingly likely that Bitcoin will go into a prolonged period of sideways trading. That, in turn, will open the door for altcoin trading.
The trend shift is very apparent in both Ethereum and Polygon, two crypto projects we've been very bullish on for some time now. We'll continue to update on the situation and highlight the trades that outperform the industry benchmark.
Best,
Alex