Market Steady as Fed Confirms Rate Hike
While we'd like to believe otherwise, the crypto market doesn't operate in a vacuum. That's why recent macroeconomic events have had a heavy impact on the market as a whole.
Right now, America is feeling the effects of the vast money printing used to ease the burden of the early COVID-19 lockdowns. That leaves the Federal Reserve to try and do what they can to right the ship.
That's why those macroeconomic pressures have ramped up a bit lately. The latest Federal Open Market Committee (FOMC) meeting was today, and the Fed is planning on continuously raising interest rates in hopes of putting a dent in inflation.
The question is whether they can without crippling the U.S. economy.
Both the traditional and crypto markets have already likely factored in the expected 50-basis-point hike that the Fed has just confirmed. The 50-basis-point hike is the largest since the year 2000. That the market is stable now is a positive sign that the hike has already been priced in. And if that's the sole conclusion from today's meeting, we don't expect the market to react too strongly.
However, the Fed's future plans are still in question … and could scare investors.
It's hinted at accelerating its Quantitative Tightening plan — reducing the amount of money printed each month and tightening its $9 trillion asset portfolio. That would certainly create an economic squeeze.
In the past, hawkish Fed policies like these have frightened investors away from riskier assets — which crypto is generally lumped with, despite its acting as a hedge against centralized policy. That has at times sent the crypto markets into a free fall.
Fortunately, in this case Bitcoin (BTC, Tech/Adoption Grade "A-") and the crypto market are holding up surprisingly well considering the macro conditions. BTC has essentially been trading sideways near $40,000 since the start of the year — consistent with what our Crypto Timing Model has outlined for the long-term NEUTRAL trend.
Perhaps investors are starting to realize that there are few opportunities as enticing as cryptocurrency right now, especially considering the potential for stagflation in the near future.
At the very least, it bodes well that the broad market is able to hold its own in light of today's news.
And if the Fed were to back down from their hawkish stance in the coming months as people push back against tightening their belts? Then that should be bullish for crypto, too.
If inflation were to persist, we could expect cryptocurrencies to continue to grow in price as more investors look to dump their cash positions.
Either way you cut it, in the long run Bitcoin and cryptocurrencies will continue to grow in the years to come.
While Bitcoin has been relatively stable over the past few months, there has been some volatility within its tightening range. If BTC continues to slip and falls below $37,500, it would break its pattern of consecutive higher lows, therefore increasing the chance that it retests its summer lows near $30,000.
So, it's very important it holds above $37,500 if we're to see any sort of bounce in the short term. If it does hold, though, we still expect to see more sideways trading throughout the rest of Q2.
Here's BTC in U.S. dollar terms via Coinbase Global (COIN):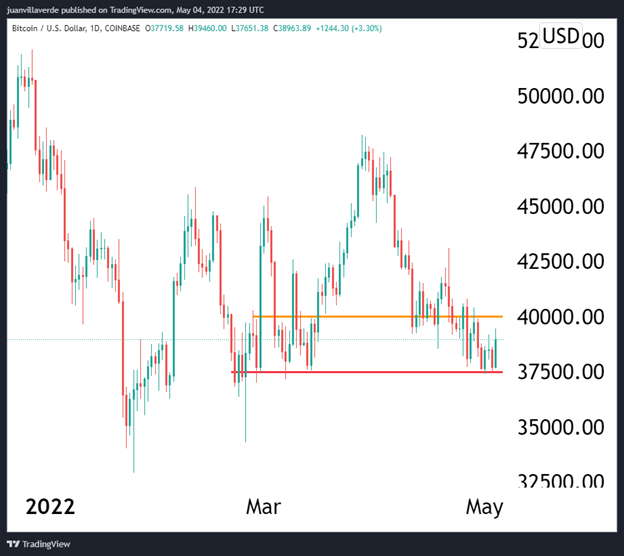 Ethereum (ETH, Tech/Adoption Grade "A") has actually been a bit more volatile than Bitcoin so far in 2022, down around 24% year to date compared to Bitcoin's 19% fall over the same time.
That said, Ethereum's trend looks a bit better in comparison: ETH is still well above its upward trendline connecting its two most recent medium-term lows. If ETH can turn things around in the next few days and solidify its April 30 price as the recent low, that would set a streak of three consecutive higher lows for Ethereum. If it can follow that up with a higher high, we might see ETH finally break above the resistance at $3,600.
Even if that turns out to be a dead-cat bounce — a short-lived run — it would make for a tremendous profit-taking opportunity.
It's definitely something to keep your eye in if you're looking for local strength to collect gains. But it's equally important to keep in mind that, due to the overall trend still being NEUTRAL, a trend of higher lows doesn't automatically mean we're going to see a higher high, as well.
In fact, a series of higher lows and lower highs isn't out of the question and could form a tightening triangle on ETH's chart as this sideways trading plays out. Stay prepared for either scenario.
Here's ETH in U.S. dollar terms via Coinbase: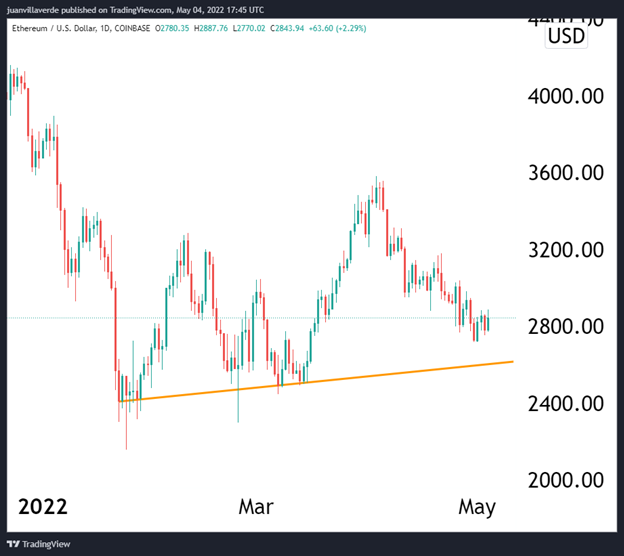 Notable News, Notes and Tweets
What's Next
The Federal Reserve is playing a crucial role in our economy right now, whether it likes it or not. Its decision on how to juggle the economy and rising inflation will have massive effects on not only the traditional equities markets and the cryptocurrency market, but on the everyday lives of average Americans … and potentially even more people across the globe.
If the Fed moves too quickly with their hawkish decisions, it risks spooking investors and sending markets into a tailspin. But if it doesn't raise rates quickly enough, it risks allowing inflation to rise past levels that the average citizen can deal with — another outcome nobody wants.
Can the Fed walk this tightrope without any catastrophes?
In the short term, yes. It can likely manage this situation over the coming months, maybe even over the next year or two. But at some point, it'll likely start the money printing again to alleviate short-term struggles and kick the can down the road like it has countless times before.
When that day comes, expect an even larger audience to jump aboard the crypto bandwagon and opt out of the system.
Best,
Alex