Markets Still at the Mercy of the Fed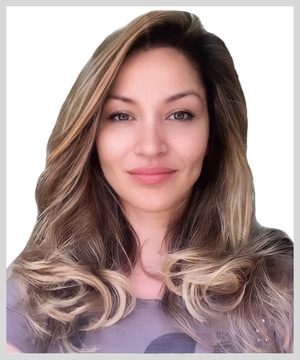 By Marija Matic
Bitcoin (BTC, Tech/Adoption Grade "A-") corrected to levels we haven't seen in almost two months over the weekend in preparation for the upcoming Federal Open Market Committee (FOMC) meeting.
The major reason? Because the Fed has been indicating it'll approve of a 50-basis-point rate hike at the meeting. The whole market has braced for America's central bank to begin decreasing its $9 trillion portfolio while it battles soaring inflation.
In light of this, neither the monthly and weekly candles closed well. Still, yesterday's bounce off support is a good sign and provided some relief, as you can see in the BTC/USDT daily TradingView chart below. It shows BTC bounced after touching and testing the important $37,500 level, which sits at the very bottom of the wider trading channel, in which BTC has been since January. BTC is now trading near $38,450: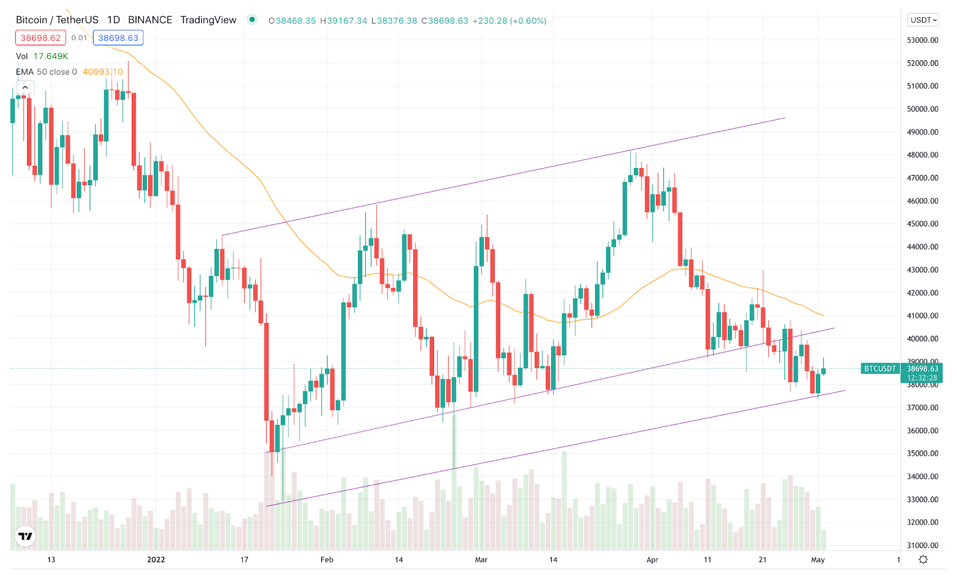 If the price breaks and closes below support at $37,500 — represented by the lowest purple line in the chart — BTC may dump hard. If it does, it could possibly create another "double bottom" — a generally bullish indicator — to match the one it made in January at $32,900.
Still, a double bottom isn't a guarantee of bullish action, and it's still too early to know if one is in the cards for Bitcoin at all.
I'm all for optimism, but let's not count our chickens before they hatch.
Bitcoin continues to be affected by the S&P 500 and tech stocks. Any bullish move is unlikely until it decouples from them, or all markets reverse course.
In the meantime, a number of traders are holding tight until the trend is established. But that doesn't mean they're sitting idle. There are still ways to make money in crypto, even in a sideways or volatile market.
In fact, my colleague Juan Villaverde has been working on one such strategy and has applied it to help his Weiss Crypto Portfolio members earn income. If you want to learn more, consider tuning in for his Crypto Profit Challenge.
Notable News, Notes & Tweets
What's Next
BTC and Ethereum (ETH, Tech/Adoption Grade "A") have been among the strongest crypto in the space recently. In fact, ETH has been holding its ground slightly better than BTC, all things considered. It's down -42% from its all-time-high price, while BTC is down 44%.
The bearish sentiment won't last forever, but at least it creates some good opportunities, especially when it comes to altcoins which are heavily discounted in this kind of market.
Still, I'd recommend doing your research before investing. Just because they're at a discount now doesn't mean they can't go lower. On average, most altcoins are down 60%-80% from their all-time highs. Some will likely stay at these levels, but others can easily drop 95% from their highs.
My recommendation if you do find an altcoin you want to invest in would be to dollar-cost average your entries. Patience is the key here.
My colleague Chris Coney just released a video about a neat tool he's found to help you deploy such a strategy. You can watch his Sunday Special on it here.
And keep checking in with Weiss Crypto Daily for more updates and strategies for how to best tackle this market.
Best,
Marija Matić