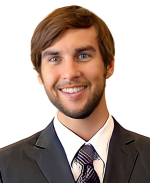 By Nilus Mattive
We often characterize Bitcoin (BTC, Tech/Adoption Grade "A-") as digital gold. This depiction is accurate because like gold, Bitcoin's supply is strictly limited.
It's also "mined" in a process that takes real time and energy … and it's now widely recognized worldwide as a universal store of value.
However, that doesn't mean real gold has completely lost its luster. In fact, the same technology that underpins Bitcoin has now solved two of gold's biggest drawbacks by making it …
Easier and cheaper to own directly, rather than needing to rely on others to hold your gold, and …


Portable, by keeping gold-leveraged tokensin your wallet.
In short, thanks to blockchain technology, you no longer need to pay someone to store or transport your gold.
That's an absolute game changer for precious metals investors. Yet, we suspect most of them have no idea that this new crypto-based technique even exists.
In fact, out of $12.5 trillion in physical gold currently pulled out of the ground, a mere 0.01% of it is currently using the new crypto technique I'm going to share with you today.
That amounts to over $12 trillion in unnecessary costs and lost income for millions of investors.
But before we get into how crypto will help with gold ownership, I want to draw your attention to ...
Three Powerful Reasons Gold Can Keep Shining
The first force is peak gold.
Peak gold is the idea that new gold discoveries are going down, and the grades of those discoveries are falling fast. So, with gold becoming scarcer, the value goes up.
The second force is growing demand in important markets.
In countries like China and India — which have a cultural affinity for gold — the middle class is expanding, which suggests growing demand.
The third force is ballooning government debt.
In a world of massive money printing, fixed-supply stores of value like gold (and Bitcoin) not only maintain their worth but should continue appreciating on a relative basis.
And that's a great segue to the perfect intersection of physical gold and digital currencies.
Introducing the Better, Blockchain-Based Way to Invest in Gold
This concept of crypto gold is called PAX Gold (PAXG, Unrated). Chris Coney introduced this stablecoin pegged to the price of gold a few weeks ago. But he focused on how to transact with it. Today, I'm focusing on its potential as a store of value.
PAX Gold works because it's 100% backed by gold. It doesn't use algorithmic arbitrage systems or other similar mechanisms. Nor is there any leverage being used.
One PAXG token represents 1 fine troy oz. of a London Bullion Market Association–accredited London Good Delivery gold bar. These bars typically weigh about 400 fine troy oz., making them worth more than $700,000 apiece at current prices.
If you own a PAX gold token, you own the corresponding amount of gold being held. You can even look up the specific serial number and physical characteristics of the bar your particular token is tied to.
This is why PAX Gold's price directly mirrors the current spot price of 1 oz. of gold.
The bars are stored in London vaults (e.g., Brink's) under the custody of the Paxos Trust Company. Paxos is a state-chartered trust company regulated by the New York State Department of Financial Services, which means it's held to a very high standard and ensures customers' assets are protected. It also means your gold is separated from Paxos Trust's assets, meaning it's safe from confiscation in the event of a company bankruptcy.
When it comes to utilizing tokens, PAXG owners have a wide range of options. They can be converted into U.S. dollars or unallocated gold in a Loco London unallocated gold account. Or they can be traded for other fiat currencies or cryptos using exchanges.
They can also be redeemed for physical gold through a series of dealers around the world. With enough tokens representing enough gold, it's even possible to request the physical delivery of a full London Good Delivery gold bar.
Unlike traditional gold markets, PAX Gold trades globally, around the clock, seven days a week. It also carries a low minimum initial investment — just 0.01 PAXG or roughly $18 at current spot prices. The tokens themselves can be divided all the way down to 18 decimal points.
But what about fees?
In terms of using a Paxos account, there are no storage fees. Creation/destruction fees — or conversion/redemption fees — are tiered based on volume. For transactions that occur on-chain (i.e., transferred via Ethereum (ETH, Tech/Adoption Grade "A"), there's a Paxos transaction fee of 0.02% as well as any associated Ethereum gas fees. You can find all the details here.
Add it all up, and you have a precious metals investment that's managed by a regulated entity … 100% backed by physical gold … easily divisible and tradable at any point in time … with relatively low transaction fees and no additional storage costs.
All these elements combined make PAX Gold a great alternative to holding physical metal or using other financial instruments like exchange-traded funds.
Here's a comparison table to show you what I'm talking about: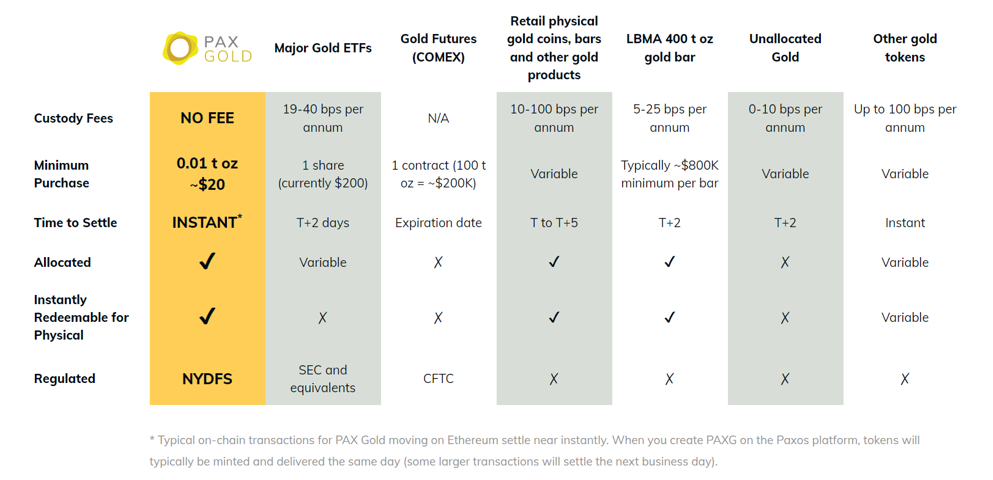 So, if you were looking for a store of value to escape the volatility affecting both crypto and equities, consider PAXG as an alternative way to get that gold exposure.
Best,
Nilus