Navigating Crypto's Summer Slowdown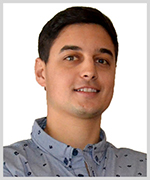 By Alex Benfield
Over the past couple of weeks, a peculiar calmness has descended upon the crypto market.
This usually buoyant and volatile space has taken a surprising breather. In fact, it is mirroring the holding pattern we have observed in the S&P 500, which seems to have comfortably set up camp near the $4,100 level.
But currents of change are stirring beneath this deceptive placidity. The lull in price volatility over the past few days masks a pivotal phase the crypto market is now facing.
You see, our crypto market leaders are at the precipice of significant support levels, following a correction that sent prices sliding downward over the past month. And it's highly unlikely that prices will continue to idle at these levels for much longer.
The crypto market is poised to make a move: It will either descend further into the valley or make a renewed effort to challenge these resistance levels.
As we inch closer to summer, the question that's buzzing in the mind of every investor is whether the market has the stamina to make one more bullish charge.
So far, we have been quite clear in sharing our outlook for a more subdued summer for the crypto markets.
After all, the old market adage "Sell in May and stay away" has a stubborn habit of proving its mettle. And we are inclined to believe this year will be the same.
However, the price action over the coming weeks is a wild card. If our market leaders can overcome their resistance levels before the summer lull sets in, then the narrative may take an interesting turn.
On the other hand, if prices breach the current support levels, we might be staring at a prolonged winter … with the next big bullish rally deferred until the end of the year.
So, price action over the next two weeks will be a crucial bellwether.
Checking in with Bitcoin (BTC, "A-"), it is still trading up more than 60% year to date and sits just under $27,000. Although that might be down 14% from its 2023 high of $31,000, I would still call that a great start to the year.
If the bulls can give Bitcoin one more push, it will attempt to establish itself above that $30,000 level and perhaps make a run for $40,000.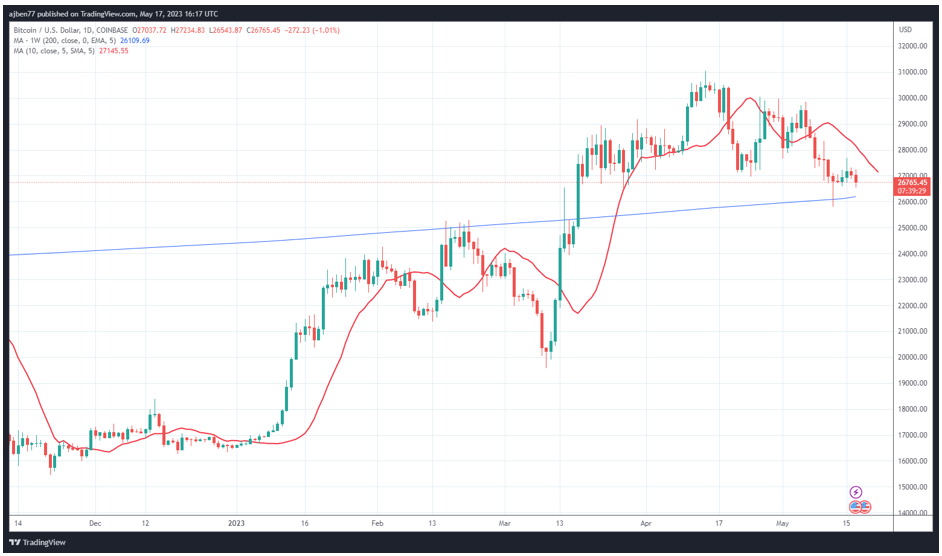 With the 2023 Bitcoin Conference coming up this week, who knows what might be announced this year.
Just two years ago, Jack Mallers — founder and CEO of Zap, a noncustodial wallet that allows users to make payments via the Lightning Network — delivered the big news that El Salvador had established a Bitcoin standard and accepted BTC as a national currency.
Many companies tend to save important announcements for this week, so it will be exciting to see what we might hear. Since Juan and I will both be attending this year, we will be sure to give you a recap of anything we find interesting.
Overall, amid all the market uncertainty, it's essential not to lose sight of the broader picture.
The crypto market continues to promise substantial returns over the long term, because the underlying technology driving cryptocurrencies and blockchain is still innovating and making strides in various industries.
This bodes well for the future of crypto, as adoption at a mass scale will likely drive prices upward over the long term.
Additionally, regulatory clarity is slowly starting to emerge, which should help in reducing the risk associated with investing in cryptocurrencies.
Rather than dismissing it outright, governments and central banks around the world are taking note of the disruptive potential of crypto. Now they are figuring out ways to regulate and integrate it into the existing financial system.
Furthermore, new investment avenues such as DeFi and non-fungible tokens are opening up, providing investors with more opportunities to gain exposure to the crypto market.
These trends also point toward the maturation of the crypto market, which should help attract more institutional investors.
Ultimately, while the short-term outlook may seem uncertain, the future of crypto remains bright. And a patient, long-term approach is likely to yield the best results.
In fact, my colleague Chris Coney has a strategy in play that's allowing him to target DeFi opportunities that offer yield in any market.
I highly suggest you learn more about it by watching his Superyield Conference today. We're taking it offline tomorrow, so this could be your last chance.
So, even though the next couple of weeks may indeed be critical, investors like you can benefit from remembering this old investing saying: "It's time in the market, not timing the market, that counts."
Best,
Alex