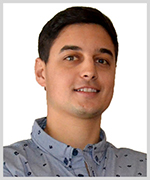 By Alex Benfield
The bulls and bears have been in a tight battle over the past two weeks.
Bears are beating back prices as they touch overhead resistance as bulls hold prices high enough to keep the current rally alive and above support.
Leaving the market at an impasse … for now.
Even the macroeconomic forces aren't giving us clarity. The latest Federal Open Market Committee meeting ended in another 75-basis-point hike. That's usually an anchor on asset prices — especially riskier sectors like tech and crypto.
But not this time. That's because Fed Chair Jerome Powell rounded out his remarks with a few slightly more dovish promises regarding future action from the Fed.
The equities and crypto markets alike rallied when they heard that and are both now trading higher in anticipation of an upcoming Fed pivot. Whether the Fed actually does decide to pivot in the next few months is left to be seen, but the recent strength in this rally can be attributed to a more optimistic market.
Still, the crypto market leaders will need to clear overhead resistance in the next week or so if this rally is to continue or stall. If those resistance levels break and the market leaders move higher, investors may find a good selling opportunity in preparation for what we expect to be a drawn-out period of sideways trading.
If this rally stalls, the market will continue to trade sideways, just at lower levels than where we currently are.
Bitcoin (BTC, Tech/Adoption Grade "A-") is currently sitting just under its overhead resistance near $24,000. If BTC can break through that level, there is very little resistance until $28,000, which would represent a 16% price swing if BTC can make the climb.
If BTC fails to rally in the coming days, it'll likely retest $22,000. If that level breaks, Bitcoin will fall back to $20,000 which should offer decent support.
Here's BTC in U.S. dollar terms via Coinbase Global: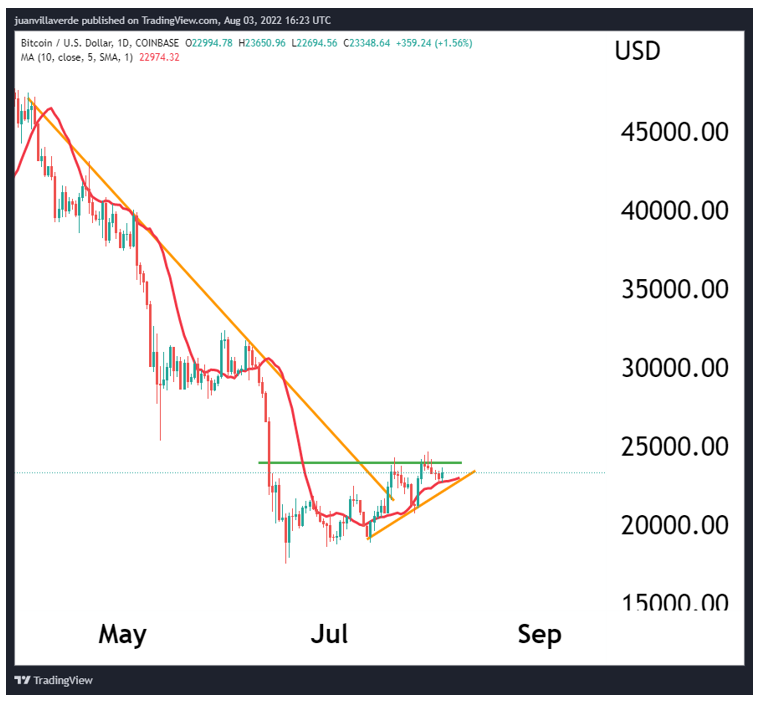 Ethereum (ETH, Tech/Adoption Grade "A") has continued to lead this rally, climbing its way back above $1,600 and its moving average.
However, there's a lot of resistance on ETH's chart between $1,800 and $2,200 so it'll have a tough time pushing forward. And it will need to if it's to stay above its moving average.,
Luckily, ETH has a big narrative driving sentiment positive: its Merge event, scheduled for Sept. 19.
The Merge has been hyped so much for so long, it wouldn't be surprising to see ETH crash through some overhead resistance leading up to the event as traders load up.
The Merge — which will change ETH from proof-of-work to proof-of-stake — has been likened to changing an airplane's engine while flying. That's why so many were reassured to see two testnet merges completed successfully.
And with just one more testnet to go, things seem to be in shape for the main event, though my fingers will remain crossed until it's over!
In the meantime, ETH will need to hold above $1,650 over the next few days and hopefully push back above $1,700 soon. If it falls below its moving average, it could retest $1,450 again.
Here's ETH in U.S. dollar terms via Coinbase: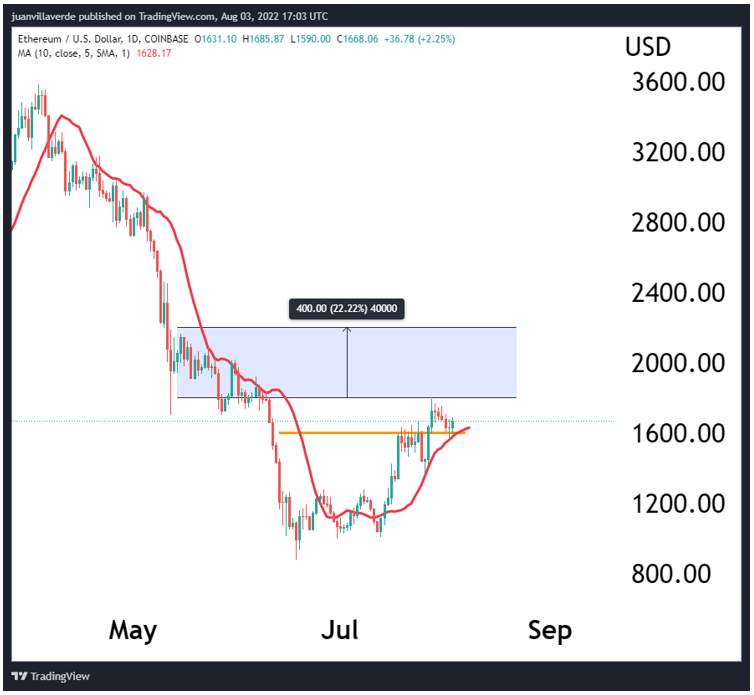 Notable News, Notes and Tweets
What's Next
The crypto market's coming up on some very important levels that could determine the medium-term direction.
If market leaders Bitcoin and Ethereum can break through the overhead resistance, we may see more neutral market conditions in the months ahead.
That could potentially reveal that the June low is in fact the bear-market bottom.
If they fail to clear those levels, then further downside is still on the table.
Which outcome is more likely? It's impossible to say with certainty right now. But in all likelihood, we won't be able to confirm a bear-market bottom until the Fed commits to a policy shift.
For now, patience. We'll watch and wait and let the market tell us what to do next.
During bear markets, it's important not to jump out in front of your skis. After all, the only thing worse than being in the red is getting completely liquidated and out of the market.
By letting the market come to you, you take less risk chasing predictions and can better position yourself to take action once the market direction is confirmed.
Best,
Alex