Record Inflation Grabs Headlines
Bitcoin (BTC, Tech/Adoption Grade "A-") has been weakening over the past several weeks, but it's up about 2% today to $48,400.
Ethereum (ETH, Tech/Adoption Grade "A") is down 1% to $4,050, but it has fluctuated throughout the day.
Bitcoin's crypto market dominance fell 1.5 percentage points to 41%.
Bitcoin has been struggling recently but jolted briefly today after the news that U.S. consumer prices in November jumped to a multidecade high of 6.8% over the prior year.
Still, that's little consolation as Bitcoin has shown greater and greater weakness compared to the broader market and altcoins, and the current price action is mimicking the end of the 2017 bull run.
Back then, Bitcoin lost ground while altcoins surged until the broad selloff in January 2018. Bitcoin has consistently slid since it established a new all-time high of $69,000 on Nov. 10, and it hasn't overtaken its 21-day moving average since Nov. 16.
That's concerning for its short- to medium-term price action. Long-term, the immediate fluctuations are relatively meaningless considering its strong fundamentals and growing adoption.
That's why our long-term outlook for Bitcoin still hasn't changed. We'll be watching nearer-term price action much more closely, however.
Here's Bitcoin's price in U.S. dollars via Coinbase Global (Nasdaq: COIN):
In Bitcoin's absence, Ethereum is looking more like the market leader. It's shown impressive strength through this volatility. If the market continues decoupling from Bitcoin, Ethereum could pave the way for other altcoins to go higher.
For now, $4,000 is acting as critical support. So far, this level has been tested six times over the past 80-day cycle and held each time, which instills confidence. But any weakness at this level could spiral further.
Bitcoin's movement has weakened market sentiment, so Ethereum could face additional pressure. ETH is sitting below its 21-day moving average, but it has fluctuated above and below the level over the past two weeks.
Here's Ethereum's price in U.S. dollars via Coinbase:
Index Roundup
It was a tough week for the crypto market overall. Bitcoin dragged most of the market lower, but the largest altcoins held their value better than their less-established counterparts.
The Weiss 50 Crypto Index (W50) dropped 13.89% as most cryptocurrencies struggled to tread water.
The Weiss 50 Crypto Ex-BTC Index (W50X) slumped slightly less, registering a dip of 12.73%, without Bitcoin's influence.
Breaking down this week's performance by market capitalization, we see that the large-caps outperformed the more speculative smaller and mid-cap cryptocurrencies.
The Weiss Large-Cap Crypto Index (WLC) decreased 13.01%, holding up the best during the selloff.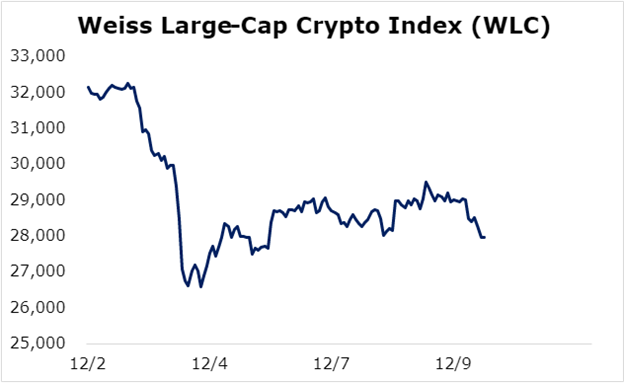 Mid-cap cryptocurrencies fared in the middle of the pack, as the Weiss Mid-Cap Crypto Index (WMC) declined 15.88%.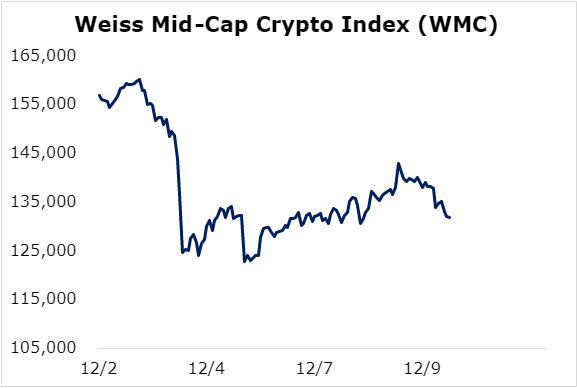 The Weiss Small-Cap Crypto Index (WSC) fell 18.73%, showing that the most speculative altcoins struggled more than their peers.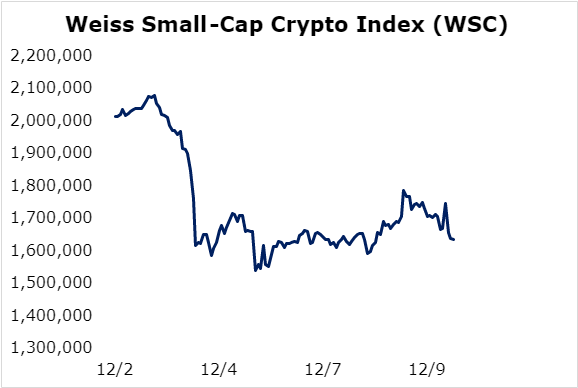 It's expected to see the largest cryptocurrencies hold their value the best during pullbacks due to their perceived safety.
However, Bitcoin's overall underperformance over the past several weeks could pass the baton of market leader to Ethereum to set the broader pace as the largest altcoin.
Notable News, Notes and Tweets
What's Next
The crypto market is at a crossroads with Bitcoin and Ethereum diverging. Still, fundamentals are strong.
Consumer Price Index (CPI) numbers for November were released today, showing inflation is at its highest rate since 1982. Institutions and retail investors will continue looking for crypto exposure to hedge against disfunction in the traditional financial system.
And adoption is expanding beyond use as a safe haven.
Just look at Florida. The Sunshine State continues to promote crypto adoption as a pioneer for the industry. The city of Miami hosted the Bitcoin 2021 conference, and its mayor, Francis Suarez, helped establish MiamiCoin, which he hopes will provide Bitcoin yield to participating citizens and eventually replace tax revenues.
Suarez collected a paycheck in Bitcoin, and he's looking into allowing city workers to collect their salaries in crypto. Now, Gov. DeSantis wants to utilize blockchain technology to operate vehicle titles, validate transactions and detect fraud. DeSantis is proposing to spend $700,000 exploring blockchain integration for the state.
While we're likely to see continued choppy trading in crypto over the short- to medium-term, its long-term use cases are stronger than ever.
Best,
Sam