Relief Rally Not the End of the Bear Market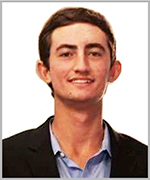 By Sam Blumenfeld
Bitcoin (BTC, Tech/Adoption Grade "A-") and the broad crypto market are trading slightly higher today as most try to maintain the recent relief rally.
Stocks and cryptocurrencies have both advanced higher over the past several weeks as investors look for the Federal Reserve to slow down its economic tightening. Two consecutive quarters of negative GDP growth — a telltale sign of a looming recession — and the first signs of peaking inflation could lead the Fed to loosen its approach, but this is far from guaranteed.
So far, cryptos have only faced minor pullbacks since regaining their momentum in the middle of July. But it's important to recognize that crypto is still in a bear market. Given the current stage of the market cycle, periods of strength are usually part of a broader downward trend.
While the crypto market has some wiggle room to run higher, for now it's likely that most cryptocurrencies will test their mid-June lows at some point.
So far, Bitcoin is up 2% in today's trading session, and it's back above $23,000 for the time being. After closing yesterday's trading at its 21-day moving average, BTC was able to retake it during today's upward move.
For the market to continue rallying, macroeconomic sentiment will likely need to remain positive.
Here's Bitcoin's price in U.S. dollars via Coinbase Global (COIN):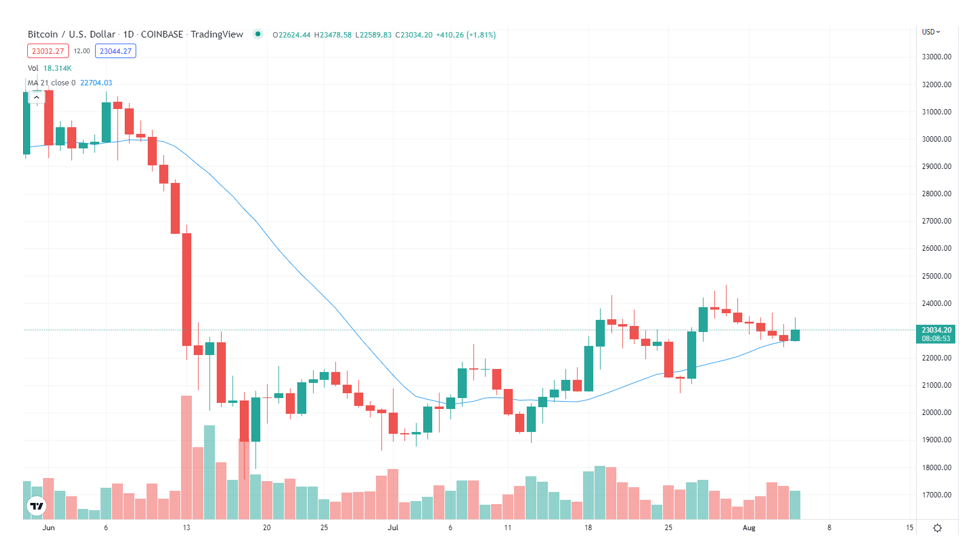 On another optimistic note, Ethereum (ETH, Tech/Adoption Grade "A") is up 4% so far today, as it looks to overtake the $1,700 level again. The asset is up nearly 50% this month, but it continues running into significant resistance between $1,700 and $1,800.
Ethereum has maintained its recent momentum better than Bitcoin. The asset has not touched its 21-day moving average since first overtaking it on July 14, but it still needs to stay above $1,575 to continue the trend.
That's why it's such a positive sign that the second-largest cryptocurrency keeps attempting a breakout.
ETH could continue outperforming the market leader as it approaches a critical point. The Merge — which will shift its consensus protocol to proof-of-stake — is set to happen on Sept. 19, barring any setbacks.
As that date approaches, ETH will likely generate more hype. Hopefully, the rally can last that long.
Here's Ethereum's price in U.S. dollars via Coinbase: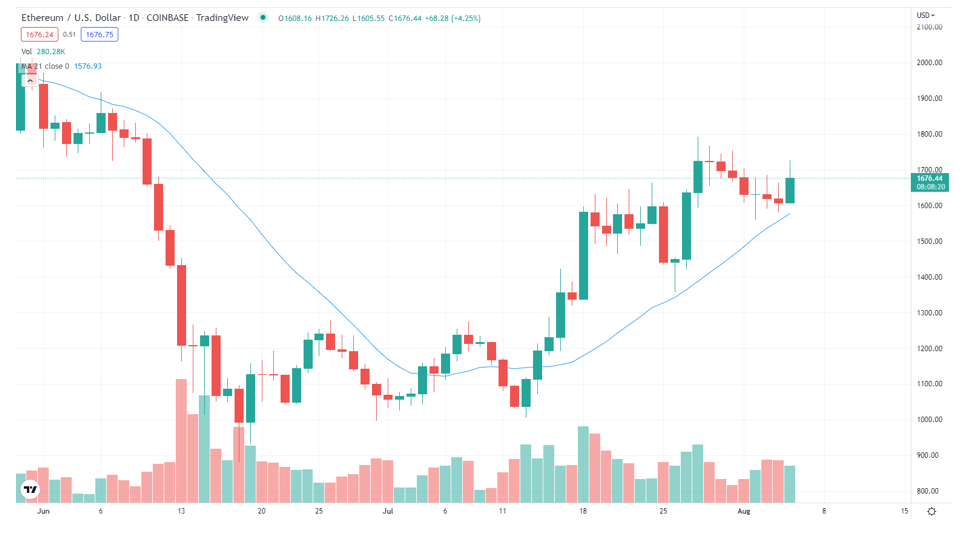 Index Roundup
The broad crypto market finished the seven-day trading week slightly lower.
The Weiss 50 Crypto Index (W50) pulled back 3.63%, as the largest cryptocurrencies weighed down the broader index.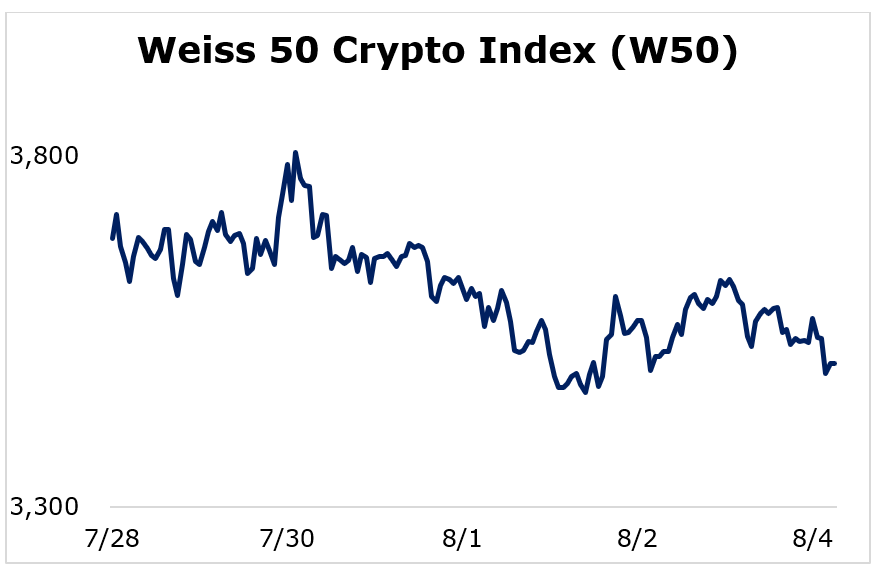 The Weiss 50 Crypto Ex-BTC Index (W50X) dipped 3.52%, as Bitcoin mostly underperformed other altcoins.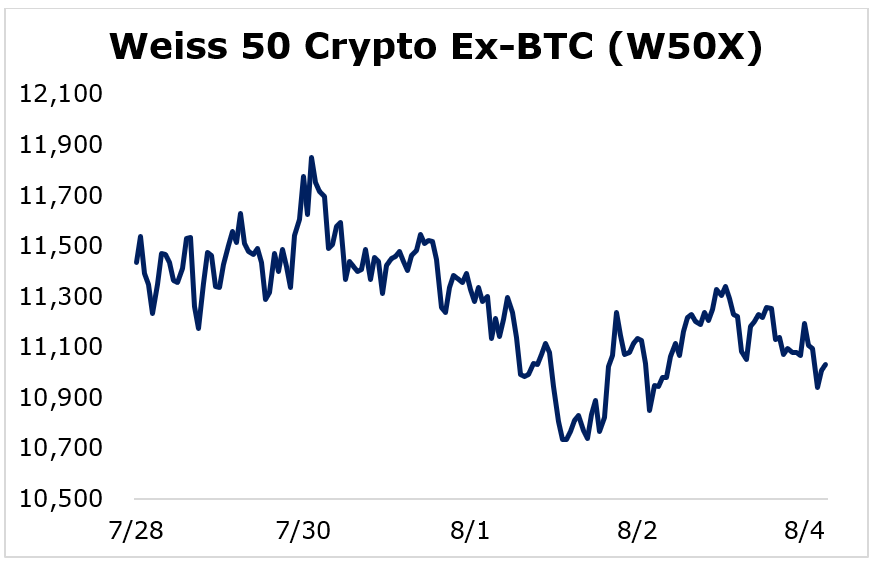 Breaking down this week's performance by market capitalization, we see that the smallest cryptocurrencies were able to outpace the market leaders. Despite large-cap weakness, both smaller and midsize cryptocurrencies finished the week higher.
Large-cap cryptocurrencies lost ground this week, but they did not take any significant damage. The Weiss Large-Cap Crypto Index (WLC) slipped 5.14%.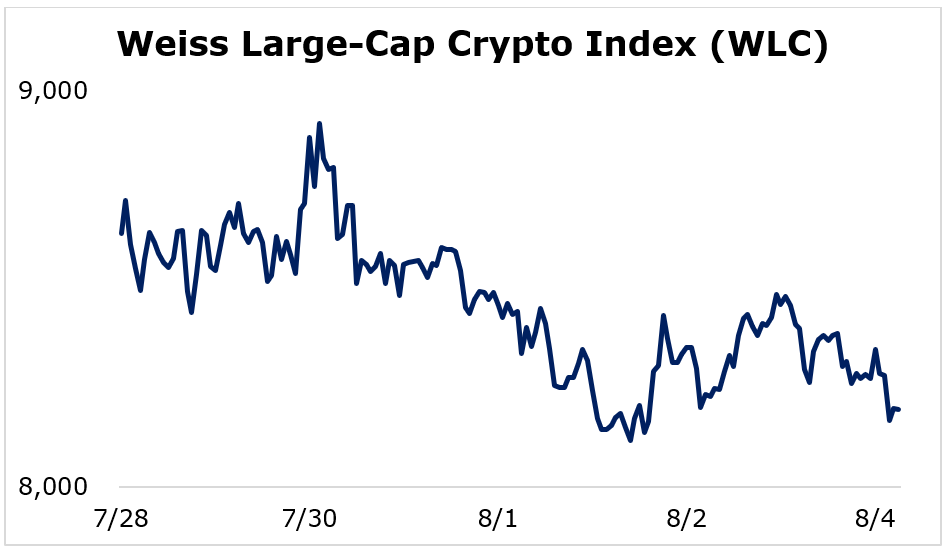 Mid-cap cryptocurrencies were able to record another positive week, as the Weiss Mid-Cap Crypto Index (WMC) gained 4.61%.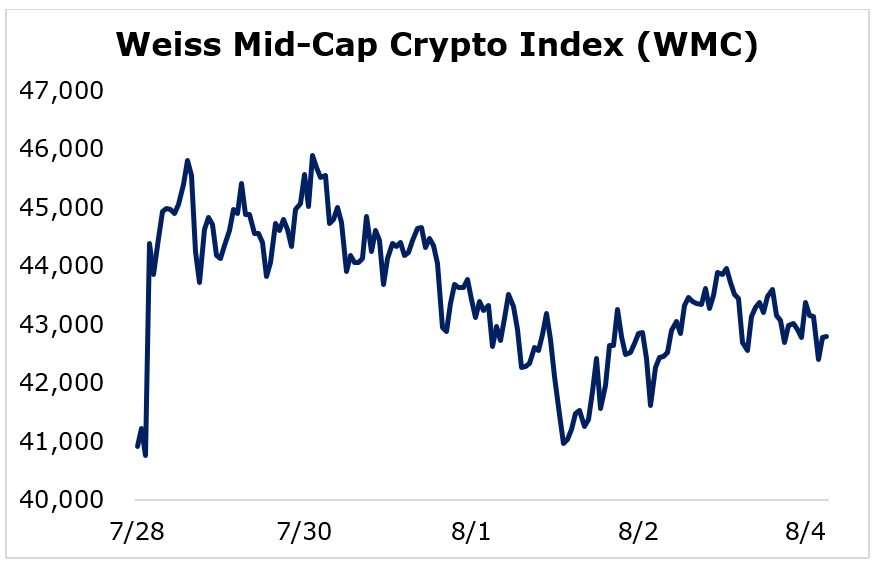 The small-caps made the biggest positive move, with the Weiss Small-Cap Crypto Index (WSC) jumping 9.42%.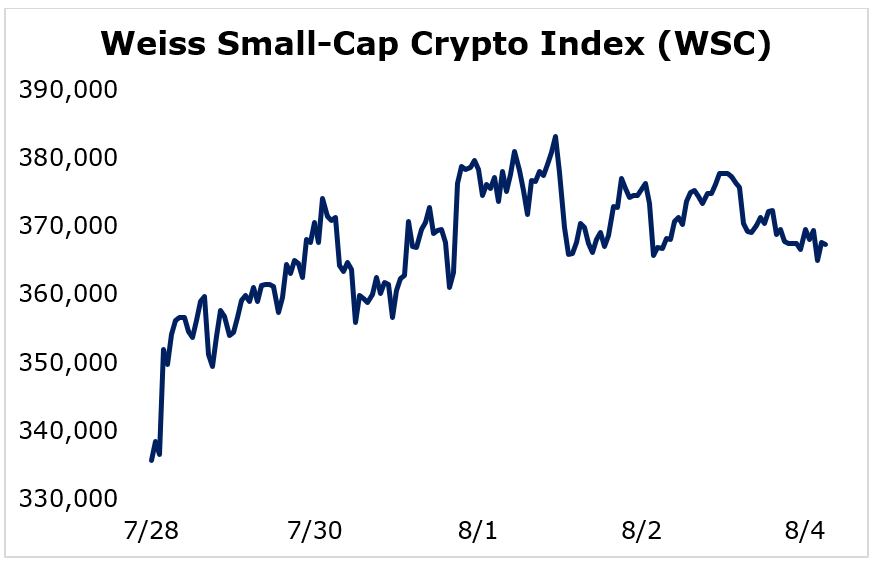 The crypto market lost a bit of momentum this week, but the damage wasn't significant enough to call the end of the recent relief rally. Notably, smaller and midsize altcoins outperformed the most established cryptocurrencies. This mirrored the recent risk-on approach in traditional equity markets with technology stocks as investors hope and plan for a Fed policy pivot.
Notable News, Notes and Tweets
What's Next
While the market is currently betting on the Fed easing up, this morning's employment report could pour cold water on that plan. Nonfarm payrolls grew by 528,000 in July compared to job creation estimates of 250,000, which could lead to more aggressive Fed action.
The crypto market's relief bounce is extending for now, but a lot will depend on investor response to the Fed's monetary policies moving forward. Consumer price inflation data on Aug. 10 will be important because it'll show if the Fed's previous tightening was effective.
Regardless, crypto's direction will not rely on the Fed's decisions forever. Adoption is consistently improving, and the effects should show during the next bull market period.
Best,
Sam