Resistance Levels Smashed as Rumors Run into Rallies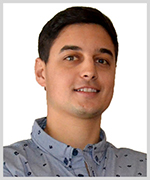 By Alex Benfield
I last left off with you on Wednesday, two days after the initial rumor that the iShares spot Bitcoin (BTC, "A-") ETF had been approved was released and proven false.
I said at the time the most notable consequence was the fact that only half of the gains made on the rumor was given up. It indicated that a spot ETF approval was not priced in ... meaning that we could go higher.
Spoiler alert, we got the rally.
Bitcoin is up over 21% since my article last Wednesday, and even the altcoin market is joining in on the action.
Most importantly, sentiment is starting to warm up to the fact that the ETFs are coming … that they'll have a huge impact on this market … and that we're likely far closer to the next bull market than most had thought.
Overall, that has put the market in a positive mood.
Bitcoin absolutely blasted through the $30,000 level — which rejected further advances twice before in 2023 — without skipping a beat on its way to its current price of about $34,600.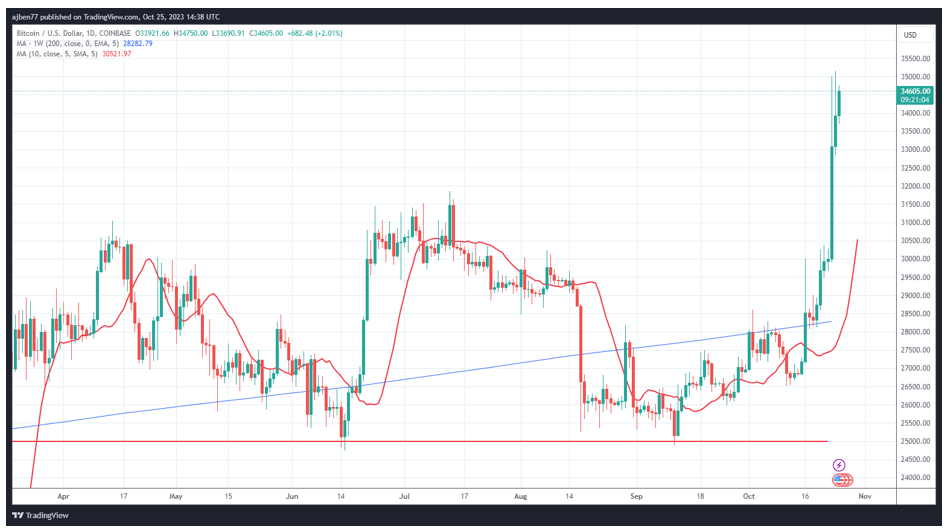 Source: Coinbase.
Click here
to see full-sized image.
There is little resistance on Bitcoin's chart between current levels and $40,000, but don't get too excited just yet. We still don't have official confirmation of the spot ETF approval and our Crypto Timing Model shows that we are roughly halfway through the current 80-day cycle.
That means while this rally could last for another few days or perhaps even as much as another week or two, a correction will likely follow.
Still, all signs indicate we are now so much closer to the start of the next bull market, and that's flat out exciting.
Equally exciting is seeing which alts are following BTC's lead the closest.
Last week, I pointed out Avalanche (AVAX, Unrated) as one of the many altcoins that were starting to show some new life after being brought down 90% from their all-time highs.
In the seven days that have followed, AVAX pumped over 14% before hitting some resistance around $10.50.
That's quite the pump and some solid gains for just seven days of trading!
But while that's impressive, AVAX has yet to cross above the highs it set in early October. This suggests this rally doesn't have the momentum needed to carry on to significantly higher levels.
That's why, when looking at Avalanche's chart, there are other altcoins that I like better for investing as opposed to trading right now.
Altcoins such as Solana (SOL, "C").
On Oct. 16, when BTC closed up roughly 5%, Solanaclosed up 10%.
From then to the time of writing, SOL is up another 25%! In fact, it is now trading at its highest level since the FTX crash in Dec. 2022, and has regained almost 100% of its losses since that event.
Solana was one of the biggest winners of the last cycle and was one of, if not the, most popular alternative Layer-1 smart-contract protocol.
It has a very good shot of eclipsing its previous all-time high of $260 in the coming bull market. While there is a long way to climb before SOL gets there, savvy investors just see that as more gains to harvest.
This will likely be one of the most exciting projects to watch as we head into the next bull market.
What's Next
Bitcoin has showcased promising strides, surpassing significant resistance levels over the past week. Still, investors should remain cautiously optimistic, especially given the lingering uncertainties around the spot ETF approval.
Meanwhile, altcoins like Solana have sparked intrigue, presenting themselves as prominent contenders in the forthcoming bull market.
While past performance is not indicative of future results, the present sentiments undeniably shine a hopeful light on the crypto horizon.
As always, investors should tread with insight, keeping an eye out for the vast opportunities and challenges that lie ahead.
Best,
Alex