Santa Brings a Mixed Bag for Crypto
Early this week, my colleague Marija Matić confirmed a falling wedge pattern for Bitcoin (BTC, Tech/Adoption Grade "A-") that was about to break.
It has since broken, as BTC jumped 8% from its low on Dec. 20 to just under $50,000 two days later. Despite this bullish burst, Bitcoin still didn't have the momentum to break the $50,000 level, let alone its 21-day moving average above it (which currently stands at $49,689).
In this case, though, that could be bullish. If Bitcoin can't break through, it will likely fall back down to the top of that falling wedge — about $48,000 — to retest it. If that support can hold with confidence, it will confirm the breakout.
Whether this is a sign of a more significant rally or just a diminished push upward, it was enough to stir the market-wide optimism: In just two days, the Crypto Fear & Greed Index almost doubled — from 25 to 45 — pushing it mostly out of the "fear" territory … though it's still just a few points away from entering into the "greed" zone.
Even better, Mark Yusko, Morgan Creek Capital CEO, claims that Bitcoin's future potential isn't yet priced in: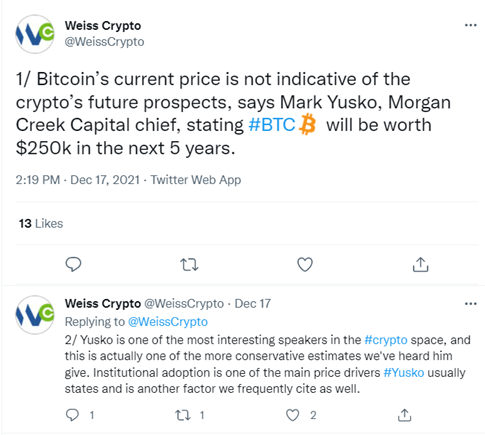 That could not be any different from last week's sentiment ...
At the time, BTC's price action was so dreadful that the Twitter crypto community responded by shifting its focus to the Solana (SOL, Tech/Adoption Grade "C-") blockchain: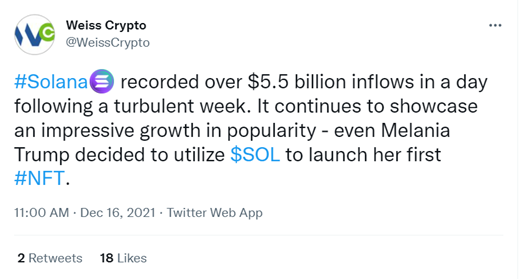 Although this growth IS impressive, it was hard for the community to ignore the elephant in the room: a horrendous streak of failed transactions on Solana — more than 60% for the blockchain: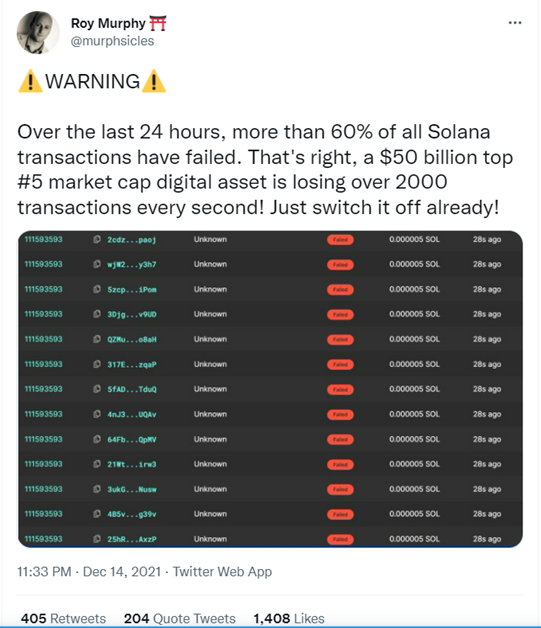 Whether these failed transactions are results of decentralized app (dApp) errors or indeed a problem within the blockchain, one thing is certain: Solana developers have their work cut out for them if they want their digital asset to scale more reliably and securely.
Sadly, it's not just price action investors need to watch closely. New regulation is always on the minds of policymakers and politicians. Some proposals are useful in integrating crypto into the mainstream. Others would overregulate crypto ... or ban it altogether.
The next in line to propose the latter is the Russian Central Bank, as we explained in this thread (click on the image to see the full thread on our Twitter page):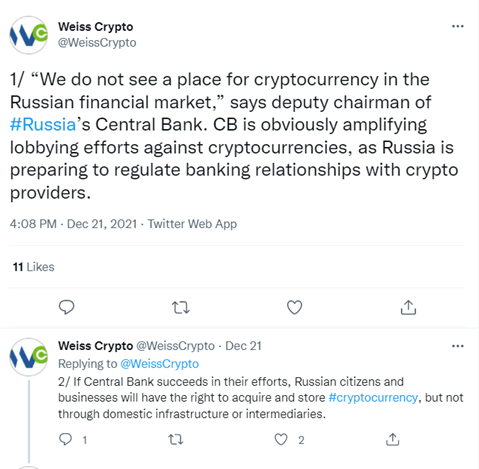 Although we know — and keep reminding you — that there's no entity in the world capable of outright banning crypto, the fact is that stringent regulation isn't without consequences. It does hinder mainstream adoption and could even make it outright impossible for registered institutions to engage with their foreign competitors on equal footing.
However, the nature of crypto is resilience … it will always find a way.
Speaking of finding a way, Dune Analytics — which our Marija Matić equates to "Wikipedia, but for crypto analysts" — has raised funds that should ensure it grows and thrives in the years ahead: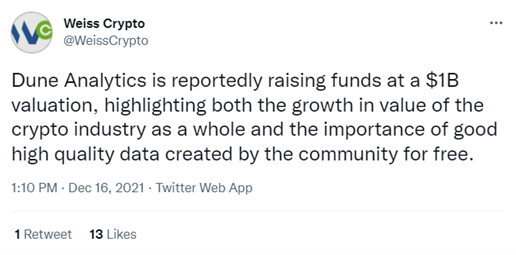 Knowledge is not just power but the foundation for new generations of crypto analysts and traders to thrive and proliferate, so this piece of news — while maybe not as interesting for investors per se — is significant for the industry as a whole.
Finally, a bittersweet piece of news comes from Instagram. The platform, owned by Meta Platforms (Nasdaq: FB) is "actively exploring non-fungible token (NFT) integration."
We didn't mince words on this one: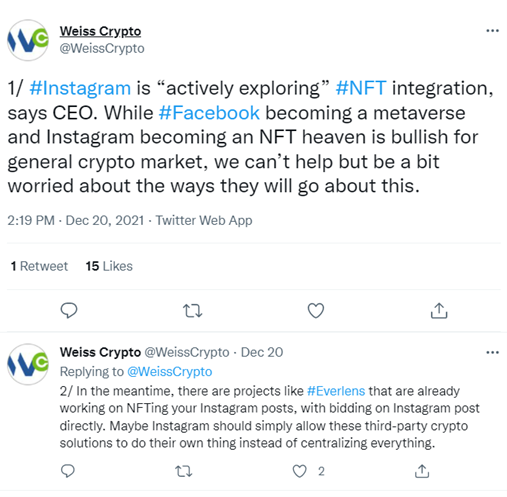 There you have it ...
This past week has been a mix of ups and downs — both in sentiment, as well as price action.
As crypto skies look a shade brighter as the week draws to a close, it'll be interesting to see if the trend continues ... and what the final week of 2021 has in store for us.
Until then, stay safe, trade well and happy holidays!
Jurica Dujmović