The 2 Forces Keeping Crypto Down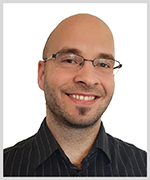 By Jurica Dujmovic
Our first tweet since my last article went something like this: "Although it may seem like crypto winter has no end in sight, there's light at the end of the tunnel."
Well, as it appears, that light may be further away than I hoped.
It seems we're still stuck in that very same tunnel, surrounded by fear, uncertainty and doubt (FUD).
There are two main forces acting on the crypto space now. On the one side are issues inherent to crypto, which is now heavily whale dominated. Look no further than the Celsius crisis for an example.
Alex Benfield provided great coverage of what's really going on with this crypto lender and an overall lesson to be learned, so I suggest you jump on over to his piece if you want to learn more.
There is an angle here, however, that I want to mention: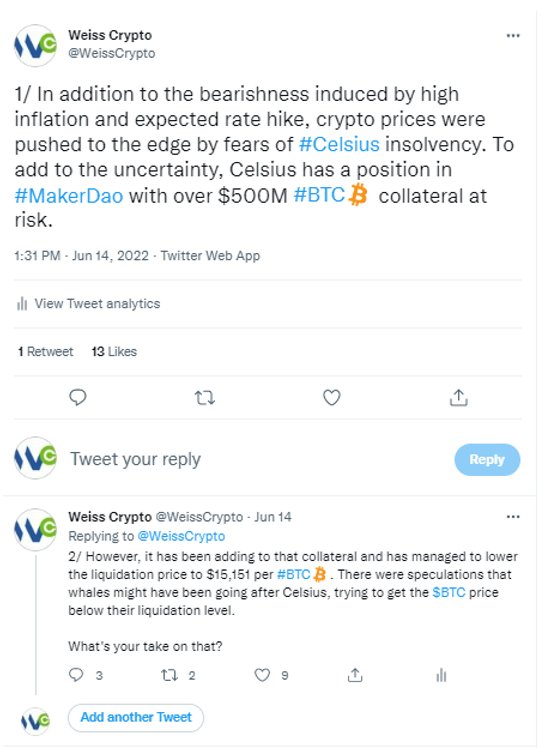 If you ask me, whales targeting Celsius is the most likely explanation for what's happening. The crypto market was never an easy environment to invest in during bear cycles, but seeing how big crypto players are acting out in short-sighted moves like these makes me wonder if all that "institutional" adoption was worth it.
Sure, we saw huge inflows of liquidity, but by inviting traditional finance (TradFi) sharks, we might've created a market more hostile to retail investors.
And Celsius' insolvency isn't an isolated event. Another big crypto name could share Celsius' fate: hedge fund Three Arrows Capital.
Both Celsius and Three Arrows can trace their current struggles to the collapse of Terra (LUNA), as both were heavily exposed to the Terra ecosystem. This domino effect has sent shockwaves of FUD through the market, forcing even more investors out.
The Fear and Greed Index says it all: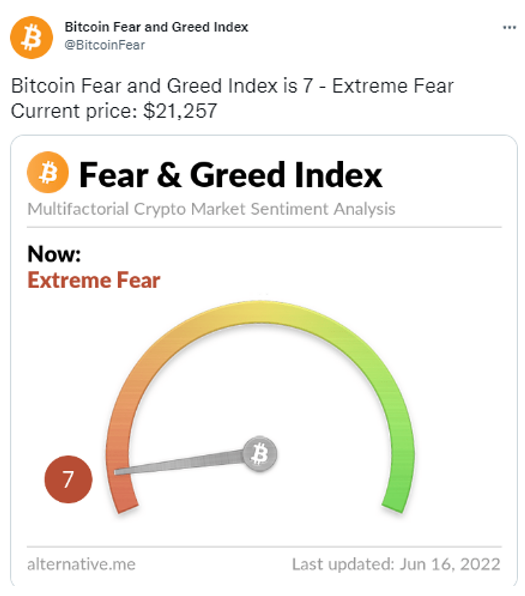 On the other side of this FUD are the macroeconomic pressures on all assets such as inflation, geopolitical tensions and supply-chain disruptions. These are now being amplified by central banks' attempts to undo years of poor financial policy and excessive money printing.
Yesterday's Federal Open Market Committee (FOMC) meeting ended as well as you'd expect it to — with a rate hike. At 75 basis points, it's the largest rate hike in nearly three decades.
While some investors believe it to already be priced in, we mustn't forget that this isn't the last hike the Fed is planning to introduce: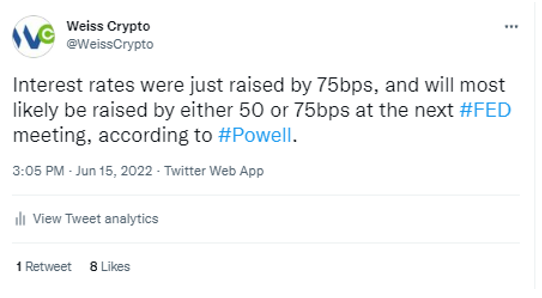 This is bad news for the economy, but some may ask: "Shouldn't crypto be a safe haven for situations like these?"
The answer to that is twofold: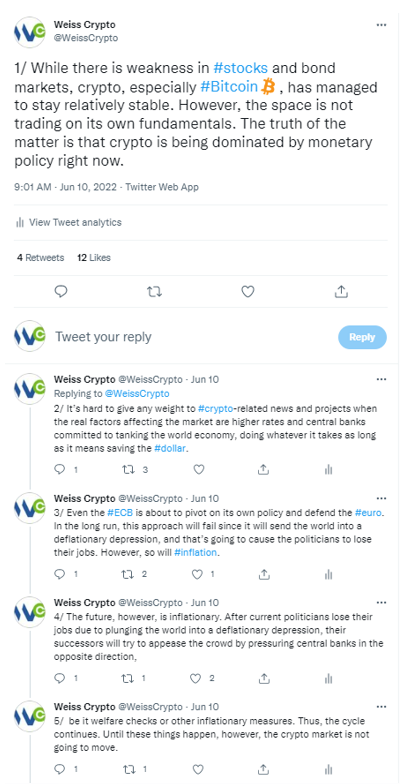 And that's just half of the story. Remember those TradFi sharks I mentioned earlier? A good portion of them have brought over not only their methods of trading — which aren't always appropriate in crypto — but also their diversified portfolios. As things turn sour in the traditional markets, these companies will move their assets around on both ends to adjust to the current conditions, moving both markets in unison.
The two markets seem entangled because of this, but this doesn't mean they'll remain that way forever. Should the crypto market keep collapsing, big players will leave — going under or seeking their fortunes elsewhere.
But that doesn't mean the demise of crypto; not by a long shot. Project development should continue unabated for the projects that go beyond the simple profit. This will strengthen the crypto movement, force it to go back to its roots and purify it in a sense.
Then, once the global situation escalates, crypto will yet again present itself as a viable alternative to centralized currency as a unique medium of exchange that is for the people and by the people.
In the meantime, I recommend you utilize the tools available on our website to track our top Weiss-rated cryptos and other projects in our portfolio.
Stay safe and trade well,
Jurica Dujmović