The Case for Decentralization, as Told in Tweets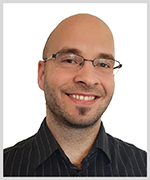 By Jurica Dujmovic
While war in Ukraine is still going on, it's important to keep in mind that there's more than one battle playing out — and not all of them are using physical weapons.
Increasingly, financial warfare is coming into play. We saw the first rumblings of this in Canada, when the government froze accounts of protestors and those supporting them. A similar type of war is now being waged in the East, affecting everyone — for better and for worse.
Economic sanctions have been passed to seize the assets of the Russian oligarchs.
The goal is to both anger Putin's supporters and cut off secondary resources, However, these are hard to enforce. Other economic punches are easier to enact and have farther-reaching consequences — like limiting the ability of foreign companies to operate in Russia and kicking Russia out of the Society for Worldwide Interbank Financial Telecommunication (SWIFT). These sanctions affect average Russians, people are uninvolved in the conflict, yet forced to pay for its consequences
This is where crypto comes in. Well, almost.
Yes, Ukrainians are receiving much needed humanitarian aid, supported by centralized exchanges — a necessary and commendable effort. But those very same exchanges are also banning access to civilians in Russia, playing an active part in developing a separate humanitarian crisis: one that leaves citizens of the ninth-most populated country cut off from the international financial community.
That's why crypto didn't help the Canadians or Russians — centralized entities aren't "true" crypto entities, as one of the founding tenants of crypto is decentralization.
Most of these events in which civilians were unable to use crypto to reclaim their financial freedom can be explained by one of the greatest tenants of crypto: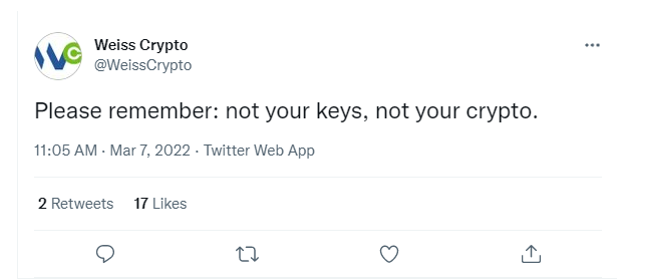 It's not crypto that failed civilians of Canada or Russia. It's the centralized entities that caved in to the pressure (or lucrative incentives) from their governments to work against everything crypto stands for.
That's why the distinction between centralized digital assets, like central bank digital currencies (CBDCs) and centralized exchanges, and true decentralized finance (DeFi) needs to be made clear.
With the former, you're still subject to the whims of a centralized authority. And, more significantly, you don't have custody of your own assets.
There's a common saying in the U.S.: "Possession is nine-tenths of the law." In short, ownership is a heck of a lot easier to establish and maintain if you actually control the asset in question.
True crypto and DeFi entities agree.
And make no mistake — these centralized entities wouldn't bat an eye to hold on to your assets and lock you out should you find yourself on the wrong side of a geopolitical conflict. Because, as a centralized entity, it will put its security over yours.
In fact, I added another crypto entity to my shame list this week for falling into this same trap: MetaMask.
Due to JPMorgan Chase's (JMP) ownership of a critical stake in Infura and MetaMask, this popular crypto wallet for the Ethereum network has denied access to users coming from several countries hit by the U.S. sanctions, as well as several countries in Latin America, which were erroneously struck by the ban hammer.
Needless to say, this is a huge issue and a heavy blow for the entire crypto space. I've relayed the news to our editors, and this is just the start of their take on the matter: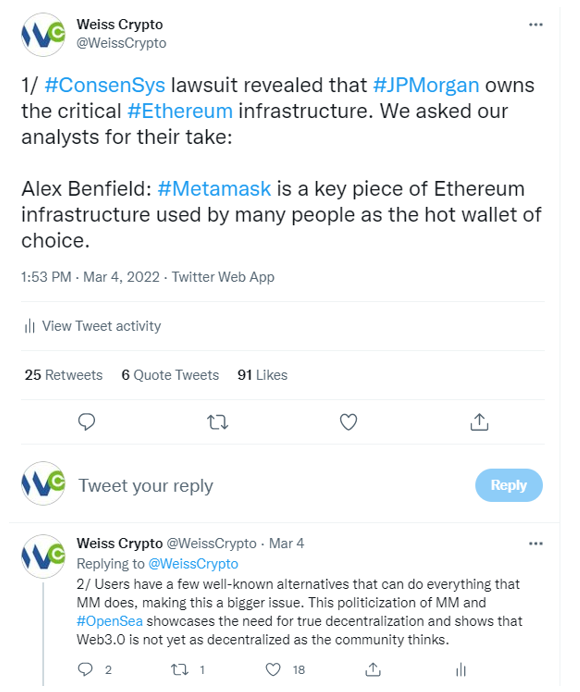 Click here to see the full thread.
Before the panic sets in, it's important to remember that neither MetaMask nor Infura directly affect the ETH blockchain. Rather, they're tools to access it.
Simply put, your assets aren't on Infura or MetaMask; they're on Ethereum blockchain. This means your assets are still recorded as yours on the decentralized network that you can access from anywhere.
So, if you're in one of the countries hit by this ban, there are several steps you can take to try and remedy the issue — using a VPN, switching to a different wallet or even running your own node are all options.
But avoiding the whims driven by a centralized authority's self-interest isn't the only case for decentralization. Having all the power and support for a project in one place is a recipe for disaster … even if the centralized authority is benevolent.
Take for example Andre Cronje — a prolific coder behind Yearn.finance (YFI, Tech/Adoption Grade "C+") and a chairman of the Fantom Foundation's Technology Council.
Earlier this week, Cronje and his colleague Anton Nell announced they'd be leaving DeFi and crypto entirely.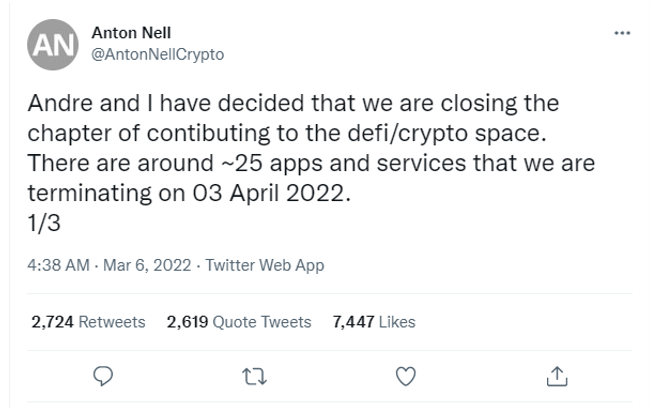 As it usually happens on Twitter, this tweet started a storm of rumors and misinformation, the biggest of which was that 25 decentralized applications (dApps) will be terminated. That's not the case. Rather, Cronje and Nell will terminate their involvement in these dApps.
Regardless of that nuance, cryptocurrencies attached to these projects saw intense selling following the announcement, despite the fact is that not much will change for them going forward.
In fact, there could actually be some benefits to their departure. Marija Matić sheds some light on the matter: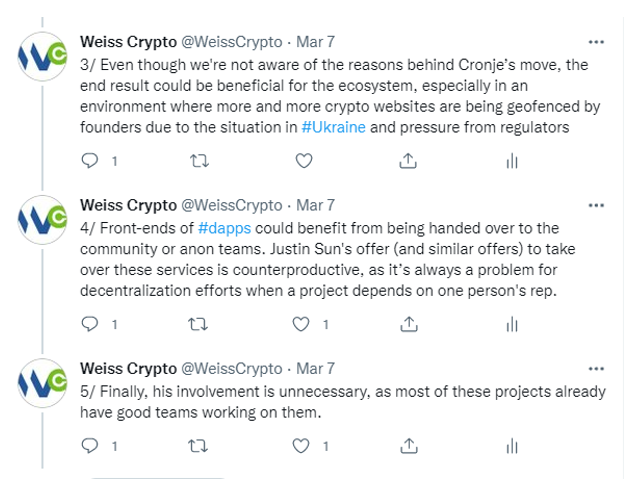 Still, the events of the past week all seem to have one overarching theme: the need for decentralization. Where there is decentralization, crypto remains untouchable. Projects continue evolving, money keeps exchanging hands and digital economies thrive.
Where centralization is dominant, traditional finance (TradFi) and governments move in and assimilate the technology into the preexisting system.
But all this external pressure is a good thing. It forces crypto to remain true to its roots as an alternative financial system while still encouraging evolution and innovation.
This tweet by Juan Villaverde sums it up the best: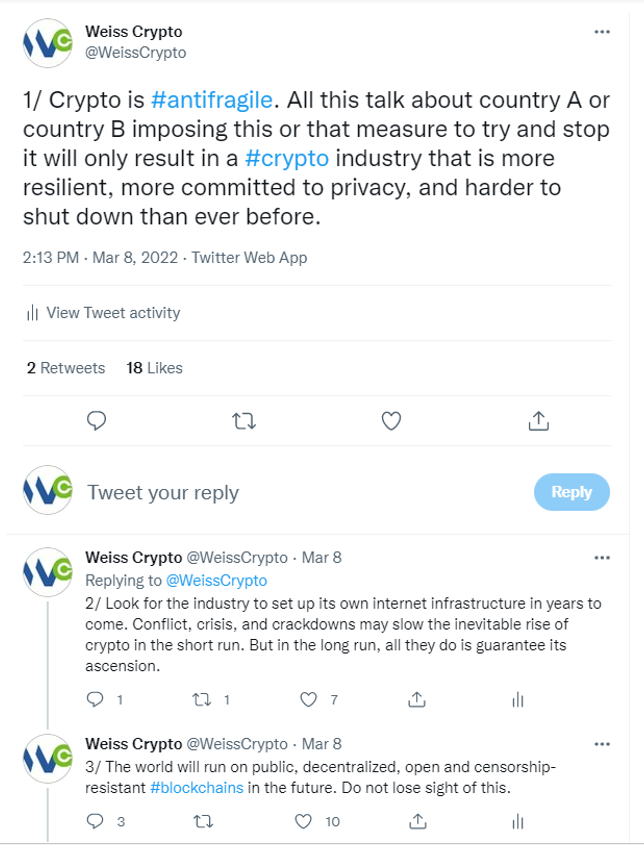 The need for decentralization is stronger than ever, and it is this fundamental principle that will ensure its continued success in the face of any adversity.
Until next time,
Jurica Dujmovic