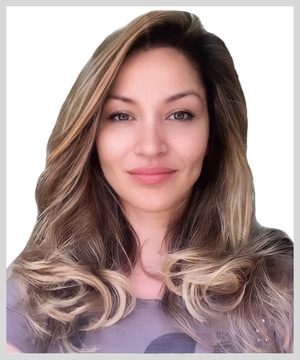 By Marija Matic
Bitcoin (BTC, Tech/Adoption Grade "A-") has rallied over 5% today together with U.S. indices, led by the energy sector, while the dollar showed weakness. The situation has cooled down a bit toward the end of the day.
Even though inflation will likely remain sticky for some time to come and the Federal Reserve is still planning on hiking rates, which may send the economy into recession with tightening, we're still pleased to see a broad market move!
What sparked this push higher? A few key points, such as
The release of better-than-expected earnings from some companies, such as Goldman Sachs (GS).


Bets easing on a supersize interest-rate hike by the Fed.


The announcement of a tentative date for the Ethereum Merge, though this has yet to be confirmed 100%.
In fact, the rally in the crypto market is being led by the fundamentally strong Ethereum (ETH, Tech/Adoption Grade "A"), as its upcoming transition from mining to staking in an event called Merge proves to be the most important narrative of the year thus far.
That's why Ethereum ecosystem tokens are rallying the most. Apart from that:
Polygon (MATIC, Tech/Adoption Grade "B") is up 24% today and 64% in a week, due to the expected announcement of their Hermez ZK rollups being ready to roll. The largest platform on Polygon, QuickSwap (QUICK, Unrated) is also up 30%.
ApeCoin (APE, Unrated) has gained 16% as the Bored Apes team, Yuga Labs, has launched its Metaverse gaming platform, Otherside, with a tech demo. They've invited 4,300 players — all of whom own plots of digital land within the platform via the Otherdeeds NFTs — for a first look and tour.
THORChain (RUNE, Tech/Adoption Grade "B-"), which has launched its so-called killswitch today to push users to upgrade to mainnet RUNE, was among the strongest gainers in top 100 crypto, with 15% jump.
(We have a guide to help you switch your RUNE if you need to here.)
Meanwhile, strong ETH and altcoin dominance have pushed down Bitcoin's dominance to 42.5% of overall crypto's market cap. BTC's price hit a 30-day high as it reached $22,776 today, indicating we might've entered the strongest week of the summer so far.
The BTC/USDT TradingView four-hour chart shows BTC finally breaking out. It remains to be seen if it'll be a successful breakout … or a fake out: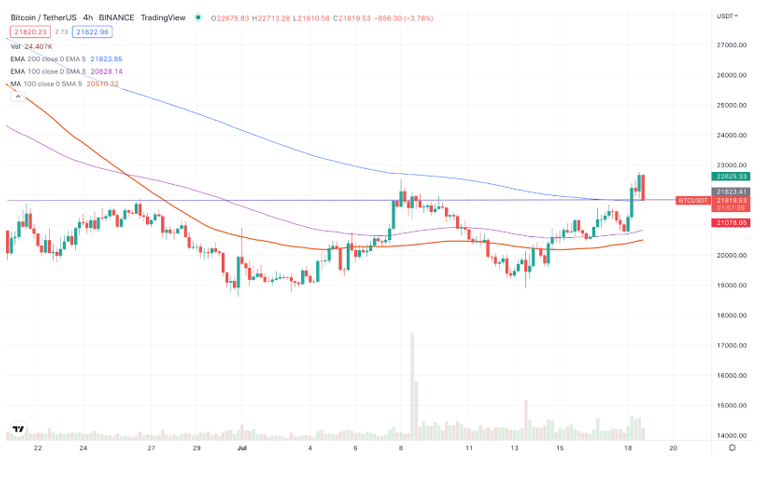 Notable News, Notes and Tweets
What's Next
While we're excited to finally see relief from the prolonged selling, this rally is just that for now: relief. This doesn't mean the bull market is back on in the crypto market.
The question is just how high this rally will take us … and how long it'll take to get there. I believe the outlook is likely to vary on a day-to-day basis and breakout of indices.
For example, the market this week will react to earnings announcements as companies such as IBM continue reporting Q2 results.
Meanwhile, crypto is ripe for a more serious rally. BTC was rejected today by resistance at its weekly 200-day moving average and will likely try to break it again soon.
ETH has already broken its weekly 200MA last week. If BTC joins, that'll bring confidence to this momentum. But first, we'll need to see if BTC can wrap up today's trading above the significant $22,000 level.
Stay tuned for more updates.
Best,
Marija