Trading Lulls During the Holiday Week
Bitcoin (BTC, Tech/Adoption Grade "A-") is down about 2%, trading around $56,000.
Ethereum (ETH, Tech/Adoption Grade "A") is around 2% lower at $4,200, continuing to trade between $4,000 and $4,400.
Bitcoin's crypto market dominance dropped 30 basis points to 42.5%. It has remained in a tight range between 42%-44% over the past several weeks.
Bitcoin continues to struggle as the broader market consolidates from its recent highs. BTC's market dominance has swayed back and forth over the past few weeks, but its chart looks less bullish than those of the established altcoins. Despite its recent weakness, its price action should be critical to reestablishing momentum for most of the crypto market.
Bitcoin has bounced higher off the $56,000 price level three times in the past week, and it would be a positive sign to see it continue to establish the range as a strong support. If it breaks down, the next support level could be $54,000.
On the upside, $60,000 and $62,000 could provide stiff resistance before Bitcoin can look to approach its all-time high near $69,000.
Bitcoin's price remains markedly lower than its 21-day moving average, which sits slightly below $62,000. Retaking the level would signal that it's ready to make a step in the right direction.
Long term, our outlook remains unchanged. While Bitcoin is down about 11% over the past month, it's still up over 20% over the last three.
Here's Bitcoin's price in U.S. dollars via Coinbase (Nasdaq: COIN):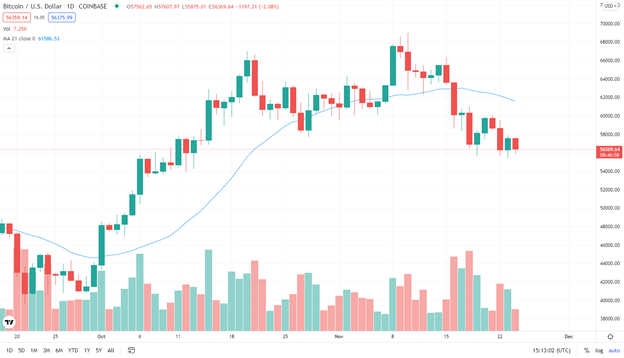 Ethereum has trended lower over the past two weeks, but its movements appear stronger than Bitcoin's despite the breakdown of its ascending channel. While ETH is trading about even from where it was a month ago, it's up 36% over the past three months.
In the past week, it's mostly traded between $4,000 and $4,400 and has established the psychologically important $4,000 level as a support after closing right on the number on Nov. 18. It could face a period of weakness if it falls below the mark, but that shouldn't affect how the later stage of this bull market plays out.
At the time of writing, ETH is sitting below its 21-day moving average near $4,450, but it's not far off. Here's Ethereum's price in U.S. dollars via Coinbase: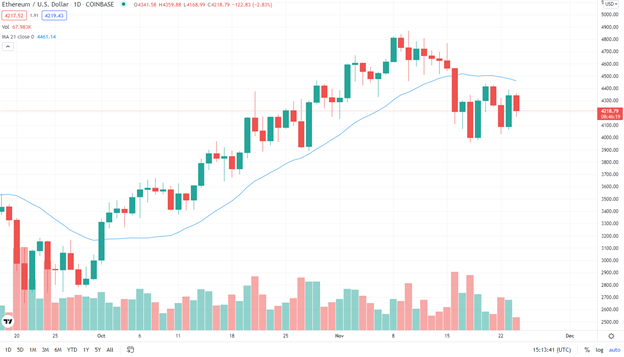 Index Roundup
Due to the Thanksgiving holiday week, the data for this week's index roundup was cut off today, Wednesday Nov. 24. Trading was largely muted during the seven-day period beginning last Wednesday, but Bitcoin notably lagged the altcoins.
The Weiss 50 Crypto Index (W50) lost 0.41%, which is negligible considering the general volatility of the crypto market.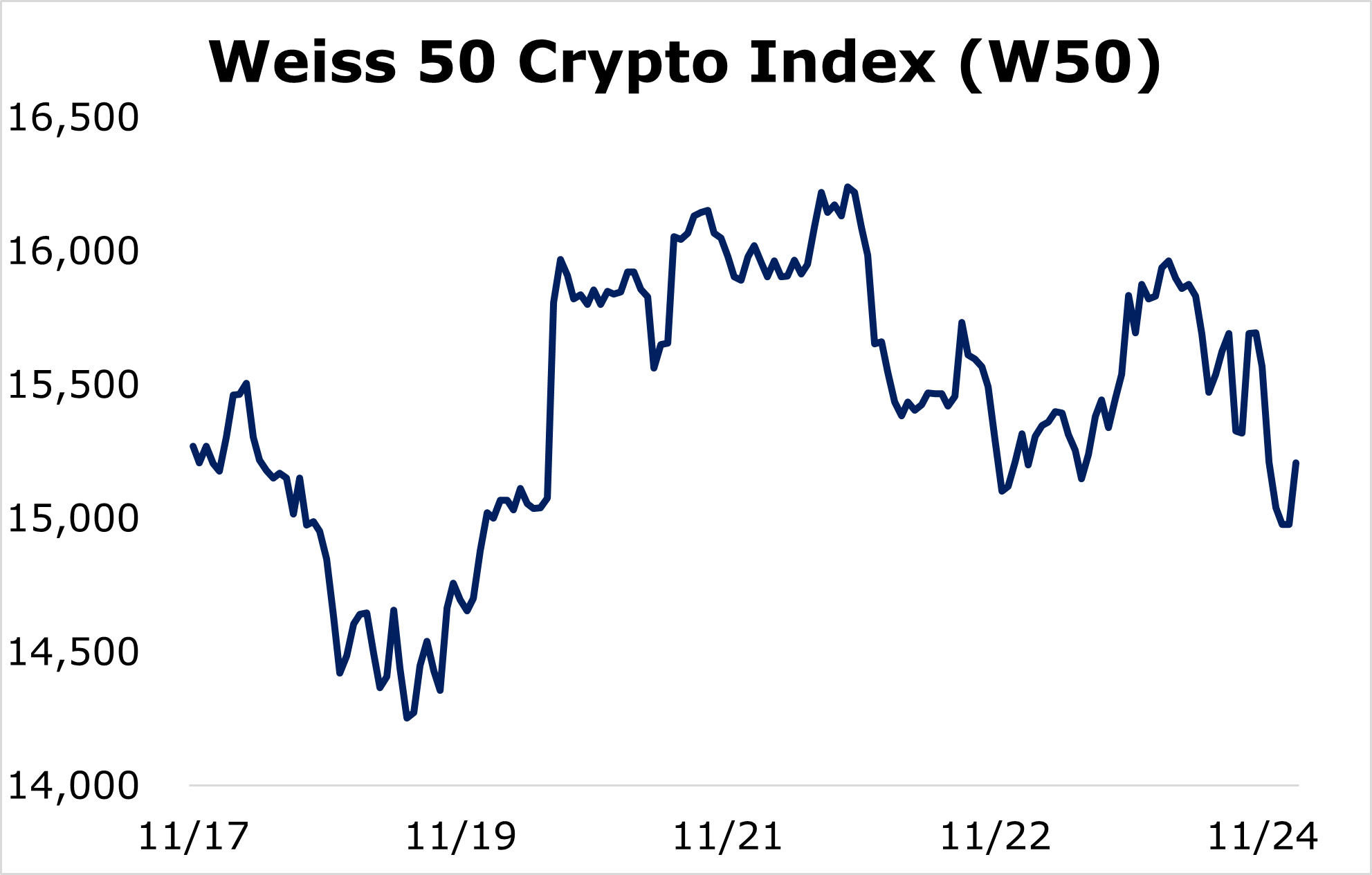 The Weiss 50 Ex-BTC Index (W50X) gained 2.73%, showing that altcoins managed to outperform the market leader.
Breaking down performance this week by market capitalization, we see that the small caps were the top performers again by a narrow margin. While the smallest and mid-sized cryptocurrencies nearly gained double digits, the large-caps lagged.
The Weiss Large-Cap Crypto Index (WLC) increased a minor 1.57%, as Bitcoin's performance weighed on the index.
Mid-cap cryptocurrencies reversed their recent trend of underperforming, as the Weiss Mid-Cap Crypto Index (WMC) jumped 9.72%.
The small-caps managed to take the top spot again, with the Weiss Small-Cap Crypto Index (WSC) rising 9.97%.
Bitcoin's underperformance relative to the broader market can partly be explained by the outflows into smaller projects through its trading pairs. Another likely reason is the hunt for outperformance during a bull run.
Regardless, altcoins will likely rely on Bitcoin to reestablish its momentum and extend the bull market further before we can see a true altseason.
Notable News, Notes and Tweets
What's Next
The crypto market continues to tread water and consolidate before the expected late-market cycle push. Historical pricing for Bitcoin has shown that parabolic rallies usually cause a blow-off top before market sentiment cools into crypto winter.
On-chain metrics show that whales and long-term holders are building their positions, indicating that much of the pullback can be attributed to excessive leverage and speculation from short-term traders.
The smart money in crypto is betting on Bitcoin reestablishing momentum.
While the news of India regulating crypto has concerned news outlets, its impact on trading has been relatively light. That's likely because the negative regulatory sentiment against crypto is usually blown out of proportion. Crypto isn't going anywhere, and the weakening of currencies worldwide is only expanding its adoption.
Best,
Sam