Uniswap Flips the Wrong Fee Switch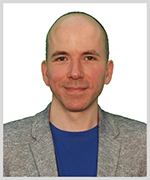 By Chris Coney
If you go to Uniswap's (UNI, "C+") exchange now and make a trade, it will cost you 0.15% more than it did two weeks ago.
Here's why.
Uniswap Labs Inc. — the creators of the Uniswap protocol, which is the largest decentralized crypto exchange — have introduced an "interface fee" of 0.15%.
This needs unpacking to understand exactly what it means.
The Protocol and the Interface Are Separate
If you attended my presentation at the recently concluded Weiss Investment Summit in Florida, you will have been introduced to this idea as a key feature of web3 over web2.
In web2, all data is held by private companies and is considered to be owned by them. That is how they can rent it out to advertisers or sell research based on it.
In web3, all data is held in a public database called a blockchain with each piece of data being controlled exclusively by its respective owner.
This completely changes the business model for online companies because they can no longer charge a toll for access to the data … because they don't own it.
In this case, we are using the word 'Uniswap' to describe multiple things.
When I say 'Uniswap' I could be referring to:
Uniswap Labs Inc. (the company)

The Uniswap protocol (the software and smart contracts)

UNI (the Uniswap token)
Creator but Not Controller
While Uniswap Labs invented, created and deployed the Uniswap protocol on the Ethereum (ETH, "B") network and others, it does not control it.
It has effectively released it as a public good despite investing large amounts of time and money creating it.
I have written about this previously, but one way it aimed to make this investment back was to allocate themselves a certain amount of UNI tokens when they were first issued.
Because the Uniswap protocol is now a public good, it means it is out of direct control of Uniswap Labs.
The Uniswap protocol is now at the mercy of the on-chain governance system where UNI token holders vote on how the protocol should be managed, changed and maintained.
Uniswap Labs being a token holder gives them voting rights ... but does not guarantee any particular vote will go their way.
A Protocol with Many Faces
Think about the cellphone network.
The network infrastructure is there all the time, but you need a smartphone to be able to make use of it.
The same goes for the Uniswap protocol.
It is there on the Ethereum blockchain, but we need a way to interact with it.
Much like there are many smartphone makers offering us ways to interface with the cellphone network, anyone can create and offer an interface to Uniswap.
Some Of Uniswap's Faces
There seem to be decentralized exchanges everywhere, inside wallets, inside apps and independent ones online.
But not all is what it seems.
Many of these differences are only skin deep and in fact are using the Uniswap protocol in the background to actually make the trade.
The interface is simply that, a way of offering the Uniswap service without re-inventing the wheel.
For example, the swap feature built into the MetaMask wallet is powered by the Uniswap protocol.
The 1Inch exchange also uses Uniswap for some of its trades, etc.
Each of these interfaces compete for the best user experience.
Many of them add a fee onto the trade which is where their revenue comes from.
Consensys is the company that receives the revenue from swaps inside the MetaMask wallet.
According to Sacra, a cryptocurrency research and investment firm, Consensys is making around $252 million annually in revenue from MetaMask's swap feature.
Late to the Party
So, it is quite normal for an interface to charge a fee to fund its operations.
Up until now however the "official" Uniswap interface developed by Uniswap Labs did not charge an interface fee.
On Oct. 16, however, the inventor of Uniswap, Hayden Adams, sent out this Tweet announcing the introduction of a 0.15% interface fee when using the official Uniswap interface.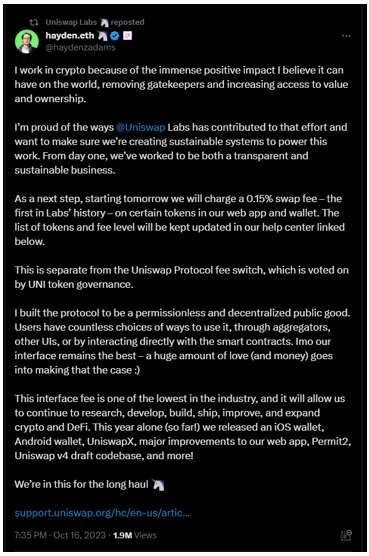 They have also added a page to the official Uniswap support documentation.
This page explains how the interface fee works in detail.
Namely when the fee applies and when it does not.
For example, if you swap one stablecoin for another, the fee is not applied.
If your swap involves an asset which is not on the list of chargeable assets, the fee is not applied.
Considering the interface fee charged by MetaMask Swaps is 0.875%, this new interface fee from Uniswap is a bargain at 0.15%.
Conclusion
This is an encouraging development for DeFi because it means it is growing up.
We can now see the key companies within crypto securing their long-term future by establishing business models with understandable and sustainable revenue streams.
As Hayden mentioned in his announcement Tweet above, some of the revenue from this new fee is going to find its way back into the development of the Uniswap protocol so everyone should be better off for it.
But that's all I've got for you today. Let me know what you think about this topic by tweeting at me.
I'll catch you here next week with another update.
But until then it's me, Chris Coney, saying bye for now.