Unraveling the Signs of a Crypto Rally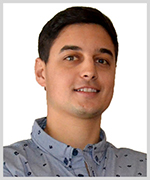 By Alex Benfield
In the world of investing, patience isn't just a virtue; it's a necessity.
We've all heard the old adage, "Time in the market beats timing the market."
It's easy to remain patient when the market is doing what you want it to. Yet, when markets aren't behaving in the way we expect, staying patient can be a tough task.
That's exactly what we're seeing in the crypto market right now.
After reaching a yearly high in mid-April, crypto prices have been in a corrective phase, testing investors' patience. This downturn lasted quite a bit longer than the average correction, but those who can stick it out may soon see a change in the winds.
However, there are three key signs hinting at the possibility of an upcoming rally.
Sign No. 1: The S&P 500 Is Flirting with a Bullish Breakout
Over the past two weeks, the S&P 500 has been heading toward a bullish breakout. And we are getting closer to making that call by the day.
According to our Crypto Timing Model, the S&P 500 hasn't been bullish since April 2022. So, a breakout here is a big deal.
At the beginning of the year, we did not think traditional markets had any shot of a bullish breakout … but here we are.
This could have drastic effects on investor sentiment.
Sign No. 2: Bitcoin's (BTC, "A-") Trend Lines Are Converging
These converging trend lines are often a signal of impending price movement.
Given the overdue rally following the prolonged correction phase, we are leaning toward a potential upward breakout.
Sign No. 3: Finding a Catalyst for Price Movement

Last but certainly not least, we may have our catalyst for some price movement.
Two weeks from now, we will hear the Consumer Price Index data for May. Additionally, the Federal Open Market Committee meeting minutes will be released on June 13 and 14, respectively.
If inflation keeps dropping and the Federal Reserve decides to hold off on rate hikes, markets could get a much-needed adrenaline shot, kickstarting summer trading.
Where Do We Go from Here?
Considering these three changing factors, my earlier prediction for a quiet, possibly bearish summer in crypto markets may need some reconsidering.
Namely, it's very likely the Fed will pause rate hikes in June, and a potential bearish breakout in traditional markets has caught me by surprise.
As for those converging trend lines on Bitcoin, its uptrend line has held up all year long and is beginning to approach the downtrend that started after BTC topped out in April.
Those two lines should converge before the end of June, meaning that Bitcoin will likely break out in either direction between now and then.
While I can't say for certain which direction prices will move, I am inclined to think that a bullish breakout is more likely considering the length of the recent price correction and the other factors listed above.
Should BTC begin to climb again, it will face resistance at that key psychological level of $30,000 before it can test its yearly high of $31,000.
If Bitcoin can break above that $31,000 level, then the entire market is likely to flip bullish once again. From there, BTC could make a run for $40,000 or higher.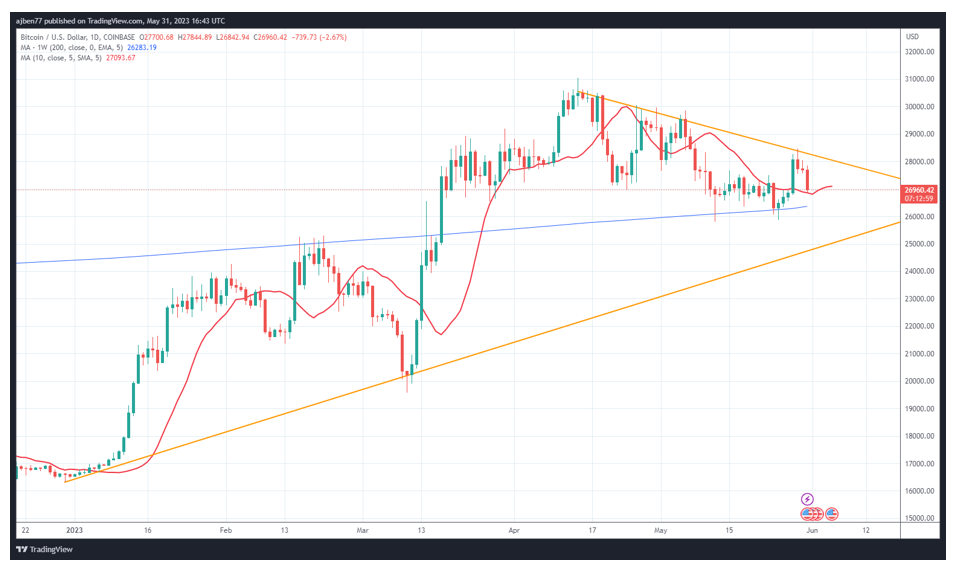 Think of the financial market as a long hike up a mountain.
The journey might be slow, and at times, the path may seem flat or even descending. But with every step, we're getting closer to the summit.
So, the key is not to rush or try to leap forward too quickly. It's to stay patient, keep walking steadily and appreciate the view along the way.
As we await this potential market rally, let's remember that patience is all about enjoying the journey while staying focused on the destination.
Best,

Alex