USDC Survives Its Biggest Stress Test to Date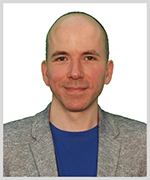 By Chris Coney
For a moment there on March 11, USD Coin (USDC, Stablecoin) was trading at 82 cents on the Gemini exchange.
Here's the chart: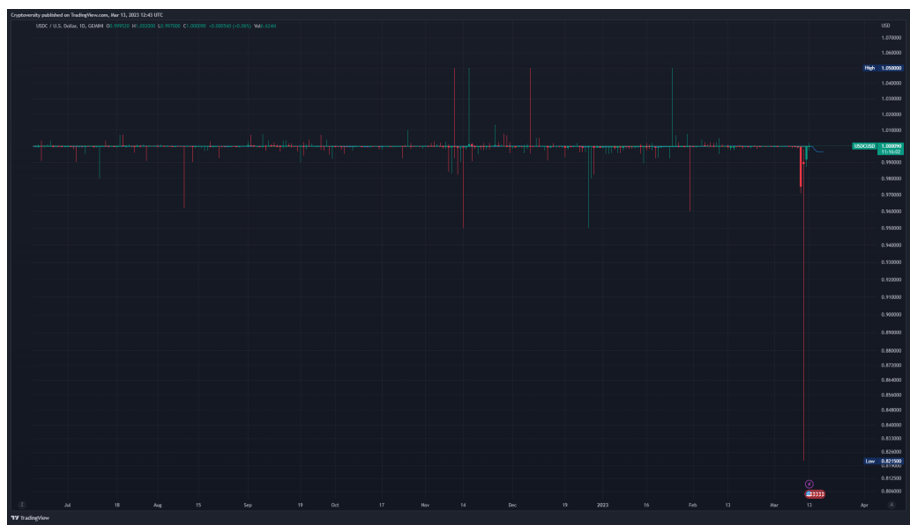 Notice how the price pretty much flatlines. Even those daily spikes up and down are all magnetized to the price of $1 per USDC.
When it goes above $1, traders can sell with confidence, because they can buy back later at $1.
However, when it goes below $1, traders can buy with confidence knowing they can sell later at $1.
And in the case of USDC specifically, that confidence comes from the fact that it is 100% backed by cash and U.S. Treasury bills held in reserve.
The total value of the reserves backs the supply of USDC, and the yield on the USTs pays for Circle corporation's — the firm behind USDC — operating expenses to maintain the USDC ecosystem.
Overall, this is a very simple and elegant approach to making a stablecoin stable.
Additionally, because USDC is collateralized by U.S. dollar-denominated assets held at regulated and audited financial institutions, it is a regulated stablecoin.
So, if confidence and safety are what you're looking for, then this is an even bigger bonus.
This is why I exclusively use USDC for the trade alerts I send to members of my Crypto Yield Hunter service.
While I'm personally comfortable using other stablecoins with my own money, when presented with the responsibility of sending trade alerts that other people will be putting their money into, I choose to go with the safest, most robust option.
The Elephant in the Chart
But what am I missing here?
Although I started this article by pointing out the giant red candle on the chart that took USDC down to 82 cents on March 11, I did not provide an explanation for why USDC temporarily depegged from USD.
In a nutshell, this happened amid a whole load of fear and chaos in the market.
Due to the shutting down of Silicon Valley Bank, it came to light that Circle had funds deposited there.
The same funds that were the reserves backing the supply of USDC.
It is logical to assume 1 USDC can be redeemed for 1 USD when the reserves and the supply are the same.
But what if the ratio gets out of balance?
According to its official figures on March 9, Circle had $43.4 billion of USDC in circulation backed by $43.5 billion of reserves.
So, with $100 million more in reserves than USDC in circulation, the numbers looked good.
But then word got out that Circle had funds in Silicon Valley Bank, which had just been taken over by regulators.
In a panic, people started dumping USDC at 99 cents on the dollar, then 95 cents, then 90 cents … all the way down to the aforementioned 82-cent low.
That means a whole bunch of people sold their USDC at 18% below par out of fear that Circle would not be able to redeem 100% of the USDC supply.
Parity Was Restored
Before midnight on March 11, Circle announced on its blog that even if SVB did not return 100% of its deposited funds, Circle would cover any shortfall using its own corporate resources.
In my mind, the restoration of USDC's value to $1 was inevitable on the basis that regulators would be at risk of being humiliated.
If an organization like Circle followed all the regulatory guidelines — deposited funds in regulated banks and still ended up losing a ton of money — how would that reflect on the regulators?
It may bring the regulators into disrepute, because the rules they had in place were not sufficient to protect investors.
As such, this would devalue the badge of being regulated.
Conclusion
Despite the downfall of certain banks, crypto has been holding on strong.
For instance, in my March 8 edition of Crypto Yield Hunter, as the banking crisis was only beginning to unfold, I recommended to my members that we do nothing.
As it turned out, the crisis was good for business as the yields on our positions in those few days were exceptional.
I often say that we must first let the market tell us what it wants to do before we act.
After all, predicting the future is impossible, so we should not make predictions blindly.
Then how is it that I was able to confidently recommend to my members that we hold the line?
The only answer I can give here is wisdom, which I would define as "knowing what to do through observation over a long period of time."
There was no textbook or college degree that could have told you what the right thing to do was in this scenario.
However, it is important to remember that acting out of fear can lead to poor decision-making, especially when it comes to investing.
This is why keeping a level head is so critical, because you can think rationally about the situation at hand and carefully plan your next move.
So, overall, knowledge and experience are far more important than capital.
Thus, spending a small percentage of your capital to acquire knowledge will do more for your net worth than putting that extra bit of capital into a financial investment.
And that's why I'm primarily an educator instead of a fund manager.
But that's all I've got for you today. Let me know what you think about USDC's resilience by tweeting @WeissCrypto.
I will catch you here next week with another update.
But until then, it's me Chris Coney saying, bye for now.