Volatility Breathes New Life into Crypto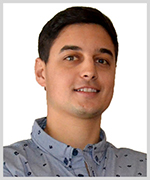 By Alex Benfield
The crypto market closed out 2022 in an unexciting fashion, trading for weeks with little to no volatility and no commanding market narrative.
But so far, 2023 has started with a bang.
Most assets have seen a sizable gain year to date and have broken through — or are close to — some major resistance levels.
Currently, crypto's trademark volatility has returned to the market and most assets are trading above their moving averages. The last two weeks of price action appear almost parabolic compared with the last two months of trading.

So, what's changed?

The short answer is … well, nothing.
Specifically, nothing has fundamentally changed in the crypto market, and no big news story or market narrative has taken over.
Most likely, the market has just finally digested all the bad news from last year and decided enough is enough. Investors are no longer concerned with the FTX fallout, and contagion isn't a worry for them anymore.

Want to know the best cure for the bear market blues?

Some green numbers in your portfolio! A nice fat stack of green candles truly seems to wash the worries away.
The tables have turned so quickly that in addition to the green candles, several key technical indicators are also signaling better times ahead.
The two-week moving average convergence/divergence indicator just crossed over bullish recently. If we look back in time, you can see this indicator signaled the end of the last bear market and preceded a massive rally in prices before the true start of the bull market.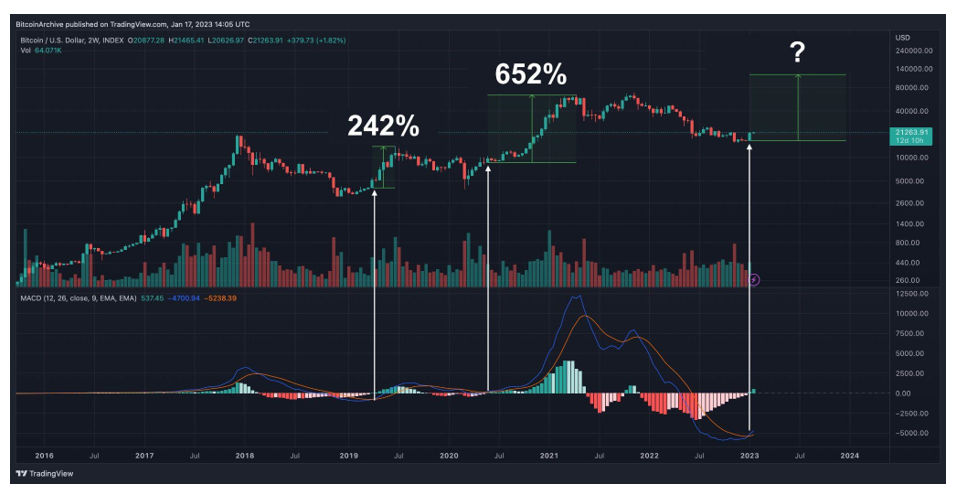 Two-week MACD indicator via H/T Bitcoin Archive on Twitter.
Click here
to see full-sized image.
You'll notice that while prices rallied after this crossover last time, they didn't go straight up. The market did eventually retest the lows in the infamous March 2020 dip.
That means that while crypto prices are currently at the beginning stages of a rally, we wouldn't be surprised if there were a few corrections and at least one major retest of support levels along the way.
In other words, don't overleverage yourself. Volatility does work both ways.
Now, let's take a closer look at the chart of Bitcoin (BTC, Tech/Adoption Grade "A-") and examine exactly what resistance levels to keep an eye on.
As you can see, when Bitcoin broke through resistance at $18,000, it accelerated upward. BTC burst on through the downward trendline shown by the orange line, which ended Bitcoin's bearish trend and shifted market sentiment to NEUTRAL.
The next level to keep an eye on is near $21,500, which represents the previous high-water mark set in November just before the FTX collapse.
That shows that Bitcoin has almost completely recovered the losses it suffered in the wake of FTX.
If you can remember what things looked like just before that market crash, market sentiment was generally positive. Many investors were already calling for a bottom.
So, if Bitcoin and the broad crypto market can pick back up on the momentum they had before that crash, things could turn positive in a flash.
Switching over to Ethereum (ETH, Tech/Adoption Grade "B"), the second-largest crypto by market cap has also made a nice little run, reaching a height of right around $1,600.
ETH is trading above its moving average and has also broken above its recent downtrend.
Let's see if it can build up some momentum from here, or if a correction is coming.
What's Next
We've seen a very nice little rally here to start the year. In fact, it's the first sustained rally since the FTX fiasco.
But we need to remember that the market is cyclical, and that a pullback or correction is certainly on the table.
The crypto market is currently forming a bear market bottom, but don't confuse that with the start of the next bull market.
The bull market and its excessive bullishness, wild price runs and explosive volatility is still likely months or even a year away.
This year will present a few momentum trading opportunities while also serving as an accumulation period.
Don't get caught up in the fear of missing out this year. Rest assured, you'll have plenty of opportunities to buy cheap crypto.
Any rallies in the first half of this year are likely to be followed by price corrections. Think one step forward, half step back.
Over the course of the next few months, we'll see the crypto market form a solid bottom and then build up to a higher floor level where we will start the next bull market. There may even be one explosive rally and sell-off at some point this year, too.
In the meantime, we will be trying to figure out where that new floor price will be. I'd guess that it's somewhere between $20,000 and $30,000 for Bitcoin.
But the key thing to remember is to stay calm if the market pulls back a bit from the current levels.
Forming a bear market bottom takes time, and it's more of a process than a singular moment. This is the perfect time to firm up your plan of action for the next bull market.
The action is coming, sooner rather than later.
Best,
Alex