2 Stocks Just Upgraded to 'A'-Ratings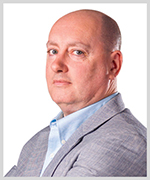 By Gavin Magor
Whether we're talking about socks or stocks, I prefer quality.
Since my last column on Monday, two new stocks have joined the Weiss Stock Ratings "A" club.
Today, I not only want to highlight these names, but I also want to go over some of the features you can use for other stocks rated by Weiss Ratings.
Doing stock research can be a mundane task, but I truly believe the Weiss Ratings website makes it fun, easy, convenient and straightforward.
The two new "A"-rated stocks are Reliance Steel & Aluminum (RS) and Penske Automotive Group (PAG). Reliance Steel & Aluminum was upgraded on 5/22, and we can easily see this by clicking on the "Rating History" tab:

Weiss Ratings page for RS.
Click here
to see full-sized image.
The reasons for the upgrade was an increase to several indexes, such as solvency, debt to equity decreased, the quick ratio increased and net income increased 9.3% from $350.5 million to $383.1 million. And if you're not familiar with financial terms like "quick ratio," which is a measure of a company's short-term liquidity, be sure to check out the glossary tab.
In other words, we do the heavy lifting for you. And you can easily scope around to see if a stock is a good fit for your portfolio. Be sure to remember the My List feature, too, where you can save stocks you want to keep an eye on and revisit them later. You can even set up alerts on a stock for future ratings changes. It's just so convenient.
The other new upgrade — Penske Automotive — is a company that I personally am more familiar with because I am a Formula 1 fan. It's a transportation service company headquartered in Michigan.
In addition to the Ratings History tab, I also want to make sure you're aware of another extremely handy feature: the Comparison tab.
Always Compare
In regard to whatever you're buying in life, you should compare it for better quality and prices, among other things.
Our comparison feature easily allows you to compare a stock to any other stock via the Stock Comparison tab, Sector Comparison tab and the Industry Comparison tab. Many newcomers to our ratings system may not know about this, and that's why I want to highlight it today.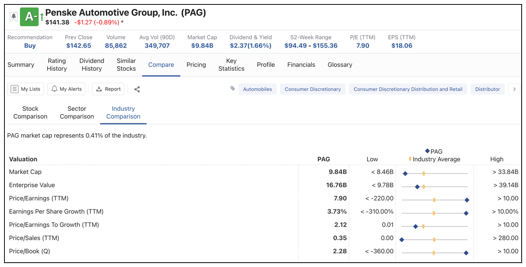 Weiss Ratings page for PAG.
Click here
to see full-sized image.
In the image above, we can see that Penske Automotive's market cap is lower than the industry average. Among others, we can see that its earnings per share growth is higher than the industry average. This is a very useful tool if you are trying to decide between buying two stocks that compete in the same industry.
Again, this goes back to my point of us doing the heavy lifting so you don't have to, and so your investment research experience is as convenient as possible.
If you'd like an even more personalized investing strategy, be sure to check out my service, All-Weather Portfolio. Members of that service are enjoying tailored picks driven by our ratings and our proprietary Bear Bull Model … and they're beating the major indices in doing so.
Click here to learn more.
Speaking of ratings-driven decisions, how about stocks that were recently downgraded?
Several Big-Name Stocks
Recently Downgraded to "Hold"
Although it's great to see which stocks are performing favorably according to our system, it's just as important to see which stocks are being downgraded.
Recently, several big names that may even be in your portfolio have been downgraded from "Buy"-ratings to "Hold"-ratings.
Some of these names include Home Depot (HD), Danaher (DHR) and Amgen (AMGN) … huge companies with market caps in the hundreds of billions of dollars, so a ratings change for them is even more noteworthy.
Home Depot was actually further downgraded from a "C+" to a "C":

Weiss Ratings page for HD.
Click here
to see full-sized image.
In general, I'll spend a bit more to get a quality product, and the same applies to my personal investing strategy. However, I'm glad there is a free and easy to use system like the Weiss Ratings.
Investing is undoubtedly a challenge, but like most things in life, having help and some guidance can make complex tasks seem like a walk in the park.
Until next time,
Gavin Magor