Adapting to the Fed's Chain Reaction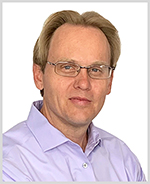 By Mike Larson
My daughters are grown up now — one is about to start her sophomore year of college and the other's in her junior year of high school. But like any father, I have plenty of fond memories from when they were little.
The other day, I thought of one of their favorite bedtime stories, "The Napping House" by Audrey Wood.
It's about a snoring granny sharing the bed with a bunch of pets and her granddaughter. All is peaceful ... until a flea bites a mouse, which sets off a chain reaction of events, and bedlam ensues!
When you think about it, that's a little like what we're seeing in the markets ... only the flea is the Federal Reserve.
By raising interest rates, Chair Jay Powell and his fellow policymakers have put a sequence of market events into motion. And investors like you are left dealing with the resulting chaos!
Think about it. When the Fed hikes interest rates:
The rising dollar puts downward pressure on foreign markets, commodities and precious metals.
They help derail the red-hot real estate market.
They make it harder for companies to fund their businesses, with the pain particularly acute firms in sectors like electric vehicles or tech that have been burning through cash like crazy.
And voila! Recession later in 2022 or early 2023 becomes extremely likely. Bedlam, and all because of a flea.
Unlike the one in the children's book, though, this flea isn't going away.
The Fed is meeting again one week from today ... and the most likely outcome is another 75-basis point rate hike.
There's even an outside chance the Fed will hike by a full percentage point, or 100 bps!
After that? Well, here's a chart from the CME FedWatch website showing what the interest rate futures market was pointing toward as of yesterday: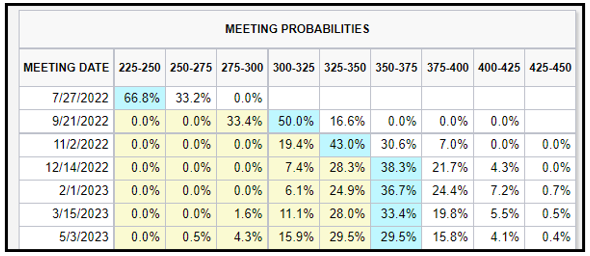 Source: CME FedWatch, July 19, 2022
Those light blue boxes show the most likely level for the federal funds rate (in basis points) as of the next several Fed meetings.
You can see a majority of traders are now betting on a funds rate of 3.5–3.75% by December. Getting there would require — you guessed it — even MORE hikes as the year goes on!
So, make sure you're taking steps to protect yourself — or even profit — in a rising-rate environment like this one. I've talked about some of my favorite strategies and investment ideas right here in recent columns.
Plus, I'm going to share more insights next Thursday, July 28, at 11:30 a.m. at the 2022 Rule Symposium in Boca Raton, FL. This annual conference brings together dozens of my favorite analysts, speakers and precious metals mining executives in one place.
You can expect four full days of investor education ... as well as a wide range of entertainment options at and around the Boca Raton hotel venue.
Be sure to click here for more details on the event — and to secure your spot!
Until next time,
Mike Larson
P.S. If you can't make it to South Florida next week, you can still learn about one of the most attractive investment opportunities out there from the comfort of your own computer or tablet. I'm talking about Alpha Round Investor Summit that's going on this week, which is hosted by Dr. Martin Weiss. Investors are making 20 times greater gains than average investors. Check this out to reserve your seat.