Before You Add Tech Stocks, Check Their Safety Ratings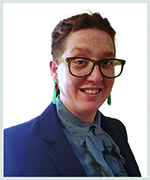 By Kelly Green
So far, we've seen over 87% of the companies in the S&P 500 report their results for the first quarter of 2022. And we're still above the five-year average of 77% companies reporting actual earnings per share (EPS) exceeding estimates.
But it's not all sunshine and rainbows. Some companies aren't seeing the numbers that they wanted to. And the ones that beat are beating estimates by almost half the five-year average.
One notable earnings bomb was Amazon.com (AMZN). The company reported a first-quarter net loss of $3.8 billion or $7.56 per diluted share.
Its stock sank 10% in after-hours trading after the tech giant reported a loss primarily due to the expense from its investment in automaker Rivian Automative (RIVN). Even without the Rivian impact, Amazon would've posted earnings below Wall Street's expectations.
Shares are down 36% year to date: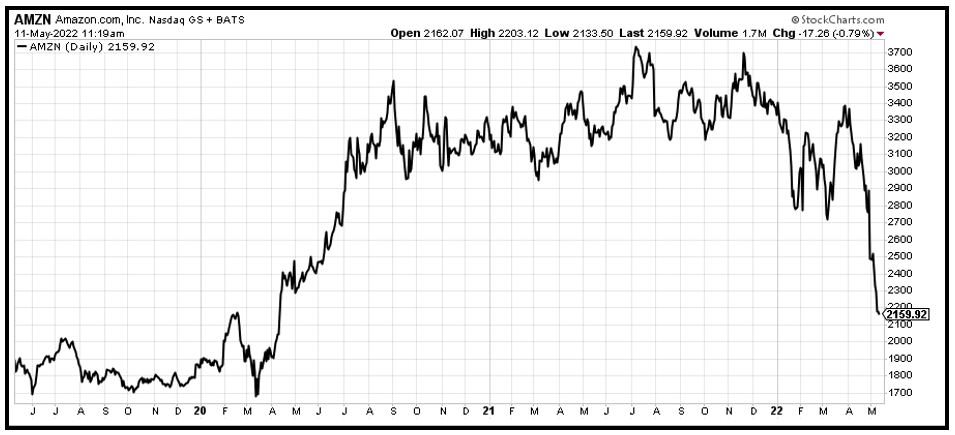 On top of that, the company provided a lower than anticipated sales forecast for the second quarter, citing rising costs and the impact of inflation.
If you look at its rating, we had already downgraded Amazon to a "B-" back in March. Since then, it saw an additional downgrade based on earnings to a "C" (skipping right over C+).
Then just last week, it was downgraded again due to a decline in our volatility index. The giant has fallen and settled in at a "C-."
The company hasn't seen a "Sell" rating since 2014, but that's not out of the realm of possibilities these days.
A quick look at the stock screener shows us that 607 companies were recently downgraded. And it's clear that the market's beloved FAANG (Meta Platforms [formerly Facebook], Apple, Amazon, Netflix and Alphabet [formerly Google]) stocks were hit as well.

Just two weeks ago, I wrote to you about Netflix (NFLX) and noted that the company saw two consecutive downgrades in February and March.
Since then, the company has seen two more downgrades on April 27 and then again on May 6.
That means since Jan. 31, the company has slid from a "B-" to a "D+." Shares are down 70% year to date.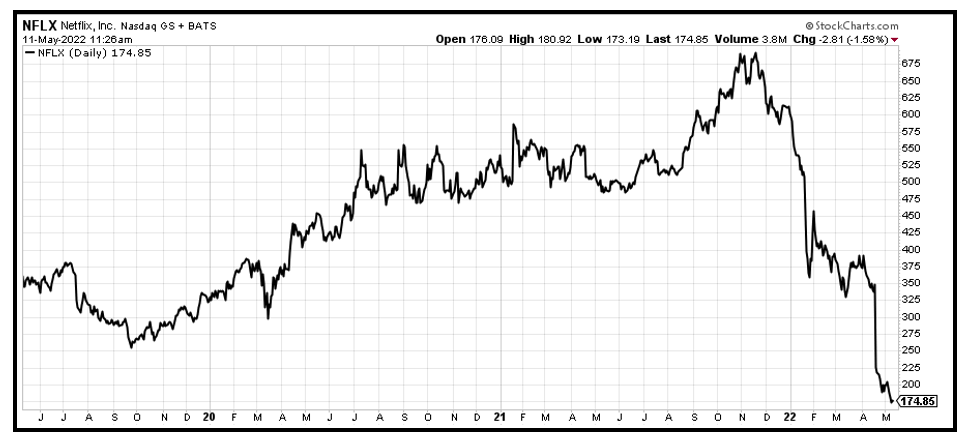 Meta Platforms (FB) has abandoned its solid "Buy" range pattern as well. Earlier this year, it saw a double downgrade itself. In a matter of 11 days, it fell to a "C+" and then down to a "C."
Shares are down 42% year to date.
TWO FAANGs That Still Have a Bite
Apple (AAPL) and Alphabet (GOOGL) are the only two that have managed to stay in the "Buy" range. But that's mainly because they were rated high enough to withstand the downgrades and stay above a "C."
Apple saw three consecutive downgrades starting in March. It's now down to a "B+" from an "A+." Shares are only (to use the word relatively) down 15% year to date.
Alphabet only saw two downgrades back in January. It currently sits at a solid "B." Shares are down 21% year to date.
I'm not saying technology is a sector that you want to avoid completely. Actually, quite the opposite. The technology sector is always a good investment, as the advancement of it is a certainty.
But long gone are the days that you could buy one of the FAANG stocks and just ride the wave.
I headed over to the Weiss Ratings stock screener and noticed that only 76 stocks have a "Buy" rating right now. A further breakdown shows that not one has an "A" rating.
The majority — 46 — have a "B-" rating. Twenty-eight of them have "B" rating. And only two of them have a "B+" rating.
One of those is Apple, which we already looked at above.
The other is Paychex (PAYX), which was recently upgraded on April 22 from a "B" to a "B+."
Paychex is a software company that provides HR services including payroll, benefits and insurance services to small- and medium-sized businesses. The cloud-based ease and integration of regulatory compliance makes it an attractive product in the industry.
Historically, the company has been able to stay mostly in the "Buy" range with a few dips into "Hold" territory. But right now, it's one of the highest rated in the information technology sector.
Shares are still down since the beginning of the year with the market, but not as much as we've seen in other stocks.
Prices are down 12% year to date, but still up 19% over the past year.
This goes to show that there are technology stocks out there if you want to add them to your portfolio. Just make sure you're doing your due diligence.
We can never assume that the market will continue to go up, but since we have a solid system like the Weiss Ratings, we can instead use the dip for grabbing a bargain instead of panicking.
Best,
Kelly Green