Copper is often referred to as Dr. Copper because its price action serves as a gauge for the health of the global economy.
In this segment, I speak with commodities expert Sean Brodrick about rising short-term interest in the metal, long-term projections for global demand, growing industries that are relying on it and investments that capitalize on its strength.
You can watch the video here or continue reading for the full transcript.
Jessica Borg (narration): He's known as the Indiana Jones of natural resources. Senior Analyst Sean Brodrick weighs in on a hot commodity.
JB: Copper is one of those hard assets that we are seeing a rise in.
Sean Brodrick: The thing about copper is that it hasn't done well in quite some time. It's actually been down in the dumps, right?
But lately, we are starting to see copper start to improve in a dramatic way. We've seen some nice price action in copper, some nice volume.
JB (narration): The spot price of copper has rallied ~10% higher than its recent lows. It's now trading around $3.34 cents per pound: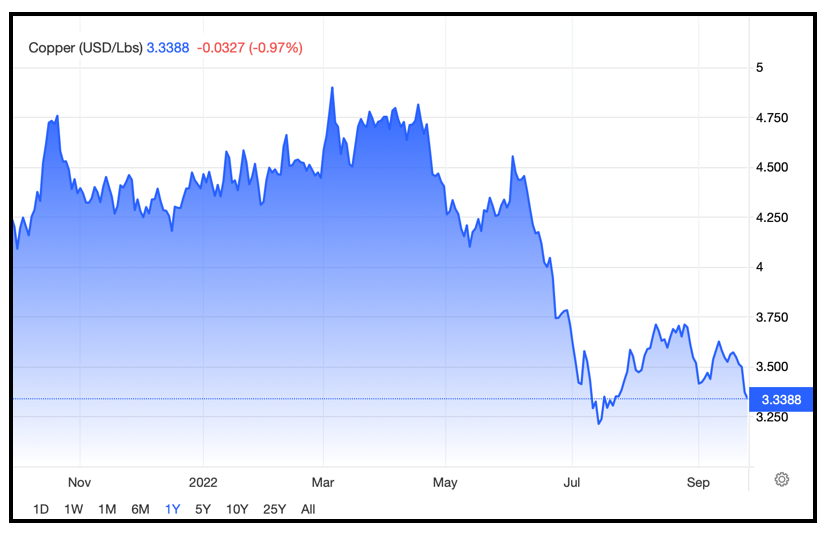 One-year chart of the price of copper.
Click here
to see full-sized image.
SB: Normally, it's in something called contango, where the future price of something is higher because there's always risk in the future.
But now, it's in backwardation, which is when the immediate price is going higher. That tells us that people in the markets need copper now.
JB (narration): Copper is the best transmitter of electricity among all the base metals, and Sean plays to copper's strength, as editor of Wealth Megatrends, Resource Trader and SuperCycle Investor.
SB: We are seeing the premium for the copper you can buy, right now, surge. This shows that people are turning more bullish on copper in the short term.
JB (narration): And long-term, global demand is expected to soar.
SB: We all have more devices that are more plugged in now. I have a friend who has a toaster that talks to him. I never had anything like that.

And so, the more wiring we have in the world, the more electrical demand we have in the world, the more copper demand there is going to be in the world.
JB (narration): The green energy sector needs it. Offshore wind, for example, requires long cables.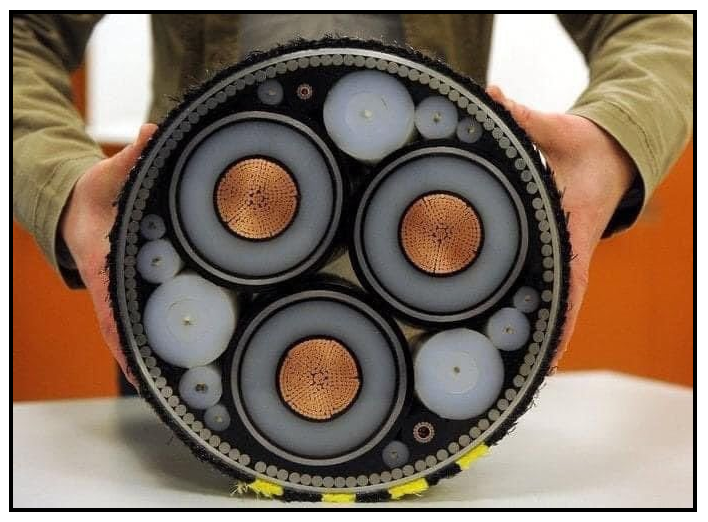 Copper in a submarine cable for offshore wind turbine.
Click here
to see full-sized image.
SB: The amount of copper they need for that is about twice as much as for onshore wind, and the amount they need for onshore wind is insane.
JB: Sean, you use the 50-day moving average as an important metric.
SB: The 50-day moving average is what I use as a dividing line between intermediate-term bull moves and bear moves. And if you're on the right side of that line, it tends to be kind of bullish.
The thing with copper is that the 200-day moving average, which is a long-term trend indicator, is still up there. Could it go bounce its head on that? Maybe it could. But it'll be an exciting ride.
JB (narration): Sean says an exchange-traded fund that moves closely with the price of copper is the Global X Copper Miners ETF (COPX).
It tracks a basket of 39 companies around the world involved in copper mining and processing.
SB: That moves so closely, plus you get a nice dividend. I think copper miners are just going to have a great time going forward.
JB (narration): And what about electric vehicles? EVs need about 3.5 times the amount of copper compared to an internal combustion engine.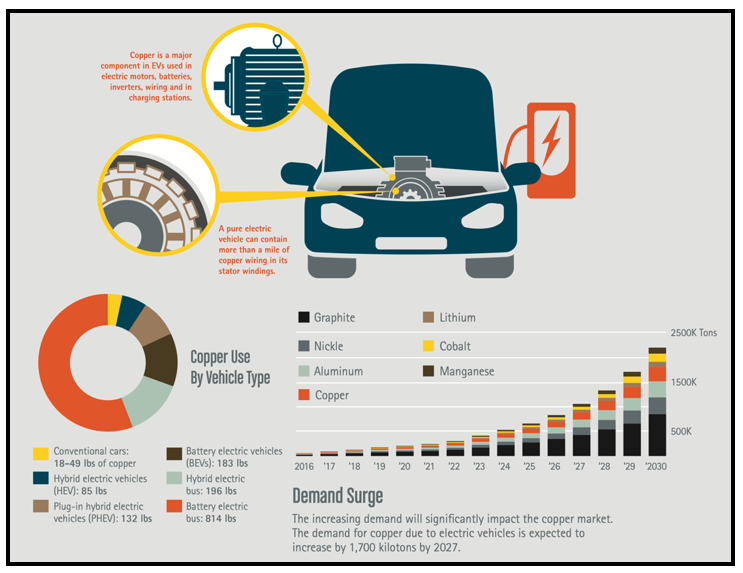 Copper usage in EVs.
Click here
to see full-sized image.
And EV sales are booming. The more EVs on the road, the more charging stations will need to be built.
SB: That's another investment opportunity. Those companies that are building the recharging infrastructure across the U.S. and across the world are going to be making a lot of money. I think there's some real potential there.
JB (narration): The number of sales projected will likely be a lot higher on the heels of the Inflation Reduction Act.
SB: They put in $260 billion in new and extended clean energy tax credits to incentivize energy companies and utilities to produce more solar, more wind and more hydroelectric energy.
JB (narration): Solar is already skyrocketing in growth here in the U.S.
SB: It's already growing at a 34% rate. This is a baseline. It's probably going to get much, much higher.
JB (narration): One reason that solar is so popular is the cost of getting panels has plunged.
SB: They will come up with ways to make solar even cheaper now.
The use of solar will increase. The one problem that we have seen is that there isn't enough battery storage.
When the sun goes down and people want to use electricity at night, that's a problem.
JB (narration): That tech innovation — for battery storage and solar efficiency — creates opportunities for investors.
One way to get in on the action is through the Invesco Solar ETF (TAN).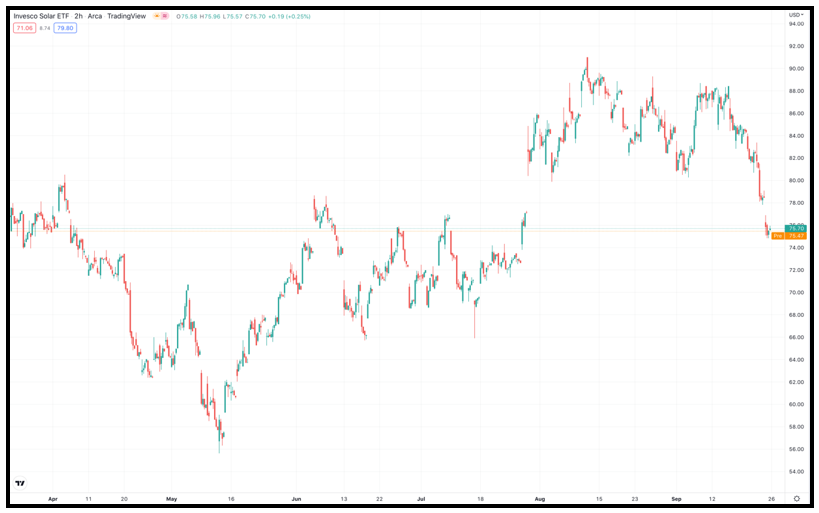 Six-month chart of the TAN.
Click here
to see full-sized image.
It trades at about a million-and-a-half shares a day.
SB: It isn't just companies that make solar cells in that ETF, it's the whole industry.

And so that's a good, easy way to invest in a big megatrend that's ongoing.
JB (narration): And Sean's model portfolios have positions in profitable individual stocks that are making waves.
JB: Senior Analyst Sean Brodrick, it is always terrific to speak with you and get your insights. Thank you so much for making time for me today.
SB: Thanks. I always have a good time.
Best wishes,
Jessica Borg
Financial News Anchor
Weiss Ratings