Investment Lessons From Dubai: Part 3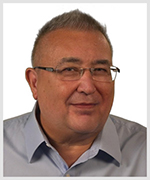 By Tony Sagami
Two weeks ago, I told you how sky-high oil prices are enriching the United Arab Emirates and what it means for the future of oil prices and oil stocks. Last week, I told you how demand for gold is skyrocketing in Dubai.
This week, I'm going to tell you how Dubai is quickly becoming the epicenter of the burgeoning metaverse by promoting its latest trend.
You see, when people are in love, they'll bend over backward to get married. For example, military members deployed overseas have been using a proxy to stand in for them when they physically can't be present for their marriage ceremonies.
A proxy marriage is when the absent party is represented by someone else. (A double-proxy wedding is when neither party is physically present.) In essence, a substitute stands in for the party who isn't able to be there to exchange their vows.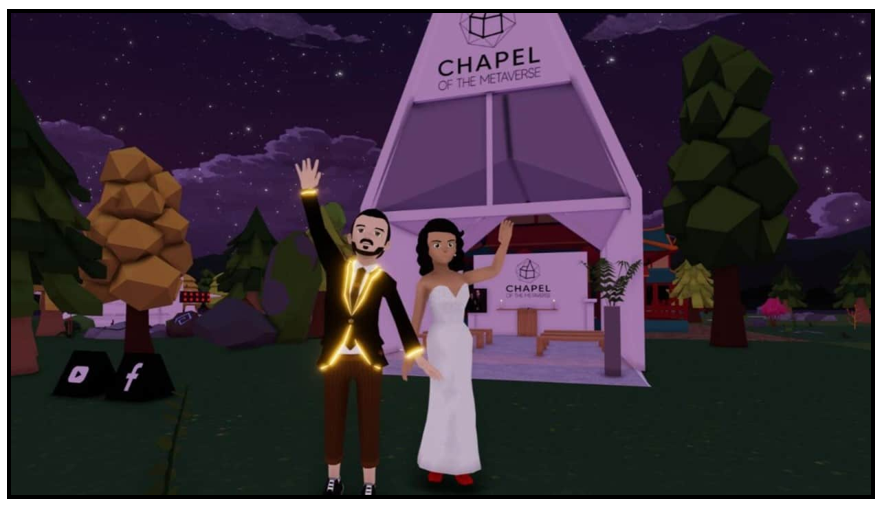 And whether it's a proxy wedding, micro wedding or an elopement, people are increasingly bucking the trend of big, traditional ceremonies. That's hardly a surprise considering the average wedding costs $30,000.
Dubai — known for its forward-thinking populace — has a new, completely legal way of celebrating nuptials: a metaverse wedding.
The Metaverse Marriage
Two Dubai residents, Florian Ughetto, a French citizen, and Liz Nunez, a Paraguayan citizen, wanted to get married. But both of their families were thousands of miles away and unable to fly to Dubai.
Instead of streaming the marriage ceremony over Zoom (ZM) or Facetime, the couple instead decided to get married in the metaverse while in Dubai.
And 20 guests from 10 countries attended the metaverse marriage. The couple purchased a virtual wedding dress, tuxedo and rings for $100 from a metaverse vendor called OpenSea, the world's largest non-fungible token exchange.
They also rented a virtual wedding chapel and even held a virtual, post-nuptial reception after the ceremony.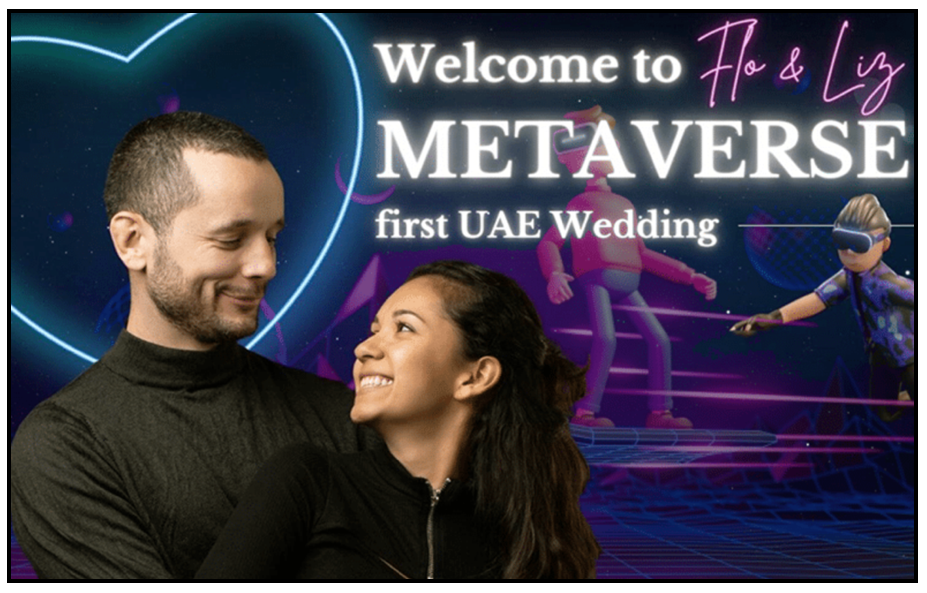 The wedding dress, tuxedo and rings will stay with the couple as NFTs, and their marriage vows are recorded as a smart contract.
"Within a few years from now, it will become the norm to merge both, virtual and real. People will be able to connect with loved ones in a mixed reality where distance is no longer a concern. Creating unforgettable memories is possible in the virtual world," said the bride, Liz Nunez.
Most importantly, the metaverse wedding is fully recognized as legal and binding in Dubai.
But that's not the only way Dubai is blazing the metaverse trail …
Digital Dubai
Remember the Burj Khalifa, the world's tallest skyscraper? The building has 900 condominium units that cost $5–$30 million. Too rich for my blood! But opportunity for real estate in Dubai remains achievable … albeit virtual.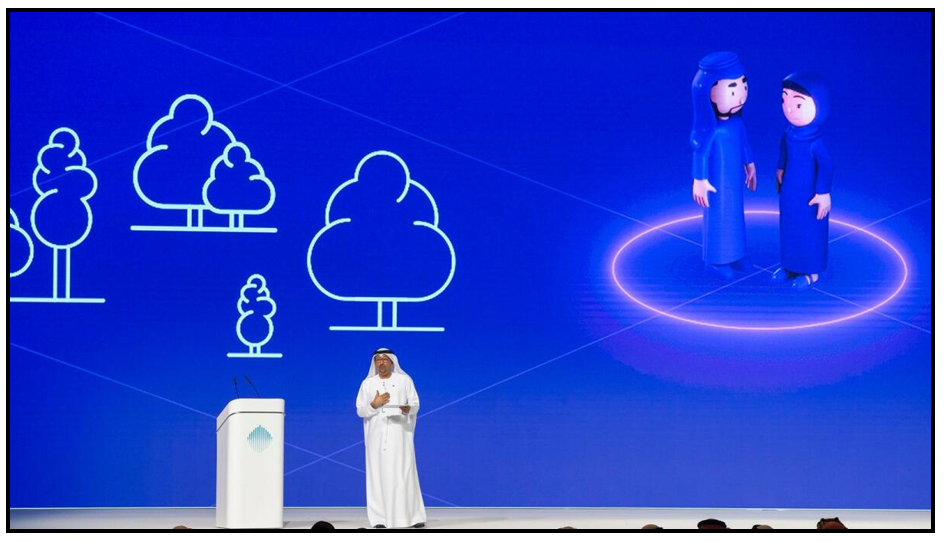 The government of Dubai has created a metaverse project based on the real-world map of Dubai's most prestigious areas. It features vivid recreations of their aesthetics, geometry and topography.
Dubai has become the first global metaverse platform based on a real-world map in which you can buy and sell with NFT tokens. Digital Dubai is the world's first virtual megacity.
The goal, per its website, is to "ensure the city collaboratively achieves the vision of the city's leadership to make Dubai a globally leading digital economy."
Metaverse land refers to plots of "land" on metaverse platforms that are in limited supply (much like property in the real world). Each plot of metaverse land is an NFT and includes a record of its coordinates, its owner and a description of its contents.
So you can buy a virtual Burj Khalifa condo or a Palm Jumeirah plot of land over the government-sanctioned and regulated metaverse.

Skeptical?
I don't blame you. I was, too, until I traveled to Dubai. Pieces of metaverse real estate have been bought/sold for millions of dollars!
In 2021, metaverse real estate sales reached $500 million and increased in value by an average of 700%! According to Forbes, that sales amount is forecast to double in 2022.
And get this: Between 2022 and 2028, the value of metaverse real estate is expected to have an annual compound growth rate of 31.2%!
But like any investment, there are risks associated with metaverse real estate. For example, Bloktopia (BLOK) is a virtual, 21-story skyscraper — an homage to the finite supply of 21 million Bitcoin (BTC).
Bloktopia's native token saw its market cap explode in 2021 from $471 million at the time of its launch to $1.18 billion. Today, it's sunk all the way down to $263 million alongside significantly reduced daily trading volume.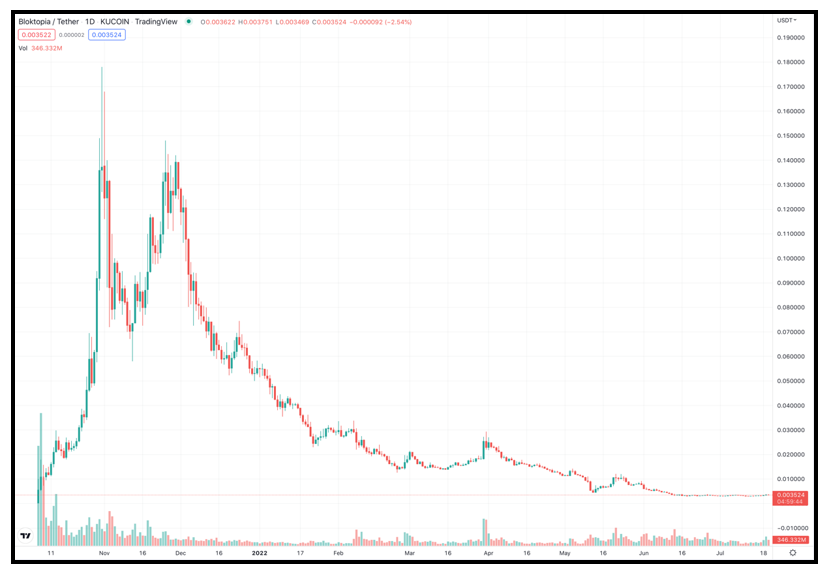 One-year chart of BLOK. Source: Tradingview
But the point I want to hammer home is that — behind the metaverse's weddings and virtual real estate — real companies are providing real software, hardware, semiconductors, platforms, connectivity and cybersecurity to make it all possible.
Those companies — many of which are traded on the NYSE and Nasdaq — are the best ways to invest in the metaverse.
In my upcoming issue of Disruptors & Dominators, which hits inboxes today at noon, I reveal my top metaverse recommendation, which has gained nearly 11% over the past month. For comparison, the NYSE Composite as a whole is up just 2.2% over the same time frame.
Members of Disruptors & Dominators are currently sitting on open gains of over 50%, 25% and 17%.
Consider joining them to help fortify your portfolio against the current bear market and to take advantage of the disruptive technologies shaping the metaverse now and into the future.
Best wishes,
Tony