Despite inflation and growing fears of a recession, Americans are still spending 5% of their income on leisure and entertainment.
In this segment, I interview Senior Analyst Tony Sagami about rising stocks across growing industries, and the next explosive phase of one booming market.
You can watch the video here or continue reading for the full transcript.
Jessica Borg (narration): Having fun can mean big business.
JB: So, how big is the leisure and entertainment sector?
Tony Sagami: About 5% of our gross domestic product is spent on leisure and entertainment. That's a lot!
That is more than the entire GDP of Canada!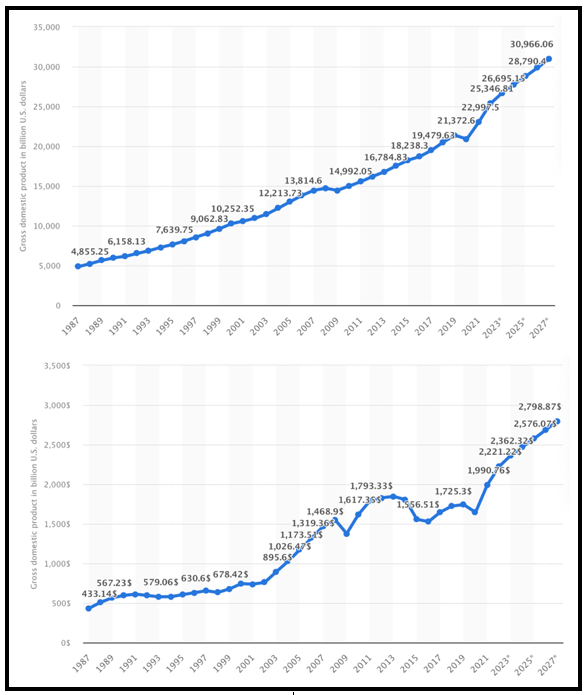 Comparison of U.S. GDP and Canadian GDP from 1987-2021.
Click here
to view full-sized image.
The total U.S. GDP is about $23 trillion, which is a lot. But if you take 5% of that — which is how much we're spending on leisure and entertainment — you're talking about $1.1. trillion.
Any time you start talking about trillions, there's a lot of profits being made by somebody.
JB (narration): Senior Analyst Tony Sagami, editor of Disruptors & Dominators, guides investors to those profitable companies.
JB: Even with concerns over a recession and inflation, people are still spending money on leisure and entertainment.
TS: There's a record amount spent on slot machine spending.
Theme parks reported a record price of spending for drinks, sodas, tickets and everything else, so the theme parks are also growing.
JB (narration): There are many industries that fall under the leisure umbrella.
A good way to take advantage is through the Invesco Dynamic Leisure and Entertainment ETF (PEJ). The top holdings are global brands.
TS: The number one is Yum Brands (YUM). That's Kentucky Fried Chicken, primarily.
Sysco (SYY) delivers the food to the wholesale restaurants.
Even Manchester United (MANU) is in there. That's the premiere soccer/football team in England.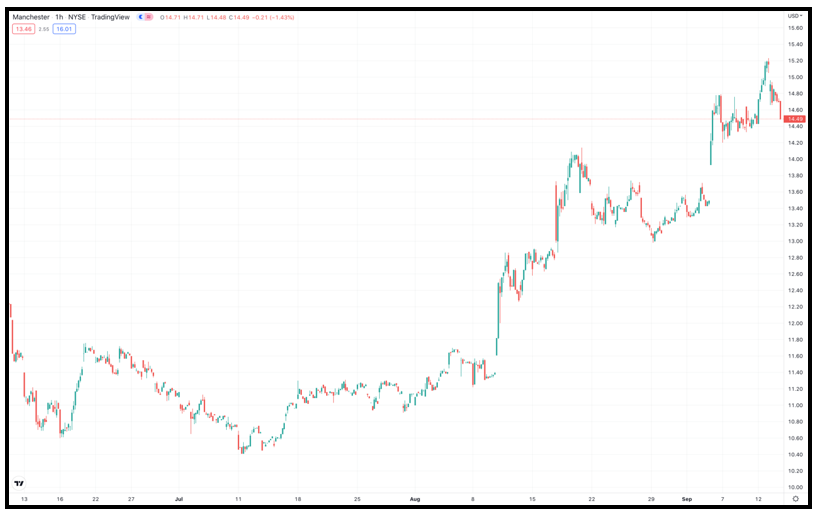 Since its year-to-date low on July 11, MANU — part of the PEJ holdings — is up over 38%.
Click here
to view full-sized image.
JB: That's a pretty diverse exchange-traded fund.
TS: Yes. You can see it's pretty heavy on food. We do like to eat out.
JB (narration): Many in this ETF are large-cap S&P 500 stocks, like McDonald's and (MCD) and Starbucks (SBUX).
TS: I mean these are giant companies, so this is very blue chip.
JB (narration): And you can look at individual stocks in popular corners of the sector.
TS: You can really drill down into the areas that you personally spend a lot of dollars on for your entertainment and leisure activities.
For example, for golf, there's Callaway (MODG). My head almost exploded when my brother told me that he spent almost $1,000 on a titanium driver!
JB: Let's talk about camping. That really became a go-to activity for many people during the pandemic.
TS: There has been a huge increase ever since the COVID-19 crisis. People still wanted to travel, and they need social distancing, so camping has become very, very popular.
There's Camping World (CWH). That's a fast-rising star.
JB (narration): And there's YETI (YETI) — the company that makes outdoor products and accessories. It's a publicly traded stock.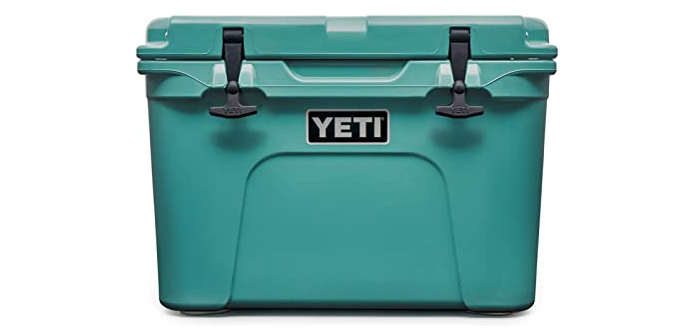 YETI's well-known, insulated cooler.
Click here
to view full-sized image.
Recreational boating is also growing.
The global rec boating market was valued at $29 billion in 2019. By 2027, it's projected to reach more than $35 billion — with the fishing segment of the market considered the most lucrative.
Across the boating world, you have a variety of stocks to choose from.
TS: There's Johnson Outdoors (JOUT) for boat motors. Youhave MarineMax (HZO), Malibu Boats (MBUU), Brunswick (BC) and Marine Products Corporation (MPX).
JB (narration): And it goes without saying, in recent years, spending on video gaming has skyrocketed.
TS: There are two broad categories. There's the hardware and the software.

The software is the games themselves. The hardware is the consoles. Both are really lucrative.
There's really one company that makes a killing off both hardware and software, and that is Nintendo (NTDOY).
They make consoles, and they also make the video games that go with them.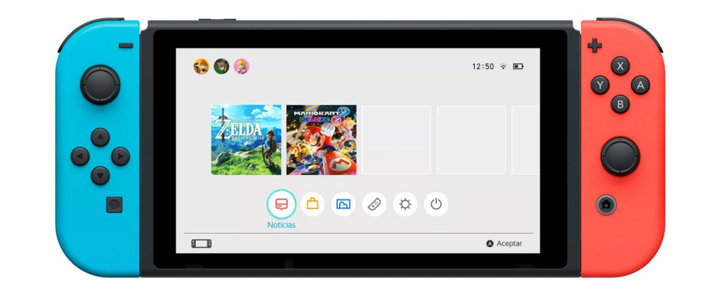 The handheld Nintendo Switch.
Click here
to view full-sized image.
And it's a Japanese company, and it is traded on the over-the-counter market in the U.S., not on the NYSE or Nasdaq.
JB (narration): Investors with Disruptors & Dominators own Nintendo.
TS: It's a fantastic company, wildly profitable.
JB (narration): What are the projections for gaming?
TS: This year, we're going to hit about $220 billion in video gaming spending. That's a lot of money. But that's just the tip of the iceberg.
By 2030, it's estimated that spending on video gaming will hit almost $600 billion. That's a lot of money, and we're talking about a 13% compounded growth rate. That's some serious growth.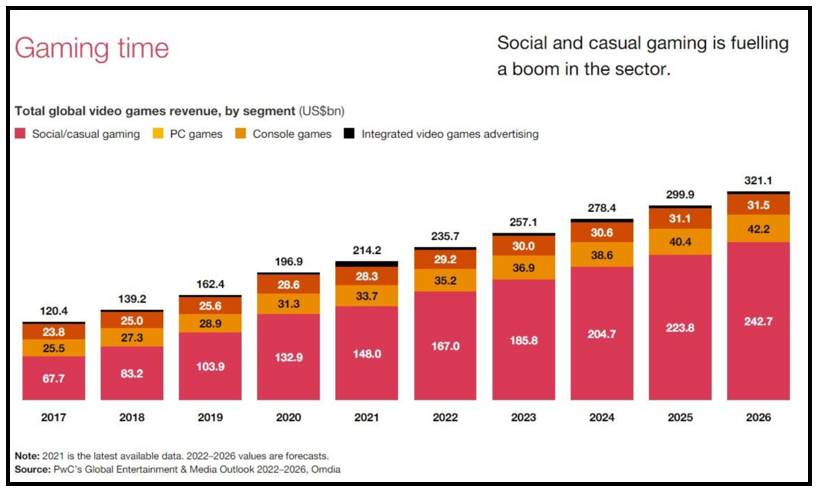 Total global video games revenue, by segment, in U.S. $bn.
Click here
to view full-sized image.
JB (narration): And that's not including metaverse-related gaming.
The metaverse is the convergence of the physical and digital realms. It's the next evolution of the internet and social networks, using real-time 3D software.
This means new revenue streams for game-makers and tech companies, and new opportunities for investors.
TS: One of the biggest winners of the metaverse is going to be video games.
And so, if you're looking for a catalyst for something to really take off and really explode, the metaverse is the dynamite underneath the video game market.
JB (narration): So, think about how you might capitalize, at your leisure.
JB: Senior Analyst Tony Sagami, it is always a pleasure to see you and speak to you and get your insights. Thank you so much for making time for me today.
TS: Let's do it again!
Best wishes,
Jessica Borg
Financial News Anchor
Weiss Ratings