Markets up, Inflation Down
Last month, we saw gross domestic product grow by 2.6% in Q3, the first positive GDP growth in 2022.
This week, we received more positive macroeconomic news. The Consumer Price Index reading for October was 7.7%, down from 8.2% in September.
This comes on the back of the Dow Jones posting its strongest October in its 126-year history, and its strongest individual month since 1976.
However, despite inflation cooling and chatter of recession on hold, sentiment took a significant dip this week, with 47% of investors noting bearishness — up from 32.9% the week prior.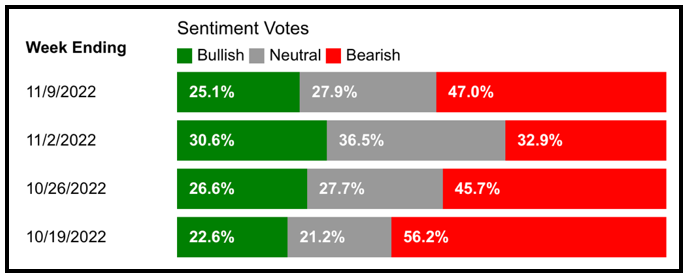 American Association of Individual Investors' Investor Sentiment Survey.
Click here
to view full-sized image.
To better understand how these factors will affect the markets — and investors' portfolios — going into year-end, here are this week's top stories from your favorite Weiss Ratings experts.
There is tremendous profit potential right now in lithium and a handful of other energy metals. In this segment, Financial News Anchor Jessica Borg interviews commodities expert Sean Brodrick about lucrative investment plays and next year's profit potential for gold and silver.
The Great Retirement Savings Pause
So far in 2022, 54% of workers have either reduced or altogether stopped making contributions to their retirement accounts after watching their value drop drastically in the past few months. Senior Editor Tony Sagami reports on the dire retirement savings situation, why it's a concerning trend and what you can do to ensure you're prepared.
How SAFE Banking Act Could Spark Pot Stocks
Senior Analyst Sean Brodrick has three charts and a hot tip for you: Position yourself for the coming surge in cannabis stocks. He explains why the SAFE Banking Act could be a huge deal for the cannabis industry, how it's receiving bipartisan support and which companies investors should be watching.
VIDEO: Market Minute With Kenny Polcari
In this week's edition of Market Minute, Kenny Polcari dives into this week's macroeconomic news, including the Consumer Price Index and Produce Price Index reports, and what that means for investors moving forward.
MRNA's Revolutionary Cancer Treatment
Senior Analyst Jon discusses mRNA technology and how it's being used to revolutionize cancer treatment. Personalized cancer vaccines are not only going to save people's lives, but they are also very likely to make the companies developing them, and their investors, a load of money.
Until next time,
Jordan Chussler
Managing Editor
Weiss Ratings Daily