Power Up with This Newly Upgraded Stock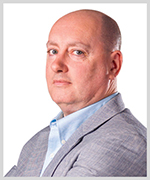 By Gavin Magor
Another highly successful Weiss Investment Summit wrapped up earlier this week, and I want to say thank you if you were able to make it to the event!
It was truly special being able to talk to Weiss Ratings Members in person, meeting new faces and seeing some familiar ones.
I had a great time speaking and a great time being able to exchange ideas. From our wonderful members who joined us and asked lots of thought-engaging questions to all of the diligent work our Weiss employees put in to make the event possible: Thank you!
That said, between speaking at the Summit and looking at all the new economic data that has poured in this week, it's been very eventful.
One of the most important pieces of data I've been analyzing since the Investment Summit ended was the latest Consumer Price Index and Producer Price Index inflation data.
Like I've been predicting for quite a while now, it's still running hot, and I don't think that's surprising to anyone.
We shop, we buy, we know. You can read all the articles you want, but this is very much still a hot economy that needs more time to be tamed.
In the meantime, corporate profits are near record highs, consumer spending is still mightily strong and the opportunities for investors are bountiful.
Sure, I'll admit I'm biased because I'm the director of our ratings and research, but there is no question that our database will help you find great opportunities and ratings in equities, banking, insurance and crypto.
An article I wrote that was sent out on Tuesday covered a major insurance industry problem and opportunity. But today, I want to get back to our stock ratings.
Glancing at Recent Stock Upgrades
After filtering for Investment Ratings of "A+" to "B+" and for a recent ratings upgrade, our stock ratings page populated seven stocks.
Let's take a look:
This list is sorted by market cap, highest to lowest. The highest name, Lincoln Electric Holdings (LECO), is a stock that I've recommended to some of my premium members in the past … which helped them bank a quick gain.
The Cleveland-based company is a global manufacturer of welding products. Its most recent rating upgrade came from increases to its net income (up 12.63%) and total capital (increasing 1.58% to $2.33 billion from $2.3 billion). To look at all of our past rating changes for this name, check it out on the Ratings History tab.
I view this company's financials as healthy — especially for what I view as a growth stock.
Remember, our stock ratings have a massive bias toward safety. As is reflected in its financials, we can see an increase in earnings and cash flow. Also, the company has recently released promising forward guidance. And that brings me to my last point …
Always Compare
In any stock you are looking at, I suggest you always compare it to not only the other stocks you're looking at, but most importantly, to those within its industry and sector.
Under the Compare tab on the Weiss Ratings site, you can see how any stock we rate compares to others within both its sector and industry. Here's a look at Lincoln Electric's sector comparison:
The most notable item above is that Lincoln Electric is trading at a slightly higher premium than its sector average, meaning it's trading more expensively than its sector peers.
Trading at 21.84 times earnings, the company is trading at a premium, but its financials are ultimately growing. That can come at a cost, but one that our ratings systems demonstrate is justified at the moment.
Let's turn to the technical side of things and look at its chart: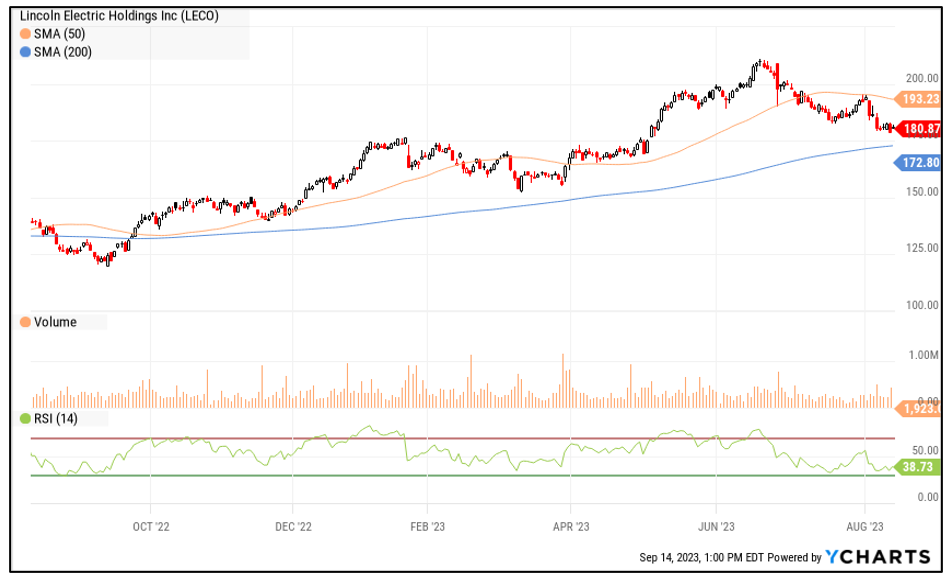 LECO price chart.
Click here
to see full-sized image.
Shares have been trading in between its 50-day and 200-day moving averages for around the past month or so … but are still up 24% year to date. Shares have taken a breather, but this may just be a good entry point for investors. Remember to always do your own due diligence.
Today, I covered a name that is highly rated within our stock ratings with information that's free and available to all investors.
If you'd like even more information on specific stocks, I recommend you turn to my colleague Sean Brodrick. Be sure to check out his new presentation now.
Cheers!
Gavin Magor