SVB's Collapse Should Send Gold Higher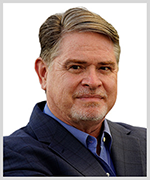 By Sean Brodrick
What an upheaval we've seen in the markets recently.
Just last week, about 60% of bond traders were betting that the Federal Reserve would hike its benchmark rate by 50 basis points at its next meeting on March 21-22.
Now, that bet has flip-flopped, with most of the market betting on a 25-basis-point hike. Some are even calling for a cut!
The expectation is that the banking sector crisis is only going to get worse. But there is always a bull market somewhere, and this banking crisis is sparking alternative assets. We saw that yesterday with big moves in the crypto market, and it's also propelling the next leg of gold's bull market.
Let's look at the three factors currently propelling gold higher.
The Banking Crisis Isn't Over
Over the weekend, we saw California tech-bro favorite SVB Financial and Signature Bank both collapse as depositors fled. That is right on the heels of the implosion of Silvergate Bank — part of Silvergate Capital (SI) — which catered to cryptocurrency traders.
What happened? Well, after the 2008 Great Financial Crisis, Congress imposed rules on the financial system through the Dodd-Frank Act. It laid out restrictions on bank lending to prevent a repeat of the crisis.
But in 2018, the Dodd-Frank regulations were rolled back for banks with assets under $250 billion. More recently, SIVB and SBNY — among others — made some astoundingly bad bets. Big depositors fled, starting a bank run.
The Fed moved swiftly to guarantee deposits at banks, and that may have stopped the immediate crisis. But there could be more shoes to drop.
I'm thinking of regional banks, including Metropolitan Bank Holding (MCB), Customers Bancorp (CUBI), KeyCorp (KEY), First Republic Bank (FRC), UMB Financial (UMBF), Zions Bancorporation (ZION), Western Alliance Bancorporation (WAL), PacWest Bancorp (PACW) and Comerica Incorporated (CMA).
There are 17 regional banks that escaped Fed scrutiny up until recently. These banks all sold off hard on Monday as the banking crisis reared its ugly head. Then, these same bank stocks rebounded on Tuesday, as the Fed's plan to save depositors seemed to be working.
The problem is far from over. Depositors are still fleeing these smaller banks, figuring they might be facing the same problems as the banks that failed.
This ongoing banking crisis supports gold, because gold is a safe haven. But there is another reason …
It's Harder for the Fed to Raise Rates
In a week, there has been a huge shift in Wall Street's bets on the Fed raising rates. Goldman Sachs (GS) expects there to be no rate hike at all. Global financial services group Nomura (NMR) boldly expects the Fed to CUT at its March 21-22 meeting — something that did not seem possible last week.
Even if the Fed hikes rates at the meeting, it's losing incentive to keep hiking rates. That's because Fed rate hikes are part of what fueled the banking crisis in the first place.
Currently, the Fed's benchmark is in a range of 4.5% to 4.75%, up from near zero a year ago. That is a huge move in a relatively short amount of time.
This hurt banks in two ways: It hammered the value of longer-dated Treasurys held by the banks, and it raised the borrowing costs of bank customers, including no-earnings tech companies that need cheap money to survive.
So, now we will have fewer rate hikes than previously expected. And since the market is an expectations game, this is chopping away at support for the U.S. dollar.
What is priced in dollars? Gold and silver. As the dollar slides lower, the precious metals should find the next leg of their bull market.
Speaking of which …
Gold Is Already in a Cyclical Bull
Here's a chart I've shown you before. Gold is already in a cyclical bull market …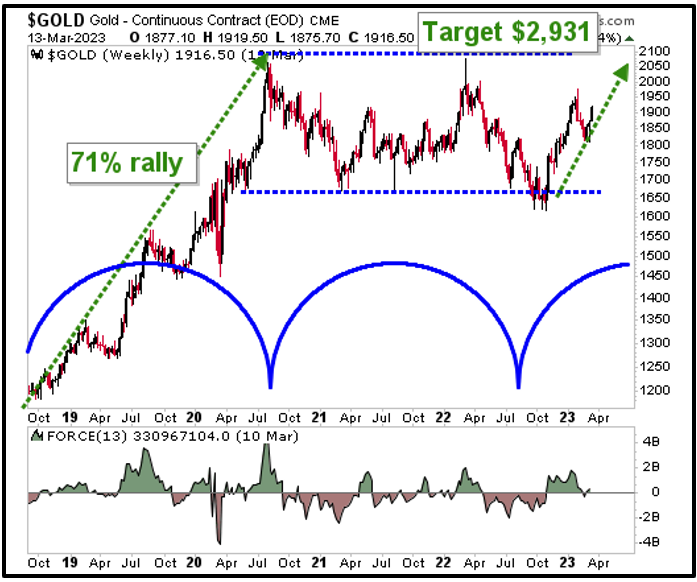 Four-year chart of gold.
Click here
to see full-sized image.
You can see that gold rallied right off its uptrend. The easiest path is higher, with a target of $2,931 sometime in the next year. This banking crisis is just adding fuel to the move higher in gold that was already taking place.
How You Can Play This
Let's look at the last two weeks of price action in gold as tracked by the SPDR Gold Shares (GLD), gold miners as tracked by the VanEck Gold Miners ETF (GDX) and the S&P 500 …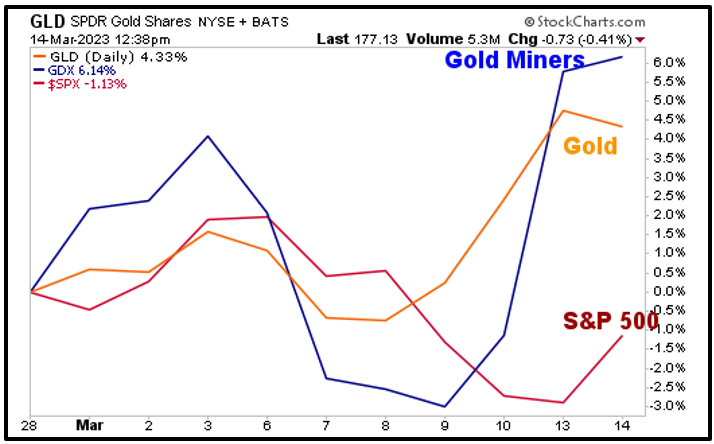 Two-week chart comparing GLD, GDX and the S&P 500.
Click here
to see full-sized image.
You can see that gold started blasting off as news of the banking crisis hit. But it's the gold miners that are really outperforming. That is because miners are leveraged to the price of gold.
As its price climbs, their profit margins get bigger and bigger. Meanwhile, the S&P 500 is under pressure.
There are other good investments when people worry about the financial system. For example, Bitcoin (BTC) is racking up outsized gains. And that slumping dollar will likely boost Bitcoin even further.
So, while America works through this banking crisis, don't hide under your desk. There are great investments out there for those brave enough to seize the day. Gold is a shining example, and the miners will shine even more so.
That's all for today. I will be back with more soon.
All the best,
Sean