VIDEO: Income Investing Roundup
It's been no surprise why the Federal Reserve has hiked rates 75 basis points several times this year.
The Consumer Price Index is hovering around a four-decade high, and the central banks' approach to combat it has been a series of interest rate increases. The Fed says it will continue hiking until inflation subdues.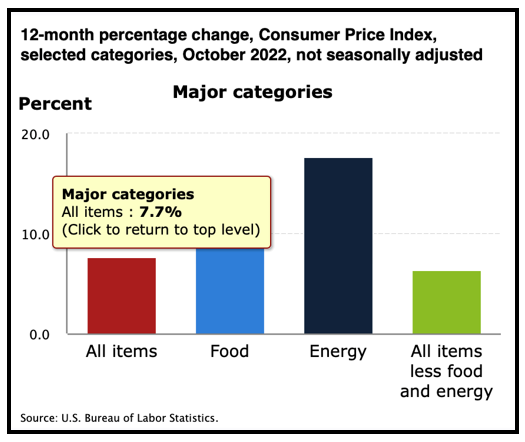 Consumer Price Index readings for October 2022.
Click here
to see full-sized image.
Some see clear signals of that already happening.
The CPI has shown signs of slowing since the summer, indicating that interest rates may be close to topping out.
So, has inflation peaked? Have interest rates reached a climax ?
That's yet to be seen. The Fed may slow the pace at which they're increasing rates, but a full stop or pivot might not happen until later in 2023.
Regardless, this environment is primed for income investing.
So, this week, I'm giving you a roundup of four inflation- and income-oriented video segments to help put money in your pocket, while we wait to see the what the next move is by the Fed.
Watch Jessica's Recent Videos
A Disinflationary Wave Is in Motion
A disinflationary wave has been building and key indicators show which industries are benefiting. In this segment, Jessica interviews Senior Analyst Tony Sagami who discusses where the market is now, where it's headed and if a so-called Santa Claus rally is in the cards.
Market turbulence may be here for the long haul, but there's no shortage of opportunities if you embrace volatility. In this segment, Jessica interviews Investment Analyst Nilus Mattive about an exchange-traded fund that rises when the market declines, Safe Money strategies like fractional investing in alternative assets and selling options for consistent income.
The Gulf Between Winners and Losers Deepens
The stock market is a fluid situation and the dynamics at play are drawing a deepening gulf between investment winners and losers. In this segment, Jessica speaks with Income and Dividend Analyst Mike Larson, who describes the game of catchup the Fed is playing, recession-resilient stocks and how the rising value of the U.S. dollar is affecting investments across the board.
Amid volatility, you should target investments that avoid broad market whiplash. In this segment, Jessica interviews Research Analyst Sam Blumenfeld about sectors with inelastic demand, two outperforming exchange-traded funds and how stocks will likely react to the U.S. midterm elections from a six-month to two-year time frame.
Best wishes,
Jessica Borg
Financial News Anchor
Weiss Ratings