Gavin Magor
|
Director of Research & Ratings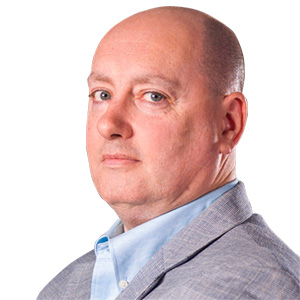 Gavin Magor directs a global team of research analysts and data scientists to ensure that the Weiss ratings of 52,000 investments and institutions continually meet the highest standards of independence and accuracy.
He oversees the data collection, development and maintenance of five Weiss Ratings computer models, each designed to evaluate the investment risk or reward in (1) stocks, (2) mutual funds, (3) exchange-traded funds, (4) closed-end funds and (5) money-market funds.
Gavin has a more in-depth working knowledge of our ratings models ... and how to improve upon them ... than anyone on Earth. He understands the inner workings of our ratings so well, he can often anticipate, ahead of time, when a stock's rating is likely to rise or fall.
This made him the natural choice to lead our All-Weather Portfolio service, where he helps members harness the power of the Weiss Ratings for safety and profit potential.
Separately, he also manages five other Weiss Ratings computer models to evaluate the relative safety of (1) banks, (2) credit unions, (3) life and annuity insurers, (4) health insurers and HMOs, as well as (5) property and casualty insurers.
Thanks in large measure to his efforts, Weiss Ratings has often earned accolades for warning consumers ahead of time about virtually all bank and insurance companies that subsequently failed, while steering them to institutions that have remained strong even in the worst of times.
Gavin received his MBA degree at the Open University in the UK and joined Weiss Ratings in 2008 after 20 years in international operations and banking.
Gavin Magor's Articles
Grab another quick gain as we take a close look into what I love about our portfolio's AI winner.
Here's why the investment opportunity in strong AI names is historic and nearly unprecedented.
I love all our Heat Maps, but this one stands out, especially these highly rated names.
The U.S. Dollar is still historically strong, and here's what it means for investors.
Lock down gains and rotate into new rankings winners, plus some insight on the historically strong U.S. Dollar.
The Weiss Stock Ratings are extremely easy to use and have always been 100% independent and highly accurate
Keep searching for top Heat Maps names to help combat inflation that just won't quit.
We love dividend paying stocks just as much as we love this new options-oriented investing strategy that aims for weekly $1,000 payouts.
And here's why (with the immense power of your Heat Maps) you should be, too.
A Kansas bank was forced to close after scammers made off with some $8M-$12M.