A huge fallout in the DeFi world is creating a major dilemma, and all investors need to realize its huge implications.
Disrupting digital payments is a multitrillion-dollar opportunity. Only a few months ago, investors assumed the path forward was decentralized finance (DeFi).
Now, that sentiment has flipped on a dime.
Last week, the major blockchain platform Terraform Labs imploded, wiping out $45 billion in investor wealth. The Singapore-based company behind the Terra (LUNA) blockchain was supposed take on the credit card duopoly with a low-cost alternative.
Although the fallout's implications are far too uncertain, one thing is screaming true: The failure is horrendous news for Block (SQ), formerly known as Square.
That said, the payments space is certainly a target worthy of disruption. It's currently dominated by Mastercard (MA) and Visa (V), two goliaths that are more like frenemies than competitors.
For decades, they have been investing billions in processing technologies, while divvying up key geographies and collecting 2%–3% fees on every gallon of gas and every pizza purchased with a credit card. It's a supremely lucrative business with high barriers to entry.
DeFi is a big idea that uses blockchain technology to verify transactions, using cryptocurrencies as a facilitator. The problem with DeFi has been that nobody really wants to buy stuff using Bitcoin (BTC) or other cryptos. There is too much volatility.
Most crypto-literate investors are familiar with Laszlo Hanyecz, the first person to make a commercial Bitcoin transaction. Hanyecz spent 10,000 BTC in 2010 to buy two pizzas.
So-called stablecoins were supposed to fix the volatility problem, but there are clearly issues.
These are digital coins pegged to relatively stable fiat currencies like the U.S. dollar.
In theory, blockchain platforms could use stablecoins, plus the inherent strengths of the chain, to cut transaction fees to 1%, while delivering a solid alternative to traditional credit-card infrastructure.
Terraform Labs even appeared to have some success in South Korea.
Related Post: AMD Slam Dunks Earnings
Unfortunately, Terra's UST stablecoin was dependent almost entirely on Terra's governance token, LUNA, to maintain the peg to the U.S. dollar, with some BTC having been added in 2022 to help back it up. An attack on UST ignited a vicious cycle of both assets plummeting in a race to the bottom.
And that's the rub. In too many instances, DeFi has been proven not ready for prime time.
The collapse of UST follows the demise of several other stablecoins. Since 2020, Basis Cash, Empty Dollar Set and Titan have all had high-profile implosions. SafeCoin, bitUSD, DigitalDollar, NuBits and CK USD top the list of smaller stablecoin fails.
The growing list of crypto mishaps has drawn scrutiny from regulators. Janet Yellen, the U.S. Treasury Secretary, told a Senate banking committee last week that she hopes to see stablecoin regulation later this year. Scrutiny from regulators is going to be a big headwind for the sector.
The key takeaway for investors: DeFi is nowhere near ready to disrupt the status quo.
Block became a household name in its prior guise as Square during the 2010s after its white plastic point of sale terminals began showing up at art fairs and swap meets.
Under the leadership of founder Jack Dorsey, Block leapt to the top of the digital payment scene.
Based in San Francisco, this company's since evolved into a FDIC-insured bank, a consumer payments and cryptocurrency trading platform, a buy-now-and-pay-later service and an online music streamer.
Dorsey believes that Bitcoin is at the center of it all, a native currency for the internet. Given its long history, Block should be a good position to lead the transition to digital payments based on cryptocurrency.
Unfortunately, Bitcoin is even further away than stablecoins from being suitable for payments.
Related Post: Upstart's AI Flop
On Sunday, Sam Bankman-Fried, CEO at the crypto exchange FTX, told the Financial Times that the Bitcoin infrastructure will never be able to scale to a payments network.
The influential crypto billionaire notes that Bitcoin infrastructure is currently processing only 2.5 transactions per second. Visa is capable of processing 24,000 transactions per second.
So, while DeFi has tremendous potential, its practical application is still far from being a reality.
At a share price of around $88.51, Block trades at around 45.8 times forward earnings and at around 2.5 times sales. The operating margin is –0.8%.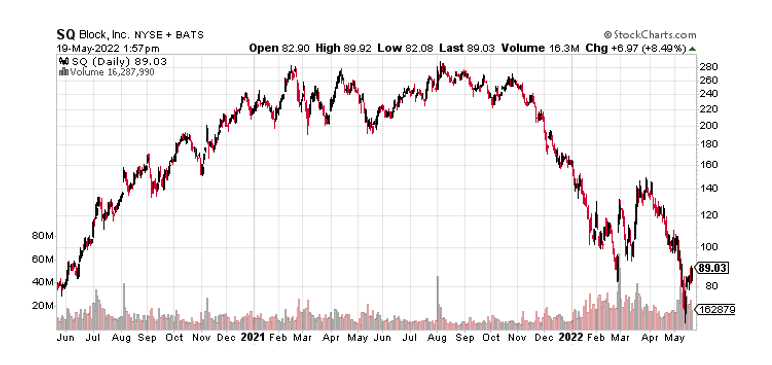 It's true that shares are down 51% year to date; however, they still look expensive based on earnings growth, margins and investor expectations.
While DeFi (and crypto as a whole) may be struggling, the trend there has been inching closer to mass adoption. They may not be ready just yet, but the technology is trending in the right direction.
If you're looking for trends you can act on now, I strongly recommend you explore a risk-free trial to our acclaimed Wealth Megatrends publication, which focuses on identifying major economic trends unfolding in the markets. You can get a risk-free trial, plus 4 premium bonus reports that all investors should read, for as little as $0.14 per day. Click here for the details, or call our Customer Care team at 855-278-9191 to get unrestricted access,
Best wishes,
Jon D. Markman