Crypto-Backed Mortgages Spell Risk
Mortgage rates are rising quickly in the U.S., yet a Miami startup is racing to securitize home loans with cryptocurrency.
No down payment is required.
Milo, a Florida-based digital bank, is now using digital coins to secure hard assets. The larger plan is to pool crypto-backed home loans and offer them as bonds to asset managers and insurance companies.
It's an interesting strategy … but given current market conditions, investors should be skeptical, especially with financial stocks.
All of this should sound familiar. Pooling risky home loans, then selling them to unsuspecting asset managers, was the recipe for the Great Recession of 2009.
As long as housing prices continued to climb, homebuyers were able to refinance and everyone got paid, including bondholders.
However, when housing prices imploded, millions of low credit score borrowers defaulted. The rest is history.
Related Post: Crypto's First War
Many economists see parallels … and investors need to see the bigger picture of how this impacts the financial industry as a whole.
Inflation is running at the highest rate in 40 years. Several years of cheap money policies at the Federal Reserve helped too many homebuyers chase too few new homes.
Prices in many parts of the country have been rising at an unsustainable rate.
Interest Rates Are Taking Off
At the Federal Open Market Committee (FOMC) meeting this week, Fed governors are widely expected to raise short term rates by 50 basis points, and signal that more increases are in the offing. Although late, the change in policy at the Fed is sending a chilling message.
The Wall Street Journal reported that domestic mortgage rates are rising at the fastest pace in 35 years.
At 5.5%, the average rate on a 30-year fixed mortgage is up 71% since January.
Higher rates can increase a borrower's monthly costs by hundreds of dollars. Ultimately, those increases should lead to fewer buyers and lower home prices.
That's why plans at Milo are fraught with warning signs.
Bloomberg notes that Milo recently raised $17 million in Series A funding, and that the company has issued pre-approval letters on $340 million in new mortgages during the past month.
Moreover, CEO Josip Rupena claims that the company has a waitlist of 8,000 home buyers in Texas, California and New York.
Those buyers will be able to secure mortgages without worrying about the down payment.
How It Works
Applicants will merely pledge their digital coins as collateral. This means they will also avoid taxes on capital gains, or the opportunity cost of rising crypto prices.
The product seems to be like a win-win, assuming real estate and crypto prices keep rising ... except there are signs both bets are unlikely to be winners in the near term.
Bitcoin is off by 40% since it reached $66,000 in November 2021. And U.S. property prices now face headwinds from a change in Fed policy and rising mortgage rates.
Oddly, the major money center banks have been stepping up exposure to crypto currencies in 2022.

Reuters noted in April that a slew of big banks began offering crypto to their most well-heeled clientele. Morgan Stanley (MS) is giving clients with at least $2 million access to three new crypto funds.
Wells Fargo (WFC), Citigroup (C), Goldman Sachs (GS) and Bank of America (BAC) began offering dedicated crypto products last year.
Risk Is Racking Up
Financial stocks are down sharply in 2022 despite rising rates.
Traditionally, financial firms have been helped by wider spreads between their lending rates and borrowing costs. This year banks have moved sharply lower. That's bearish, and more downside seems to be cued up.
Related Post: A Cybersecurity Star in Times of War
At $305.49, Goldman trades at 7.4 times forward earnings and 1.8 times sales. That is not extremely dear, yet it's also not historically cheap.
The stock should trade substantially lower if rates continue to move higher and crypto remains under pressure.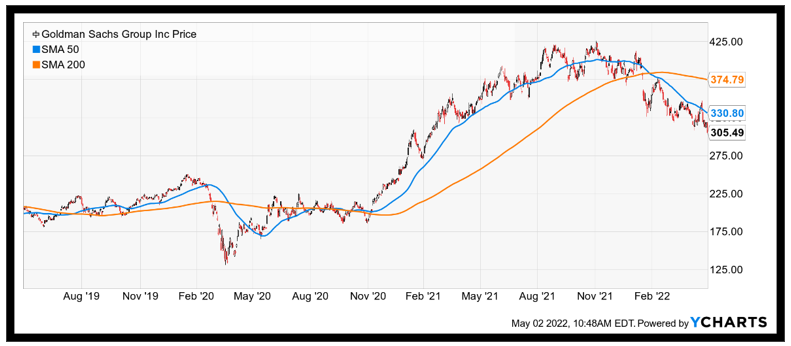 My research suggests a decline to the December 2020 lows at $240 is possible if real estate and crypto prices continue to fade.
Aggressive investors should consider new short positions into strength. Always remember to do your own due diligence.
Best wishes,
Jon D. Markman
P.S. That isn't to say all crypto risk is bad. Just not in the housing sense. No matter what the markets are doing, the potential to succeed in cryptocurrencies is real. Consider tuning in to Crypto Profit Challenge, a three-part training with Dr. Martin Weiss and crypto expert Juan Villaverde demonstrating how their Crypto Timing Model can be used to outperform Bitcoin by 27-to-1. To learn more, click here.