Digital Transformation Helps McDonald's Lead the Market
Inflation fears in 2022 have dominated the news cycle. But it is now clear that one American fast-food company has a fix.
McDonald's (MCD) posted strong Q3 financial results Oct. 27, thanks to a big investment in digital strategies and the ability to pass along higher costs to customers.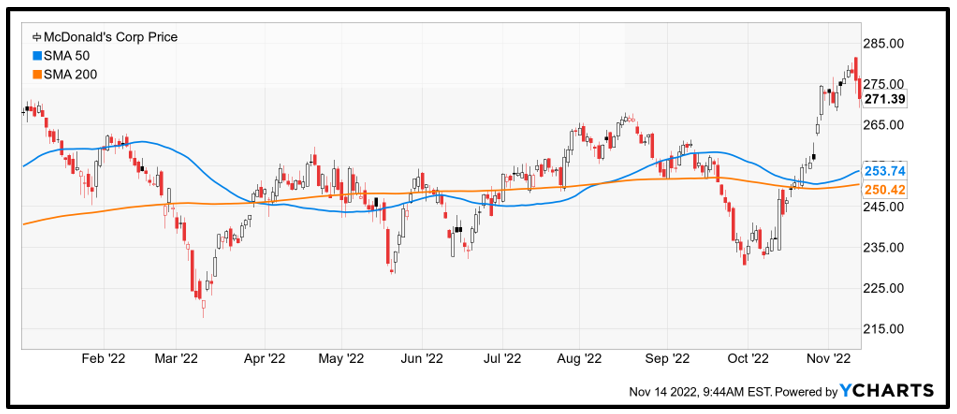 MCD price chart.
Click here
to see full-sized image.
Their business model is a rarity. Investors should take note.
Digital strategies may not be top of mind for investors when they think of McDonald's, but the future is digital and self-serve.
The Chicago, Illinois-based company is synonymous with its iconic burger and fry combinations. For decades, employees have been serving up billions of burgers that looked and tasted exactly the same, regardless of where in the world they were purchased.
Scale is still at the heart of the empire. However, in 2017, executives began to focus more intensely on steering patrons down a more profitable path.
Related Post: Moderna Is Changing Medicine
Globally, McDonald's is making a massive investment in kiosks, mobile applications and technology for drive-thru customers that changes their service dynamically. Everything is designed to speed customers through the ordering and payment process. Digital strategies accelerate more sales per hour and bigger profits.
The strategy is not that far from McDonald's origin story.
Dick and Mac McDonald left New England in the late 1920's for California. The brothers wanted to make their fortune in the movies; however, by 1940 the pair were deep in the drive-in restaurant business.
Their Speedee Service System, introduced in 1948 at their San Bernardino store, sped up service by offering customers far fewer choices. It was an instant efficiency revelation. McDonald's began selling its 15-cent hamburgers as fast as they could make them.
Today, executives are still searching for efficiency. They determined that the fastest way to bigger profits is to completely avoid the ordering window altogether and gently encourage customers to self-serve. This entails in-store kiosks and the ability to place and pay for orders with the McDonald's smartphone app.
Drive-thru is also a big part of this strategy.
The fast-food chain garners 70% of sales in top markets from customers who prefer not to get out of their car. A complicated choice can back up the whole line and poison profits.
This is where the company's investment in digital strategies pays off big time.
McDonald's acquired Dynamic Yield for $300 million in 2019, an Israeli startup that used artificial intelligence to dynamically change ordering window menus. Choices update based on weather, previous orders and local trends.
Other digital strategies include the use of image recognition to scan license plates for previous customers, or natural language processing algorithms to automate order taking. Together, the initiatives helped shave a full minute off drive-thru times in the U.S. in 2021.
Related Post: Netflix Announces Projected Ad-supported Subscription Revenue
All these strategies were helpful during the pandemic. Since then, the changes have been force multipliers. Global inflation is running rampant as supply chain woes ultimately cause higher food, labor and transportation costs. Digital is mitigating these negative factors while leading to greater customer loyalty. And brand allegiance helps McDonald's pass along higher costs to loyal customers.
In October, CEO Chris Kempczinski said that increased traffic at its U.S. restaurants helped Q3 sales grow by 6.1%, versus a year ago.
Worldwide same-store sales jumped 9.5% year over year, smashing analyst expectations for growth of only 5.8%. The expansion was especially strong in the United Kingdom, Germany, France and Australia. The lone laggard was China, where ongoing COVID-19 restrictions hampered sales.
Earnings in Q3 reached $1.98 billion, or $2.68 per share, according to documents filed with the Securities and Exchange Commission.
The stock has performed well during 2022, rising by 10% against a 19.6% decline for the S&P 500. At a share price of $278.40, the stock trades at 26.6x forward earnings and 8.8x sales. The operating margin is rock solid at 42.5%.
McDonald's may be eons removed from 15-cent burgers in the 1940s, yet its storied legacy of business efficiency is intact.
This is more important than ever as inflation plagues the global economy, and it's a solid growth story for long-term investors.
All the best,
Jon D. Markman
P.S. If you enjoyed this issue and want more picks from me like this, check out The Power Elite. Members of this service are currently sitting on open gains of 148%, 137% and 128%!