Moderna Is Changing Medicine
The medical world is on the precipice of the biggest innovation cycle in decades. This is what it means for investors.
When Melissa J. Moore began her TED Talk in May, she was speaking to the converted. The chief scientific officer at Moderna (MRNA) told a room full of medical professionals that mRNA vaccines are about to go mainstream.
If she's right, investors should consider buying the shares of Moderna, BioNTech (BNTX) and Vertex Pharmaceuticals (VRTX).
Most investors are familiar with mRNA because the technology was used to quickly develop a vaccine for COVID-19. The actual technology stretches back decades, and the fruits of that labor are finally about to be realized.
Think of mRNA technology as a cheat sheet.

Related Post: Netflix Announces Projected Ad-supported Subscription Revenue
Our immune system is a wonderful fighter of disease, except the process takes time. Biologists have found they can speed things up by analyzing the abnormality at the cellular level, then introducing a vaccine that triggers an immune response. For cancers, these vaccines are tailored directly to the patient's DNA. The vaccine is a set of reliable instructions that teaches our bodies to quickly seek and destroy disease.

The use of mRNA has been around since 1987 when Robert Malone, a graduate student at the Salk Institute for Biological Studies, mixed strands of messenger RNA with droplets of fat. When human cells were exposed to the makeshift molecular stew, the mixture produced proteins, the building blocks of life. Even then, Malone could see the far-reaching implications for RNA as a drug, according to a report in Nature.
It has been 35 years since Malone's discovery. The human genome was successfully sequenced in 2003, leading to a fushion of biology and data science. This accelerated drug discovery, especially in the burgeoning field of mRNA vaccines.
Moore told her TED Talk audience in May that 175 trials of mRNA technology are now open. An additional 54 trials are awaiting approval to start accepting patients. And several trials have begun for cancer treatment with one-off, personalized vaccines created on the fly.
Some of the results for personalized cancer vaccines have been remarkable.
BioNTech and the Roche Group announced in June that 16 patients with pancreatic cancer were given personalized vaccines derived from samples of their tumors. Half of the 16 trial enrollees remained cancer-free 18 months later. Pancreatic cancer is extremely aggressive. Less than 5% of patients respond favorably to conventional treatment.
Related Post: Put This Stock on Your Radar
BioNTech is also developing vaccines for melanoma and adjuvant colorectal cancer, in addition to 28 separate vaccines for other diseases.
Moderna has the largest pipeline of drugs (46) in development. A joint venture with Merck (MRK) is also developing a vaccine for melanoma. Data is expected in 2022, although Merck announced in mid-October that it had agreed to the terms of a license.
A separate Moderna vaccine combines the influenza, COVID-19, respiratory and syncytial viruses. The annual shot would combat most of the respiratory diseases that kill so many elderly people worldwide and could be a big seller in western democracies.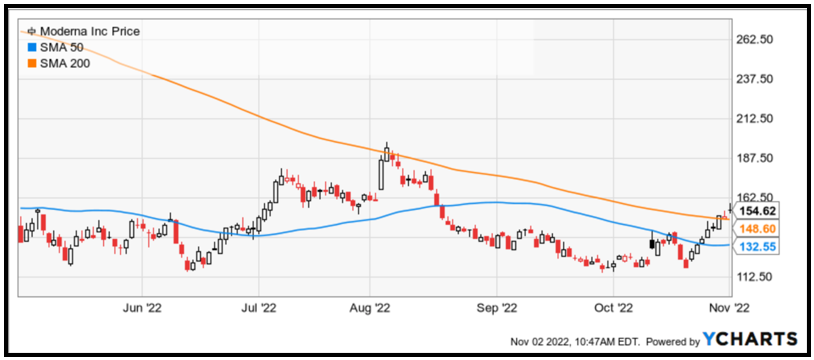 Six-month chart of MRNA showing shares recently breaking through its 200-day moving average.
Click here
to see full-sized image.
Vertex Pharma is not a pure play in mRNA vaccines. The Boston-based company was built on the strength of its cystic fibrosis modulators. Vertex modulators serve about 90% of that lucrative market, but some patients do not respond. So, the company began working in 2016 with Moderna to develop mRNA therapies aimed at the remainder. The fruits of those labors are coming this year, according to a Bloomberg report.
In Q3, Vertex had sales of $2.3 billion, up 18% year over year. Executives raised guidance for the full year to the range of $8.8 billion to $8.9 billion based on reaching even more patients with cystic fibrosis.
Healthcare stocks in 2022 have been one of the few bright spots. Investors are looking forward to a new pipeline filled with breakthrough drugs.
Indeed, mRNA technology is one of the most exciting advances in decades. The time for investors to hop aboard is now. Moderna, BioNtech and Vertex are the most attractive stocks in the sector.
All the best,
Jon D. Markman
P.S. This week, Weiss Ratings members will get first dibs on something normally reserved for the likes of angel investors like Mark Cuban: the chance to invest in a red-hot PRIVATE company before it's listed on stock exchanges. Click here to learn more about this opportunity in private equity investing.