Don't Believe the Boastful Bears
A major shift is underway.
Since the start of the year, the Nasdaq is down around 15%.
That's not exactly ideal, but …
It looks like we're at the start of an important trend reversal.
The correction that started in late December might be over — if not now, then in the next few weeks — and this is a big deal for tech investors.
So far this week, the Nasdaq is down around 30 basis points.
So often, investors get caught up in short-term trends. It's pivotal to remember the bigger picture.
At the low earlier this week, the Nasdaq Composite was down 17% from its Dec. 27 high at 16,567.
Although that's not a catastrophic decline, it does reveal how quickly sentiment has gone from good to bad for tech investors.
A month ago, the best tech businesses in the world could do no wrong.
Earlier this week ... nobody wanted them.
The big idea is that the price of a stock should be some multiple of its earnings per share (EPS).
As interest rates rise, bears say that multiples should contract. They also claim that the stocks of companies that do not have earnings are nearly worthless.
Don't believe them for a second. Neither of these ideas are true.
The reality is it doesn't matter ... at least when the market is trending lower.
Prices can quickly collapse. And lower prices strengthen confirmation biases.
That's actually a good thing.
Related Post: AI Stocks Aren't the Answer … Yet
It's not long before bears and pundits are talking about tech finally getting its comeuppance, as though there is no difference between unprofitable crypto-mining businesses and big, established software platforms.
It's a terrible standard, but smart investors should know that new opportunities have arisen.
And one great name that comes to mind is Microsoft (Nasdaq: MSFT).
There may be no better digital transformation winner than Bill Gate's creation that started many decades ago.
Microsoft shares closed Monday at $302.92, well off the December high of $342.
However, since that time, its business has improved considerably.
Last week, Microsoft executives announced a plan to acquire Activision Blizzard (Nasdaq: ATVI), the video game studio behind such blockbuster franchises as "Call of Duty," "Overwatch" and "Candy Crush."
The $68.7 billion deal is the largest ever at Microsoft ... yet the company didn't require elaborate financing.
The all-cash deal is coming out of retained earnings … and it perfectly illustrates how tech bears are wrong because …
The core businesses of Big Tech are cash cows.
The Microsoft Office productivity suite, Azure Cloud computing, Xbox video consoles and studios helped the company generate a whopping $56.1 billion in free cash flow (FCF) during 2021, a 24% increase from a year ago.
It all makes good sense.

These businesses are notoriously sticky. Customers inside the ecosystems rarely leave. Microsoft Word and Excel have become industry standards. They're not going anywhere … and neither is the cash flow.
Azure is now the backbone of larger digital transformation strategies at many Fortune 500 companies. And Xbox is one of only two major video game console businesses.
Related Post: The Fantasy Sports Stock Winner Is …
Adding Activision strengthens that business, not to mention that Microsoft executives claim the deal will be immediately accretive, according to a blog post at the corporate website.
The stock trades at around 28.1 times forward earnings and around 12.9 times sales. Gross margins in 2021 clocked in at 68.9%.
Earnings are scheduled for Tuesday, Feb. 1, after the market closes.
According to data from FactSet reported at Barron's, analysts believe the company will report profits of $2.32 per share.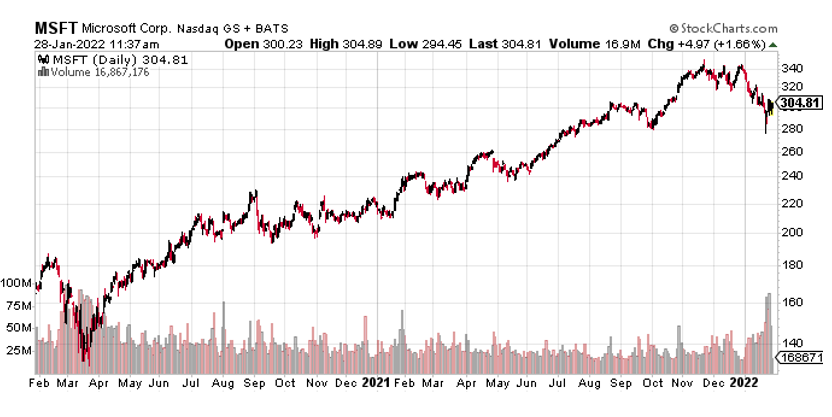 Savvy investors should strongly consider adding shares using current weakness. Remember to do your own due diligence before buying anything.
Best wishes,
Jon D. Markman