EV Recalls Prove Tesla's Dominance
The entire automotive sector is transitioning to electric vehicles (EVs), and the process is proving more difficult than expected.
On Tuesday, executives at Ford (F) said the company is recalling almost 50,000 EVs over worries that battery overheating might cause the cars and trucks to lose power.
The timing could not be worse for Ford. The Detroit-based company is gearing up to make a lot of new electrified F-150 pickup trucks, its most popular line of vehicles.
Ford announced plans in April to build 150,000 F-150 Lightnings in various trims, a 275% increase over the initial goal.
The vehicles, ranging in price from $39,974 to $90,000, have been extremely well-received by the automotive press.
Even the base model is capable of sprinting from 0-60 mph in 4.4 seconds and towing 7,700 pounds.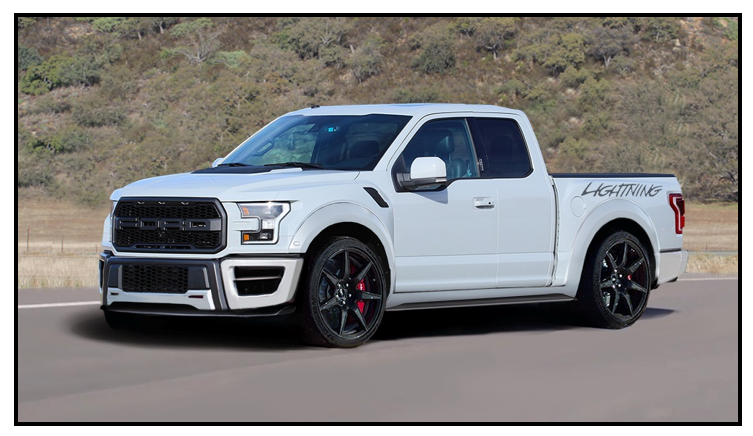 Ford's Lightning F150 out on the road. Source: Commercial Truck Trader.com
And Lightnings are equipped with 11 conventional electrical outlets, the perfect accompaniment for contractors running table saws, air compressors and welding setups.
Related Post: Put GM in Park
The Wall Street Journal notes that the recall of 48,924 Mustang Mach-E vehicles is effectively all of the cars produced for the American market over the past two years. That's not exactly ideal …
Even worse, the action will halt deliveries of new EVs while engineers look for a fix. A software update is expected sometime next month.
The late response to this EV glitch is eerily similar to the Chevy Bolt saga at General Motors (GM).
The Bolt, its fully electric subcompact, was supposed to be GM's mass market EV.
And its highly anticipated rollout was going well until 141,000 vehicles were recalled when some of their lithium-ion batteries began to explode.
Hundreds of factory workers were sent home and production lines were idled as engineers looked for a fix, according to a report in The Washington Post.
The problem was ultimately resolved, yet not before major damage was done.
LG Chem, the battery manufacturer, agreed to eat $1.9 billion of the price tag for the fix. However, GM announced in early June that 2023 Bolts would get an 18% price cut, to only $26,595.
While that's good news for the consumer, it's not so great for GM and its shareholders.

Even with the lower prices, GM will have a tough time catching Tesla, the industry leader.
Tesla Is the EV Titan
Tesla sold 197,517 vehicles in the U.S. in 2021, versus only 9,216 for Ford and 36,325 for GM. And Tesla EVs are vastly more expensive on average.
Tesla's biggest competitive advantage? It's getting the engineering right.
Its EVs are free from the legacy constraints of ancient automotive parts supply chains.
The software was developed in-house, as opposed to being cobbled together from third parties. And despite its relative youth, Tesla is the most vertically integrated company in the sector. The result is a gross margin of 27.1%, almost three times the industry average.
It's not news that Tesla is in the best position to dominate the sector moving forward, but I bring all this up as a reminder of its dominance and to briefly touch on how it's able to keep winning the race.
Shareholders have been rewarded as the stock zoomed to a $670 billion market capitalization. Ford and GM have market capitalizations of approximately $47 billion apiece, far below Tesla.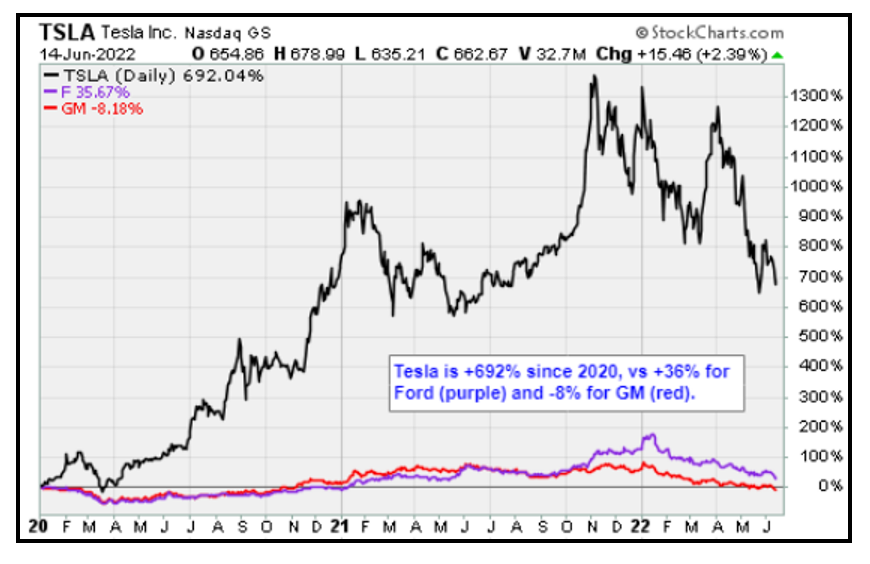 Investors are missing the scope of the challenge Tesla competitors face ...
Their strength, in varying degrees, is legacy supply chains. Their weakness is access to batteries, electrical components and software engineering talent. Tesla dominates these categories due to its enormous scale and cutting-edge technology.
A survey by Universum in 2020 found that Tesla became the No. 1 preferred choice for engineering graduates in the U.S.
It was the only automaker to crack the top 10, which included SpaceX, Lockheed Martin (LMT), Alphabet (GOOGL), Boeing (BA), NASA and Apple (AAPL).
Tesla shares have been on a rough ride since last November when they breezed through $1,200.
Related Post: Look for Tech Bargains
At $662, shares still trade at 41.5 times forward earnings and 10.7 times sales.
While the longer-term prospects for Tesla are extremely bright, I recommend investors steer clear of new investments until shares move back above the $900 level.
Remember to always do your own due diligence, though.
Best wishes,
Jon D. Markman