The bears are back in town, and one way to avoid them is by attending Dr. Martin Weiss' emergency briefings next week.
Historic inflation and the Fed's fiasco have created a tsunami of market worries. Be sure to tune in here to learn how to protect your wealth as the bear market comes to a close.
And at another end of the market, it looks like SPACs need some s-p-a-c-e.
It's an especially bad time to be a special purpose acquisition company. Its bright ideas are no longer enough, and new regulations are finally coming.
There is much more SPAC pain ahead, and if I needed any more evidence, this week's news was the nail in the coffin.
Earlier this week, shares of SoundHound AI (SOUN) were nearly cut in half. There was no company-specific news. The elephant in the room is proposed SPAC rule changes.
It's time for investors to lighten up while it's still possible.
A Sound for Alarm
SoundHound is a cool idea ... if it were still 2010. The company, based in Santa Clara, California, is best known for its music recognition software.
Tap a button on its smartphone application, point your device in the direction of the music, sing or even hum the tune and presto, SoundHound displays the artist and title.
Related Post: Amazon Has Lost Its Way
It's the kind of parlor trick that used to be amazing before Apple (AAPL) integrated Shazam into iPhones, or Google used ambient computing to bring the same feature to a billion Androids.
So, SoundHound evolved ...
The company has been kicking around Silicon Valley for 17 years. When the two dominant smartphone operating systems built competing tech, Founder and CEO Keyvan Mohajer pivoted to voice recognition.
The firm then began licensing that tech to other platforms, including Mercedes-Benz, Hyundai, Stellantis N.V. (STLA), Kia, Snap (formerly Snapchat) (SNAP), Netflix (NFLX), Mastercard (MA) and Qualcomm (QCOM). Those relationships were parlayed into a $120 million public listing with Archimedes Tech SPAC partners.
SPACs in 2021 became the Wild West of investing.
SPACs Under Attack … and Rightfully So
Unlike IPOs that involve underwriters and fiduciary responsibility for due diligence, SPAC transactions are mergers with publicly traded shell companies.
This structure allows insiders to sell their shares immediately. More important, it negates responsibility for most due diligence. SPAC businesses are free to make forward-looking projections about market share, revenues and profits.
KPMG, a Big Four accounting and advisory firm, noted in 2021 that the ability to do that can result in potential financial restatements, incorrectly valued businesses and even lawsuits.
In April, the Securities and Exchange Commission (SEC) proposed new rules targeting SPACs.
Changes to Section 2(a)(11) of the Securities Act of 1933 would drastically broaden the definition of 'underwriter,' making SPAC partners and private investment in public equity (PIPE) investors legally liable for financial projections.
Bloomberg reported in May that Goldman Sachs (GS) is pulling out of most SPACs.
A Reuters report the same month revealed how investment bankers Morgan Stanley (MS) and JPMorgan Chase (JPM) often played both sides, pocketing millions while investors were punished.
This SoundHound situation sings a very similar tune.
There's no sugar coating it … the saga is messy. Following SOUN's public launch in April, shares were halted several times by the Nasdaq following wild price changes in the absence of corporate news.
The Silicon Valley Business Journal reported in May that Archimedes Tech redeemed 96% of its SPAC shares during the merger. The SPAC partner turned over to SoundHound only $5.4 million … $127.7 million less than the original forecast.
Related Post: Lack of Cool New Tech Hampers Markets
The action depleted working capital and significantly reduced the number of shares available for the public to trade. The outcome has been increased volatility and fewer institutional shareholders. And the worst is likely yet to come.
Without a broad base of longer-term shareholders, SoundHound executives are going to have a tough time convincing investors to stay the course.
In May, Mohajer told TD Ameritrade that the company is not expected to reach profitability until 2024.
SoundHound reported in May that revenue in the first quarter was only $4.3 million, up only 14.8% year over year. Losses during the quarter were $25.1 million, and net profit margin sank 13.6% to minus 585%. Operations burned through $13.8 million in cash.
Even with the 48.2% decline on Monday, SoundHound still carries a market capitalization of $805 million. Shares have been as high as $18.10 in May, and as low as $4.10.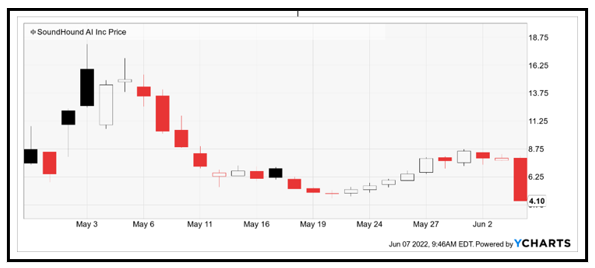 SOUN shares are down around 43% since its IPO in April.
Given the low liquidity, no prospect of profitability for two more years and the likelihood that executives will restate financial projections lower ahead of SEC rule changes, SoundHound stock could go even lower from here.
Unfortunately, SoundHound is one of many SPACs that will come under similar pressure. SEC scrutiny means that the SPAC bubble may have burst.
Remember to always do your own due diligence when trading.
Best wishes,
Jon D. Markman