How to Invest in the MrBeast Trend
Investors and analysts are consumed with fear that online advertising is melting down. The outlook is not as bad as it seems. Let me explain.
According to a report last week from Axios, one of the most successful channels on YouTube is seeking $150 million in investment capital, at a $1.5 billion valuation. The goal is to build a new business.
Digital advertising is changing, and it's a big new opportunity for Shopify (SHOP).
Executives at Snap (SNAP), Meta Platforms (META) and even Alphabet (GOOGL), the parent of YouTube, have recently announced that ad sales are contracting.
They say big brands are reducing overall advertising spending on their platforms amid tough macroeconomic headwinds. In the case of Meta and Alphabet, by far the biggest players online, it's the first ever year-over-year spending decline. Investors see the end of an era, and they are freaking out.
However, overall digital ad spending is not contracting, according to research from analysts at McKinsey. Money is simply being diverted away from the biggest players as new ad platforms emerge.

One of these is TikTok, a China-based social media platform that has been the most downloaded mobile application in the U.S. for the past two years.
Investors should not sleep on emergent platforms from Apple (AAPL), Walmart (WMT), Target (TGT) and Amazon.com (AMZN), where ad sales grew in Q3 to $9.5 billion, up 25% year over year.
Related Post: Netflix Announces Projected Ad-Supported Subscription Revenue
Advertisers are diverting resources to digital platforms where ad impressions can be more closely linked to sales and online privacy is a nonfactor.
MrBeast may not be a name that immediately comes to mind when investors think about online advertising. The YouTube channel was founded by Jimmy Donaldson, a 24-year-old North Carolinian who has been dreaming about online stardom since his early teens.
Donaldson posted his first videos to YouTube at 13; even then, he was taking steps to become one of the platform's biggest stars.
The teenager worked tirelessly to figure out how videos on the platform become popular. Then a stunt video posted in 2017 went viral. The grainy feed was simply Donaldson methodically counting to 100,000. Audiences tuned in to watch 40 hours of self-inflicted mental torture. Subscribers followed.
Today, the main MrBeast channel has 110 million subscribers, the fifth- largest globally. Spin-off channels include MrBeast Gaming (29.1 million followers), Beast Reacts (19.8 million followers) and MrBeast Shorts (16.2 million followers).
Those channels have been leveraged into ancillary businesses that make hamburgers, chocolate bars and provide food delivery. It's a legitimate digital empire that Axios notes is worth an estimated $54 million annually.
MrBeast Burger is a virtual restaurant with more than 1,000 locations in North America and Europe. Customers order burgers, fries and sodas on a mobile app, and their orders are paired with locally contracted restaurants.
Related Post: Put This Stock on Your Radar
In July, Donaldson tweeted that the two-year-old business had shared $100 million in sales with restaurants across America. Feastables, the candy bar division, has hooked up with Walmart for distribution. Revenues jumped to $10 million in the first three months, according to a Business Insider story.
MrBeast Burgers and Feastables are creating a gold mine of digital data. That information can be mined by advertisers without the privacy concerns that have tripped up Meta and Alphabet. Private equity investors are intrigued.
Shopify is best known for its cutting-edge e-commerce back end. Based in Ottawa, Canada, the company has partnerships with Meta and Alphabet, TikTok, Walmart and other large platforms to provide plug and play e-commerce solutions.
Digital ads are a no-brainer for Shopify.

With its more than 1 million online retailers and its ShopPay payment processor, the company has perfect knowledge of sales conversions. This data could be used to build an ad network that buys digital inventory at scale on behalf of advertisers.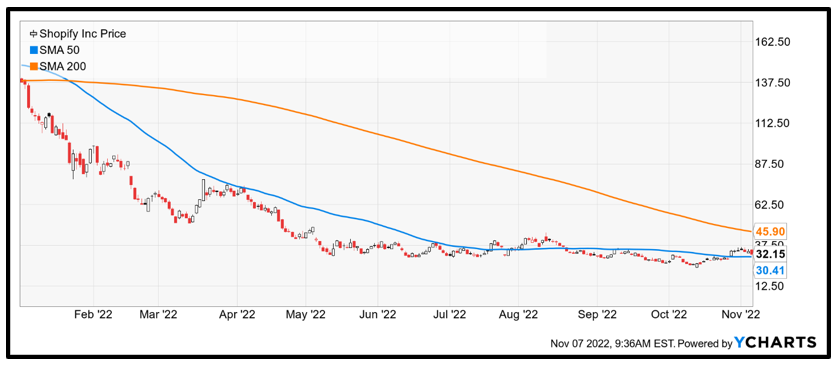 The stock in 2022 has been a train wreck, skidding 76.6% year to date. However, at a share price of $32.15, Shopify trades at 7.6x sales for a modest market capitalization of $39.8 billion.
Long-term investors should consider the shares into further weakness.
Best wishes,
Jon D. Markman
P.S. If you'd like to learn about my tailored picks in the digital transformation space, consider joining my trading service, The Power Elite. Members of that service are sitting on open gains of over 135%, 132% and 129% despite the ongoing bear market. Click here to learn more.