Let Tech Weakness Be Your Next Win
Don't believe the scaremongering surrounding big tech, because what we're seeing is most likely a short-term sell-off that's actually just a great buying opportunity.
The tailwinds of the digital transformation are too strong … and rising interest rates won't be very impactful to this revolutionary societal trend.
You might not be hearing that from most news pundits right now, but it's the truth.
On Monday, a feature story published by The Wall Street Journal claims large institutional investors are worried so-called FANG stocks are losing their luster.
Investing based on an acronym is dumb … but not understanding the underlying businesses, or the importance of digital transformation, is even worse.
And speaking of that, did you see big tech earnings last week? Most were stellar, and the prospects for big tech have never been better.
Related Post: How Tesla Is Building an AI Powerhouse
And don't let the bears spook you just because some giant tech companies are experiencing slight pullbacks.
A Tale of 2 FANGs
Making the case that the FANG story is broken seems more believable when half of the stocks are being left for dead by investors … but many are overlooking the incredible growth at Amazon.com (AMZN) and Alphabet (GOOGL).
Amazon.com reported Q4 sales last week of $137.4 billion, up 9.4% year over year.
Its Amazon Web Services (AWS) cloud business had revenues of $17.8 billion, up 40% from a year ago.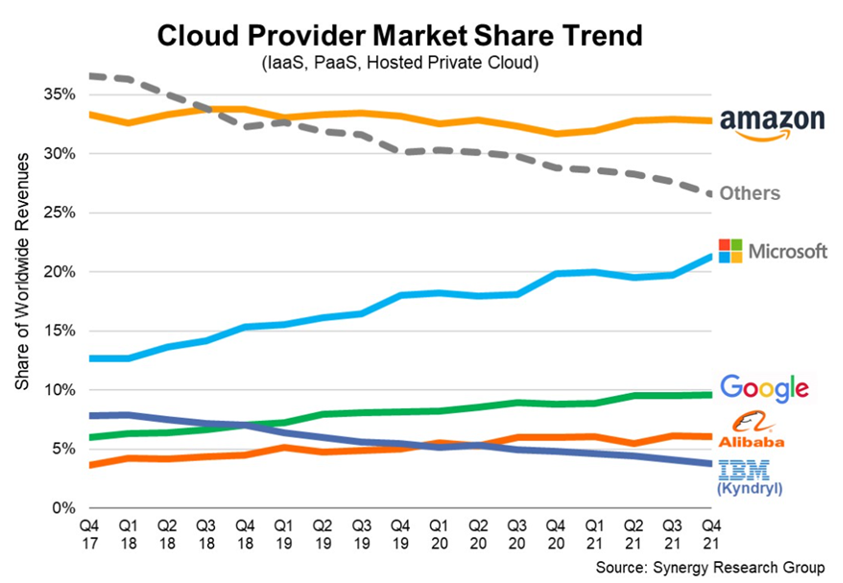 Quarterly results at Alphabet were even more impressive.
Year-over-year revenue growth was 32%, to $75.3 billion. Google Cloud had Q4 sales of $5.5 billion.
The strength of those cloud businesses is especially important to point out because that segment has become an absolute cash cow.
Amazon.com and Google are fundamentally different from Meta Platforms (FB) and Netflix (NFLX).
Bears are making a big deal about these businesses, and it's not hard to see why.
Both firms recently announced downbeat Q4 financials, and shares are down a whopping 33% apiece so far this year.
The former are digital infrastructure vendors.
The latter are buyers of that infrastructure. In fact, both Meta and Netflix are major AWS clients.
This distinction often gets lost in translation.
The digital transformation is the greatest investment opportunity in a generation. Cloud processing, data storage and artificial intelligence (AI) software engines are the foundation for the digital revolution. And it's only beginning.
Amazon.com, Microsoft and Alphabet are the largest providers globally of the digital bits and pieces the corporate world is now clamoring to get.
Gartner projects the total addressable market will be at $397.5 billion in 2022, up 19% from 2021.
The sheer size of the marketplace, and the economies of scale big tech companies bring is a huge competitive advantage.
The Cash Cow Is Mooing
The end result is other worldly cash flows.
AWS earned $5.3 billion in profits on less than $18 billion in sales … in a single quarter.
Microsoft, Alphabet and Apple are piling up fat stacks of cash, too.
And that brings me to another bogus talking point I keep hearing throughout the industry …
Many are saying tech stock prices will decline as interest rates rise.
The theory is the value of a security is determined by dividing a company's present cash flow forecast by the difference between the discount rate and the company's terminal growth rate.
Related Post: Pouring Profits in the Cloud
It's a nice soundbite, and the math is complicated enough to dissuade most investors from following up.
The reality is that the cash is already there in most cases.
For example, Microsoft generated enough free cash flow to fund its $69 billion acquisition of Activision Blizzard (ATVI).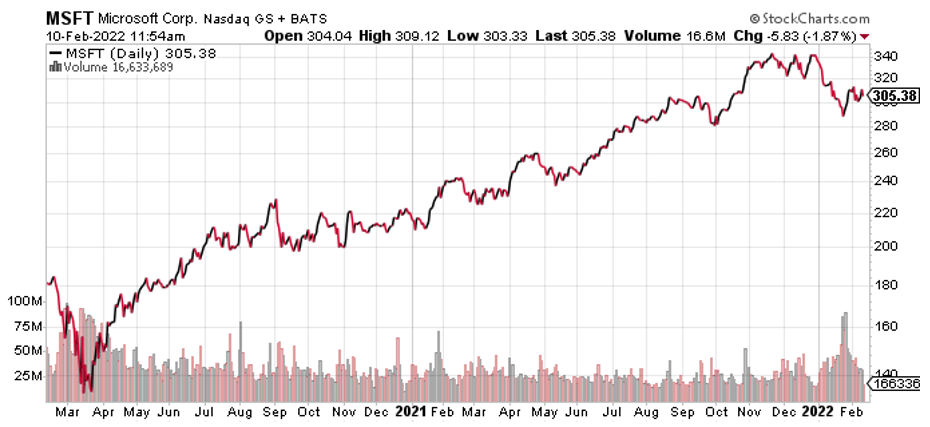 MSFT shares are up a very impressive 72% over the past two years.
Alphabet earned $91.6 billion during 2021 in operating cash flow. At Apple, that number was $104 billion. And these businesses are improving.
Rising rates have had no impact in the past.
These realities don't jive with the FANG ruptures being noted in the WSJ feature.
It's easier to write about what's wrong with Facebook and Netflix, than to conflate those woes with tech stocks in general.
Don't do that, it's dumb.
Savvy investors should strongly consider buying these strong tech giants on pullbacks.
Best,

Jon D. Markman