Pouring Profits in the Cloud
The demand for scalable computer processing and data storage has never been higher and the smashing fourth-quarter financial reports prove the time for investors to play the trend is now.
Last week, Meta Platforms (FB) shares plummeted after executives said future profitability will not meet expectations as the company spends to build the foundation for its metaverse.
Investors see a virtual reality (VR) money pit. In the short term, this is true.
But they should focus on the long-term opportunity because cash is raining from the clouds.
Digital infrastructure companies like Amazon.com (AMZN) are set to win big.
Infrastructure spending is the untold story of the fourth quarter … yet cloud computing is by no means new.
Amazon Web Services (AWS), the pioneering firm owned by Amazon.com, has been around since 2007 and has been a historic success.
In 15 years, the company grew from a proof of concept to a vibrant business with a staggering $71 billion annual run rate.
AWS cut its teeth by selling excess computer processing and data storage to corporations on a pay-as-you-go basis. The idea was genius.
Corporations got to replace all the costs and hassles associated with maintaining onsite data centers with one simple variable fee. There was no new hardware to buy or information technology staff to hire. And everything could be controlled remotely.
Running infrastructure in the cloud became a competitive advantage. The floodgates opened.
And now, a similar floodgate is opening with Meta Platforms as it begins its process of making a monumental transition to the metaverse.
CEO Mark Zuckerberg says that the metaverse will be a digital reality where members will work, play and make transactions. They will buy real-world items, and those that exist only inside the metaverse.
The pessimists say the metaverse will never happen. They argue there is no demand for an alternative digital world.
They're completely wrong. The metaverse will be a thriving place and it will eventually be a ginormous money maker for Meta Platforms.
Since its inception, Facebook has been a regular forum for virtual meetings of all kinds. This trend accelerated during the pandemic, and I think it will keep climbing.
Facebook Business has 200 million listings globally. And Reality Labs, a Facebook unit that includes the Oculus virtual reality (VR) headset business, had $877 million in sales in Q4.
Related Post: Steer Into the AV Rev With Intel
The metaverse is the logical evolution of those businesses.
To get there, Zuckerberg knows he needs to make a big investment in digital infrastructure … and Meta Platforms' recent guidance proves his ambitions are equally aligned.
He pegged that investment at $10 billion in 2022 during the conference call with analysts last week, and did not shoot down the idea of $5 billion annually for several more years, according to the transcript.
That's a lot of money and it's a very ambitious plan, but I think it's going to be worth it in the long run.
But in the meantime, investors can already play the trend with other winners.
And that brings me back to Amazon.
The latest financial statements show its AWS represented 13% of the company's revenue in Q4. AWS was also the fastest-growing part of the business.
Sales reached $17.8 billion, up 40% year over year. Profits jumped to $5.3 billion, up 48% during the same time frame.
More importantly, the cloud subsidiary is attracting a tidal wave of new business from heavyweights like Meta.
Documents filed at the Securities and Exchange Commission (SEC) reveal AWS became the strategic longer-term cloud provider partner to Meta.
The firm will develop artificial intelligence (AI) systems for new applications. The implication is several more years of infrastructure spending.
AWS also won similar deals during the quarter with Best Buy (BBY), Goldman Sachs (GS), Pfizer (PFE) and Nasdaq OMX Group (NDAQ).
Executives at Nasdaq said in November 2021 that its engineers would work with AWS to move the engine that powers the Nasdaq stock exchange to the cloud.
This multiyear arrangement should deliver greater scalability, ultra-low latency and new business opportunities.
And that's a perfect example of the part investors are overlooking.
For most corporations, the cloud is a way to grow new streams of revenue, while making existing businesses more efficient in the digital era. The demand is insatiable for infrastructure to meet those ends.
Right now, it's not hard to beat up on Meta Platform's and Zuckerberg's ambitious idea … but don't be foolish. The money will eventually come.
During the last two weeks, Amazon.com, Microsoft (MSFT) and Alphabet (GOOGL) all reported cloud computing revenues that far exceeded expectations.
Related Post: Microsoft's Mastery Gaining Momentum
Whether it's the metaverse or something else, corporations are investing in digital infrastructure at rapid rate.
Right now, Amazon.com is one of the major beneficiaries.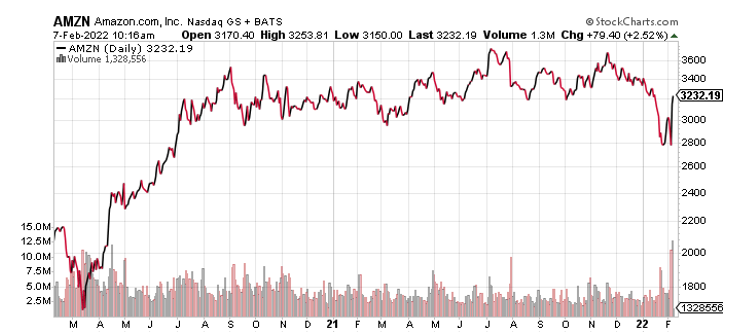 $AMZN shares are up around 61% over the past two years.
Longer-term investors should consider buying shares using any near-term weakness.
Best wishes,
Jon D. Markman