Microsoft's Mastery Gaining Momentum
The first batch of tech corporate earnings reports are rolling out ... and they are great.
Microsoft (Nasdaq: MSFT) got the party started when it reported another blowout quarter Tuesday after the close.
Despite rumors about the maturity of its businesses, sales and profitability are accelerating ... and there are still miles and miles of runway ahead.
The Microsoft bears are just plain wrong … this is a great investment story that will only get better.
Why?
Well, a big reason is due to the software star's strong ability to shift against competitors' strengths.
For example, Microsoft's corporate transition away from products that competed directly with Apple (Nasdaq: AAPL) ended up being an extremely smart move that's unquestionably helping its bottom line.
Today, the Redmond, Washington-based company is a long way from the Mac vs. PC wars.
Windows, its flagship operating system, is still a big business … yet even it has moved beyond walled gardens. Managers went from trying to shoehorn Windows onto smartphones, servers and networked appliances to bringing its services to platforms of all types.
And it's paid off in a huge way.
The Microsoft Office productivity software suite lives as comfortably on Linux-based data center servers as on Android, Mac OS, iPhones and iPads. This transition helped Microsoft materially grow its business beyond Windows.
Yesterday's second-quarter earnings report showed earnings per share (EPS) of $2.48, up 22% from a year ago.
Revenues ballooned to $51.7 billion, an increase of 20% year over year, according to the official investors relations blog post.
Related Post: 2 Ways to Play Metaverse Mania
The biggest part of better fortunes was concentrated in the commercial cloud business segment where Q2 sales shot up to $22.1 billion, 46% better than a year ago.
Microsoft CEO Satya Nadella. MSFT shares are up an eye-popping 650% since he took over in February 2014. Source:
News24
The opportunity in cloud computing is a drum CEO Satya Nadella has been beating for several years.
Now, it's clear demand for these services is accelerating as enterprises orchestrate the second phase in their digital transformations.
Nadella says Microsoft is in the best position to help companies make this transition because of its large portfolio of integrated products and services.
That could all be true … yet it's far more likely that Microsoft's good quarter is a harbinger for the sector in general.
The cloud services business is growing faster than a NASA rocket ship blasting into the stratosphere.
On Tuesday, the Wall Street Journal noted that analysts at International Data expect the sector surge from its run rate of $385 in 2021 to $809 billion by 2025.
Those expectations are huge for Microsoft because Microsoft Azure is the second-largest infrastructure business, behind only Amazon Web Services (AWS).
It's the part of the story many bashers leave out: The cloud is a digital transformation story, and it is early in the game.
Eventually, all large- and medium-sized businesses will have a digital strategy and it will be built around cloud-based processing and data storage. It's simply inevitable.
Microsoft is unique due to its extensive portfolio of enterprise clients and the firm's ability to put together package deals that crisscross cloud, productivity software suites and computer hardware.
The best part is all these businesses, like the Xbox gaming platform, are subscription based.
Related Post: Raining $ in the Cloud
It's easy to see where future sales are coming from. Customers are renting the software. That's about as healthy as a cash cow can get.
On Tuesday, Nadella said that Game Pass, Microsoft's cloud-based gaming subscription business, hit 25 million members during the quarter. That's up 39% from a year ago.
And the planned $75 billion acquisition of Activision Blizzard (Nasdaq: ATVI) will help grow Game Pass. Activision is the studio behind extremely popular game franchises like "Call of Duty," "Overwatch" and "Candy Cush."
At a price of $300.50, Microsoft shares currently trade at around 27.3 times forward earnings and 12.5 times sales.
Bears have argued for several years the stock is expensive based on its price-to-book value … but the reality of where the business is going paints a different picture because those multiples are clearly justified.
The Microsoft story is more about a company with $200 billion in organic sales and still managing to grow at a 20% clip. With 68.9% gross margins, the cash flow is crazy.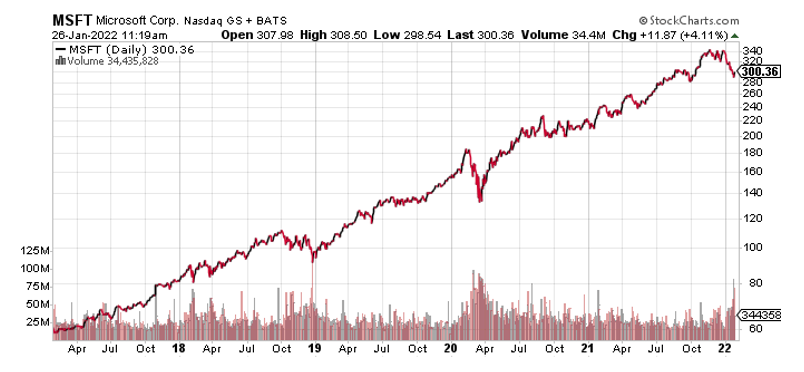 Savvy longer-term investors should strongly consider buying Microsoft into any material weakness, but as always, remember to do your own due diligence.
Best wishes,
Jon D. Markman