Steer Into the AV Rev With Intel
Despite all the frivolous talk about excessive valuations for growth stocks, a batch of extremely promising 2022 initial public offerings (IPOs) are on the docket.
Remember: Investing in growth stocks is, and always will be, a smart move when the business is a digital winner.
At the Consumer Electronics Show (CES) last week, Mobileye showed off impressive plug-and-play technology for autonomous vehicles.
The Israeli computer vision company is readying its IPO for the first half of this year, and investors should strongly consider playing this great opportunity.
Mobileye is a pioneer in the quest for fully autonomous vehicles (AVs). Since 2004, engineers have been tinkering with cameras, digital-mapping software and bespoke microprocessors.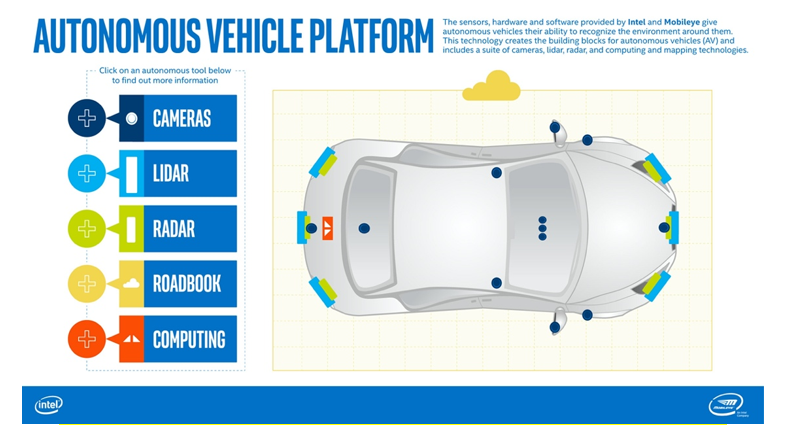 Back when it was a public company the first time, Mobileye was one of my first picks for this letter back around 2014 — and a big moneymaker.
Since then, things have only gone uphill, and executives have worked with everyone from Tesla (Nasdaq: TSLA) and Volkswagen (OTC: VWAGY) to Ford (NYSE: F) and BMW (OCT: BMWYY).
Through the end of 2021, the company has shipped 100 million of its EyeQ processors.
Related Post: Why Ford Could Be the Next Tesla
And this year looks even more promising: The company's latest product — the EyeQ Ultra — is a monster.
Based in the five-nanometer process, the chip has 64 cores that are capable of 4.2 teraflops.
Speaking at the virtual CES conference, CEO Amnon Shashua said EyeQ Ultra, and the full electronics needed to run autonomous vehicles (AVs), will be available at scale in 2025 for less than $1,000.
The idea of AV-on-chip is nirvana for legacy automakers.
Bolting on an inexpensive system that will match state-of-the-art technology from Tesla eliminates a key competitive disadvantage.
During 2021, Mobileye announced 41 new design wins with 30 different automobile original equipment manufacturers. These deals will account for 50 million vehicles and 188 new models going forward.
Honda Motors (NYSE: HMC) used Mobileye sensors in March 2021 to launch the first Level 3 system in Japan.
Months later, BMW and Volkswagen launched cutting-edge advanced driver assistance systems powered by Mobileye. And Geely (OTC: GELYF), a major Chinese automaker, began shipping a SuperVision system that uses 11 cameras and EyeQ processors.
All this news means one major thing: The breadth of the Mobileye portfolio ensures it will be a big player in the future of AVs.
As this tech finds its way into more vehicles, the company will begin building the type of data hoard that helped Tesla improve its AV technology so rapidly … and this will be a powerful competitive advantage.
Shashua also recently talked about how the company's cameras will be capable of reading traffic signs and lights; understanding driving lanes, even when the road is unmarked; and continuously learning with over-the-air software updates.
All this technology is revolutionary, and the best way for investors to consider playing this trend is with Intel (Nasdaq: INTC).
At the moment, Mobileye is a wholly owned subsidiary of Intel.
The chip giant based in San Jose, California, acquired the Israeli company in 2017 for a whopping $15.3 billion.
The buyout came a year after Mobileye and Tesla severed ties following a fatal accident — a low point for the computer vision pioneer, according to a report from Recode.
The good news for investors is Intel executives announced in December that half of its Mobileye shares will be spun out in an IPO to shareholders in 2022.
Judging by the design wins and relationships with major automotive companies, the IPO is likely to blast off.
Related Post: Why GM Is a Software Company Now
A Reuters report last December noted that the IPO could value the company at $50 billion, which would be one of the largest of all time.
Intel shares have been under pressure after more than a decade of failed projects.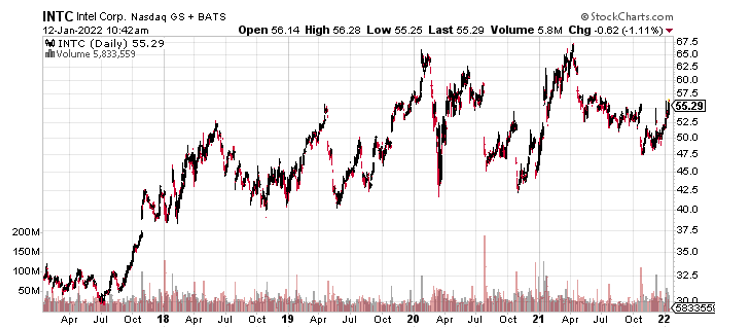 Major losses have plagued the business recently, and share prices have been greatly impacted.
The company lost the race to dominate mobile computing chips to Qualcomm (Nasdaq: QCOM).
More recently, it has been ceding market share in personal computers to Advanced Micro Devices (Nasdaq: AMD). And Apple (Nasdaq: AAPL), a longtime chip customer, will transition in 2022 completely away from Intel chipsets.
But now it looks like a turning point as it seems that Mobileye will be a much-needed big win for Intel shareholders.
At a price of $55.41, Intel shares trade at only 15.1 times forward earnings and 2.9 times sales. The dividend is 2.5%. During 2021 gross margins were 56%.
Long-term investors should consider using the current weakness to add shares.
I believe the stock could easily trade back to the 2020 highs at $66 based on the Mobileye IPO excitement and the revaluation of Intel shares. As always, remember to do your own due diligence before buying anything.
If you'd like to learn more digital transformation picks, I highly encourage you to check out my Weiss Technology Portfolio service. My subscribers are sitting on open gains of 465%, 400% and 384%, just to name a few.
I can't give out the names, but for more information, click here now.
Best wishes,
Jon D. Markman