Meta Platforms (META) operates the world's biggest and most important social media platform and the company is losing its way, badly.
The company, based in Menlo Park, California, will dramatically reduce its e-commerce ambitions, according to a report last week in The Information. It would be a huge setback for Meta and shareholders.
Investors should expect shares to retreat further in the near term.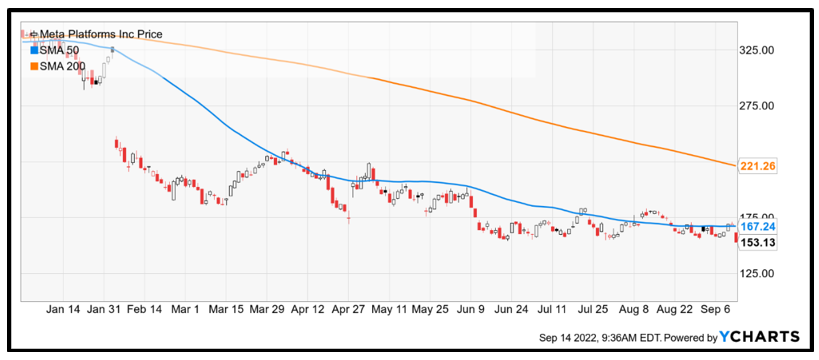 Year-to-date chart of META, which recently failed to break above its 50-day moving average.
Click here
to view full-sized image.
Shareholders have had a rough go lately:
The stock is down 54.5% year to date.


The market capitalization has shrunk to only $412 billion.
Everything has gone wrong, from failed soft launches of its Metaverse, to management controversies and constant squabbling with Apple (AAPL).
At its core, Meta is a series of deeply interconnected digital platforms. Facebook, WhatsApp and Instagram are the internet for most of their members. It's where they go to socialize, exchange photos and chat online with friends.
Through Q2 of 2022, Statista notes that 2.9 billion members login to Facebook at least once a month. That figure jumps to 3 billion with the addition of core properties, WhatsApp, Instagram and Facebook Messenger. And 80 million businesses used Facebook to connect directly with customers.
Monetizing these connections beyond advertising has been a missed opportunity. Mark Zuckerberg aimed to change that with Shops in 2020.
Related Post: Big Tech's Bracing for a Recession
The e-commerce initiative was supposed to help members across Facebook and Instagram create contained, end-to-end e-commerce storefronts. It was not a stretch to imagine users sharing photos of products on Instagram and Facebook Groups, then completing online sales in Shops using Facebook Pay, its digital payment processor.
Keeping member payment credentials inside Facebook Pay offered another key benefit. Aside from portability across all the Meta platforms, being self-contained provided complete control of the user experience. There were no annoying logins or handoffs to third-party processors.
Control is a really big deal. Meta's current corporate challenges stem from lost control.

Meta abandoned its digital coin plans in January after Washington lawmakers worried about too much platform control. Sheryl Sandberg, the past chief financial officer, left the company a few months later following a series of security breaches around third party developer access. And changes by Apple to its operating system have crippled Meta's ability to track users and sell advertising inventory across iPhones and iPads.
E-commerce seemed like a path to taking back control. Now those plans are being scaled way back.
The Information reports that Instagram staffers were told last week that the shopping page will eventually go away and be replaced with a less personalized version known internally as Tab Lite. Workers were directed to focus more effort to pushing initiatives that drive advertising revenue.
Related Post: Biden's Pressure on China Should Make Snap Dance
The news couldn't come at a worse time. Meta reported in July that ad sales fell for the first time since its launch as a public company in 2012. Q2 revenues fell to $28.8 billion, versus $29.1 billion a year ago. While the modest 1% decline might seem insignificant, it's especially stark against growth of 28% in 2021.
The other problem is TikTok. The viral Chinese-owned social media platform has quickly become an intense competitor to Meta properties. Tik Tok was the most downloaded mobile app in 2021 and so far in 2022.
Meta shares on Tuesday came under heavy pressure. The stock declined by 9.4% to $153.13, its lowest level since 2020.
Although shares trade at only 13.3x forward earnings and 3.4x sales, investors should worry about further downside risks. The 2020 low is $137, and that level is definitely now in play.
Also, analysts are likely to rein in earnings expectations as Meta slashes its e-commerce ambitions. The next several months should be rough for shareholders.
All the best,
Jon D. Markman
P.S. If you enjoyed this issue, check out my paid service, The Power Elite. Members of this service are currently sitting on open gains of around 137%, 119% and 147%!