Moderna's High Efficacy Means High Share Prices
Medical researchers are using what they know about our immune system and computers to make startling advances. There has never been a better time for investors.
When shares of Moderna (MRNA) closed Tuesday, they were up 19.6% after company executives announced a jointly developed vaccine showing great efficacy fighting cancer in stage 3 and 4 melanoma patients.
Let's take a look at MRNA's price chart …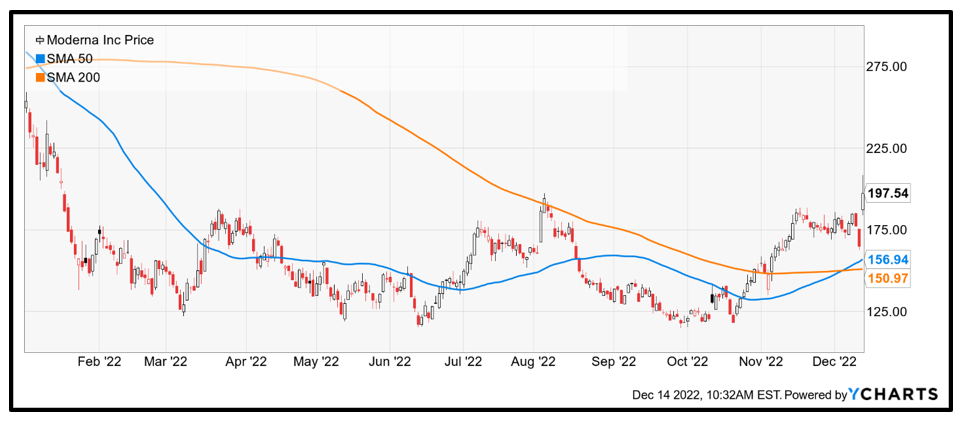 MRNA price chart.
Click here
to see full-sized image.
Investors should buy Moderna shares into any future weakness.
Moderna has been working since 2019 with Merck (MRK) to develop mRNA-4157/V940, a personalized mRNA therapy. And Merck announced in October that the company would pay $250 million to pick up its option to take a larger portion of the partnership.
Clearly, Merck executives were expecting positive results from the ongoing early stage patient trials.
Related Post: Invest in the Face of Fear
Moderna is famous for its groundbreaking work with messenger RNA technology. The Cambridge, Massachusetts-based company develops vaccines that effectively teach a patient's immune system to mobilize and fight illness.
This is the same tech that was used to quickly develop a vaccine for the COVID-19 virus. Now the company is pushing beyond respiratory illnesses and working to develop drug treatments that can attack solid tumors, like cancer.
This is a big deal.
A vaccine that teaches a patient's unique biology to fight these cell malfunctions changes everything. The use cases are numerous, with far-reaching implications for medical research and health science.
Separately, Pfizer (PFE) executives said Monday at an investor presentation that mRNA technology will contribute $10-$15 billion in sales by 2030.
Moderna and Merck have a good head start on the competition. The jointly developed mRNA-4157/V940 is a truly personalized vaccine tailored to the neoantigens found is the patient's tumor.
Reuters reports that the treatment is being used in conjunction with Keytruda, Merck's blockbuster cancer treatment. A phase 2B trial enrolled 157 people with stage 3 or stage 4 melanoma. Adding the personalized vaccine reduced the risk of recurrence or death by 44%, versus Keytruda alone.
Moderna CEO Stéphane Bancel called the results a home run in an interview with CNBC. He also pledged to move the development of personalized mRNA vaccines to many more types of cancers.
Bancel is telling the story that will drive big gains in the stock price.
He is reiterating that research is groundbreaking and scalable. He is branding the technology as immunotherapy 2.0. And he is promising many more potential drugs that can be made quickly, in the same way COVID-19 vaccination doses were scaled.
The COVID-19 experience is partially responsible for the current $17 billion cash hoard on Moderna's balance sheet. It's money that Bancel says will fund new research and development, and the construction of manufacturing facilities capable of producing personalized vaccines at scale.
Related Post: More Pain for This Bank Stock After 85% Loss
The company currently has 30 vaccines in development, including an inhalable product for cystic fibrosis, being jointly developed with Vertex Pharmaceuticals (VRTX). Moderna will also work closely with Merck and its Keytruda portfolio for cancers that affect the breast, skin, colon, uterus, cervix, stomach, kidney, gut, liver and bladder.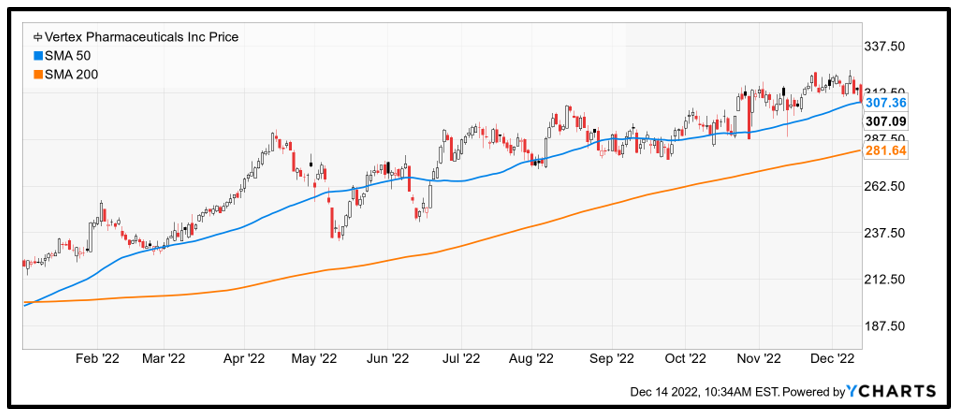 VRTX price chart.
Click here
to see full-sized image.
Shares closed Tuesday at $197.54, slightly below the August high. A rally beyond that level will set up an advance to $379, the level of the 2021 technical breakdown. That advance would represent a rally of 91.4% from current levels.
The stock trades at 37.5x forward earnings and 3.7x sales. Given the digital nature of Moderna's research, the company has gross margins of 79.2%, and its profit margin is 55%. The comparable metrics from Pfizer are 65.5% and 29.9%, respectively.
The stock was a big winner on Tuesday, however, the upward trajectory is only beginning. Investors can buy the stock on any pullback to $185.
I recommended in October that members of the Weiss Technology Portfolio buy Moderna shares at $118 and reiterate that suggestion for everyone now. Just make sure to conduct your own due diligence beforehand.
All the best,
Jon D. Markman
P.S. If you still haven't joined my friend and colleague Tony Sagami's Disruptors & Dominators, now is the perfect time. You can grab some end-of-year gains, just like members of his service who are currently sitting on open gains of 39%, 30% and 18%!