Smart Scalability Survives & Thrives
Technology stocks are in a rut. Investors are worried the sector has been in a bubble since the March 2020 COVID-19 crash, and that current weakness is the start of a great reckoning.
That's simply not true.
On Tuesday, analysts at Morgan Stanley (MS) drew comparisons to 2000, the last great tech bubble. Their research says investors are still paying too much for innovation.
Scalable innovation is still rare … and now historically inexpensive.
On May 13, a SpaceX rocket carried 53 small satellites into low Earth orbit. The accompanying booster detached at the edge of space, performed a complex telematic maneuver, then landed autonomously on an unmanned drone ship 300 miles off the coast of California.
It was the 120th successful landing of a SpaceX reusable booster. The private company, based in Hawthorne, California, then proceeded to perform this complex operation two more times through the course of the next week.
The Age of Miracles & Wonders
Investors have mostly gotten the era right. The valuation of privately held SpaceX has stretched to $125 billion, according to a report published in May at Bloomberg.
The problem, like in 2000, is that too many non-scalable innovations became overpriced.
Related Post: Digital Transformation Is Our World
And, sure, there have been some glaring examples of this being true ...
Virgin Galactic Holdings (SPCE) was a special purpose acquisition company (SPAC) hyped into the stratosphere by Wall Street investment firms. The space tourism firm was supposed to build a brave new business by launching well-heeled humans into the heavens.
In 2020, Morgan Stanley analysts said the shares were worth $70. Virgin Galactic stock did rally to $62 last February before reality set in: The market for space tourism isn't scalable, and the fledgling company didn't have the high turnaround rockets even if rich people were lined up in droves.
Shares crashed and burned. The current price of around $7 is more accurately aligned with the value of the actual business.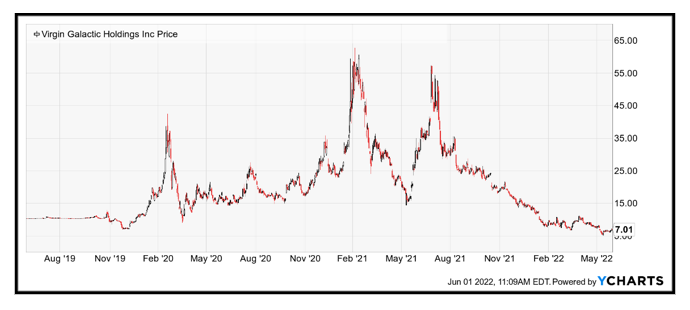 The research firm Audit Analytics notes that the average SPAC is down 60% from its highs. Many others are warning they will go bust.
There's certainly lots of overvaluation … but DO NOT get those types of companies confused with the true digital transformation winners.
Analysts at Morgan Stanley are now conflating these smaller, non-scalable businesses with Big Tech platforms. It's a reckless analysis that negates the importance of scale.
This leads me to the perfect story.
In 1995, Bill Gates, the founder of Microsoft (MSFT), appeared on Late Show with David Letterman.
When Gates gushed about the promise of the internet, Letterman pointed out that everything then possible online could easily be duplicated with existing technology.
To Letterman's untrained eye, the internet seemed needless because he couldn't see the benefits of scale. When Gates argued that media could be backed up and offered on demand, Letterman deadpanned, "Have you ever heard of a tape recorder?"
In reality, all the things mentioned by Letterman are far more easily scalable with the internet. Looking back at that great interview, it's laughable.
Bearish analysts are making the same nonsensical arguments today about more important, scalable innovations. The rapid advances in cloud networks have made supercomputer-level processing available on demand, and it's changing everything.
Related Post: Meet the Metaverse
Disaggregation moved computing might into figuring out rocketry, transportation, logistics, biology and almost every other advanced technology field.
Several public and private companies are beginning to emerge as logical winners. And thanks to the technology rut, many of those businesses are cheaper than they have been in years.
SpaceX is a private enterprise founded by Elon Musk. The company's launching thousands of small satellites that are bringing high-speed, low-latency internet at reasonable prices to unserved parts of the globe.
There's no current way for average investors to acquire shares, yet it's possible to buy stock in Tesla (TSLA). The electric vehicle (EV) maker is a major technology company masquerading as a car business.
The scalable wonder in full self-driving, cloud-based software available to hundreds of thousands of Tesla EVs on demand. Full automation is a game changer. It's a safety leap, while making fleet logistics several magnitudes cheaper.
There have been excesses in the tech sector. Some still exist.
However, investors are wrong to conflate small, non-scalable tech businesses with the large innovative platforms. Many of these businesses are now historically inexpensive.
It is probably still too early to move fully back into tech. The shares of many important businesses — even Tesla — remain well below key moving averages. But investors should be aware that tech isn't a monolith.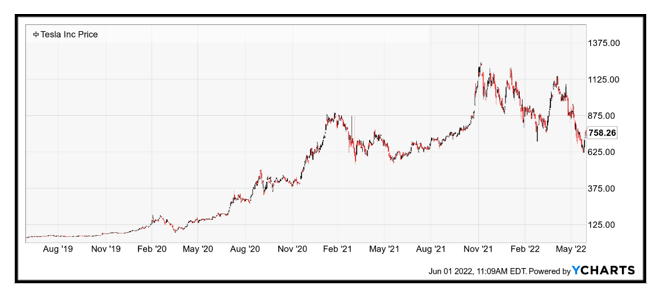 It's time to put scalable platforms — especially the quintessential ones like Tesla — on your radar.
One note of caution: Technology can disappear just as quickly as it can emerge. It's the unknowns that can cause great advancements to become meaningless memories.
Black swan events that strike out of the blue can throw the world into turmoil and turn incredible tech into a luxury item that gets defined as "nice to have" rather than "need to have." However, investors can easily protect themselves from these unpredictable events with a simple strategy featured in this free short investor broadcast. Click here for all the details.
Best wishes,
Jon D. Markman