The EV-Maker That Powers Past the Competition
Elon Musk is in the process of materially disrupting the automotive sector ... yet not in the way most investors think.
The lever is the machine that builds the machine.
On Sunday, Tesla (Nasdaq: TSLA) announced that the company produced a staggering 305,840 electric vehicles (EVs) in the fourth quarter of 2021 — an 87% increase year over year.
But it doesn't look like the success will stop there … the best is yet to come.
Skeptics laughed when Musk claimed the right electric vehicle could move the automotive world toward EVs.
Related Post: Electric Dreams Fuel Major Upgrade for Ford Shares
Car company executives scoffed that there was no demand — but even if there had been, that Tesla had no expertise building cars.
The initial Roadster launched in 2008. It was a limited-production success. The Models S, X, 3 and Y now have significant backlogs as demand swells far beyond production capacity.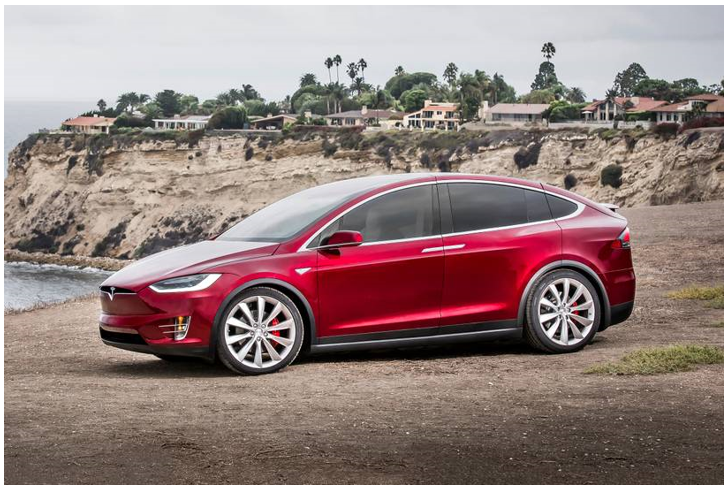 Tesla's flashy Model X. Source:
edmunds
And now Tesla is proving that it is the most efficient vehicle manufacturer in the world by a wide margin.
Musk is quick to point out that it's easy to build EV prototypes and issue press releases. The hard part is production — building the machine that builds the machine.
Engineers have been tinkering with processes since 2010 … when the first Tesla mega factory opened in Fremont, California.
With a mantra that the best process is no process, they completely reimagined how vehicles are built. The evolution was Gigafactory in Shanghai, China.
Not only is the Chinese factory producing vehicles with exceptional fit and finish, but output growth has also been remarkable.
Giga Shanghai manufactured more than 55,000 EVs during both October and November. In December, production likely reached 65,000 vehicles — an annual run rate of 780,000 units.
In only two years, Shanghai's production has surpassed eight years of manufacturing at Fremont.
Excuse my wonkiness: Capacity utilization at Tesla is bonkers.
Based on the press release on Sunday, Tesla made 68,017 more EVs, quarter over quarter. The company didn't make any significant new investment in terms of production capacity. The factory is making more with the same stuff. This means much higher gross margins and profitability.
Better still, newer Gigafactories will open this year in Berlin, Germany, and Austin, Texas. Musk says these facilities are the evolution of the Shanghai facility.
Analysts at Morgan Stanley (NYSE: MS) were out with a note to clients Monday suggesting annual production of two million units is now on the table.
Great tech companies fail fast and iterate quickly. This process is easier with software. Code can be corrected and patched while replacement software is written. Tesla is manufacturing hardware with the same processes, in real time.
Engineers have built an unrivaled machine that builds the machines.
Related Post: 2 Semiconductor Makers Cashing in on the Chip Shortage
Bears just don't get the bigger picture. They're looking at the problem upside down. They still believe manufacturing and supply chains are the core competency at legacy automakers.
In reality, those are their greatest weakness. Their self-inflicted semiconductor shortage illustrates this perfectly. These failures will intensify as future vehicles become more dependent on software.
Tesla has an ace in the hole there, too. The company is miles ahead of the industry with fully self-driving software. When this feature is turned on over the next several quarters, it will create another gigantic uptick in demand, revenues and profits.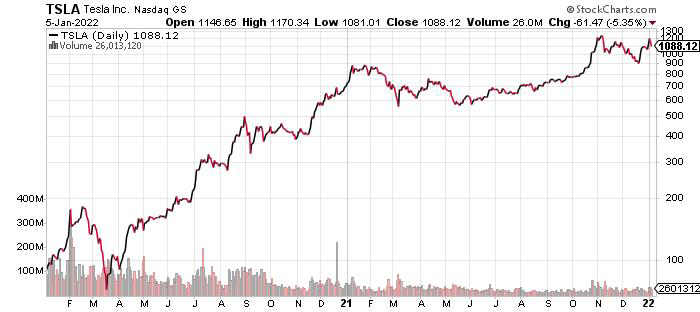 Tesla will report fourth-quarter earnings on or about Jan. 24. Based on production rates and likely operating margins, the company could earn more than $3 billion in profits.
Savvy investors should strongly consider buying on pullbacks.
Best wishes,
Jon D. Markman