This Oil Tech Titan Triumphs
Since late January, bullish sentiment hasn't exactly improved in ways traders were expecting.
Many are worried about the war in Ukraine and historically high energy prices.
Year to date, the S&P 500 is down around 10% as of this writing, and it's very hard to say when the bulls will be back in charge.
Bearish narratives are difficult to reverse, yet there is a silver lining ...
I'm talking about the fantastic new opportunities that have arisen in this market.
Many digital transformation winning companies like Apple (AAPL), Microsoft (MSFT) and Nvidia (NVDA) appear to be trading at a slight discount.
I'll repeat:
Investing in digital transformation winners is always a smart move because the trends they are capitalizing on are practically irreversible.
These firms are building phenomenal franchises with dominant positions in the emergent global economy.
Right now, energy is at the top of everyone's mind … and it's not hard to figure out why.
After all, the price of a barrel of crude oil just hit an all-time high.
How can investors look to play this trend … to try and combat the sky-high prices at the pump?
Well, one way is with a digital transformation winner in the energy sector, a pick that I've recommended to my Weiss Technology Portfolio subscribers in 2020. They are now sitting on a 122% gain on that position alone.
I can't give out other recommendations here, but that pick was Schlumberger (SLB).
Drilling up Gains
We all know what's tragically unfolding in Ukraine.
It's clear the rest of the world is going to impose economic sanctions on Russia for the duration of the war and long thereafter.
These new restrictions are having a profound impact on the price of commodities.
On Monday, The Wall Street Journal reported that during the span of 60 hours last week, the world's largest oil companies abandoned operations in Russia.
Related Post: Ford Investors Should Rev Their Engines
BP (BP), Shell (SHEL) and Exxon Mobil (XOM) all announced major divestments.
The BP investment in Rosneft, a Russian state-controlled oil producer, was valued at $14 billion late last year. BP executives told the Journal the current value is "close to zero."
The fallout from these disruptions sent West Texas Intermediate (WTI) oil prices toward $130 Sunday evening … the highest level in 13 years.
And that's where Schlumberger can steal the show. It's the world's largest oil-well service business.
The company — based in Houston, Texas — employs thousands of engineers in field operations in 120 countries, including Russia.
Its business is to help oil and gas companies of all sizes and varieties find resources more effectively. And Schlumberger works with all the leading energy firms.
Schlumberger executives turned the oil-well service into a predominantly artificial intelligence/big data operation.
That's a digital-transformation, dominator-type move.
To be fair, data crunching and supercomputers have always been a big part of the search for energy.
Many of the smartest computer scientists and the most powerful computers in the world have traditionally been aligned with energy firms.
Related Post: An Oracle Opportunity
However, Schlumberger is pushing the limits of what's possible due in large part to a 2016 arrangement with Google Cloud.
Using a cloud provider eliminates the costly exercise of building supercomputers. And Alphabet (GOOGL)'s Google Cloud offers scalable hardware, plus teams of software engineers who are at the vanguard of artificial intelligence (AI) development.
They work side by side with the Schlumberger team, offering consulting to major energy companies.
To be sure, the rapid pullout from Russian oil fields will hurt business there … but I'm not concerned at all because higher energy prices are helping boost new projects elsewhere.
Schlumberger began preparing for higher prices in the first quarter of 2021, according to prepared remarks from CEO Olivier Le Peuch.
He saw the potential for sequential margin expansion, and strong positive cash flow as the industry started an upcycle.
The forecast was prescient. Le Peuch and his team nailed it, and they were ready.
Skyrocketing energy prices means many marginally profitable projects are now feasible. It also means more fees for Schlumberger for the foreseeable future.
At the current price of around $44, the stock trades at around 16 times forward earnings and around 2.6 times sales.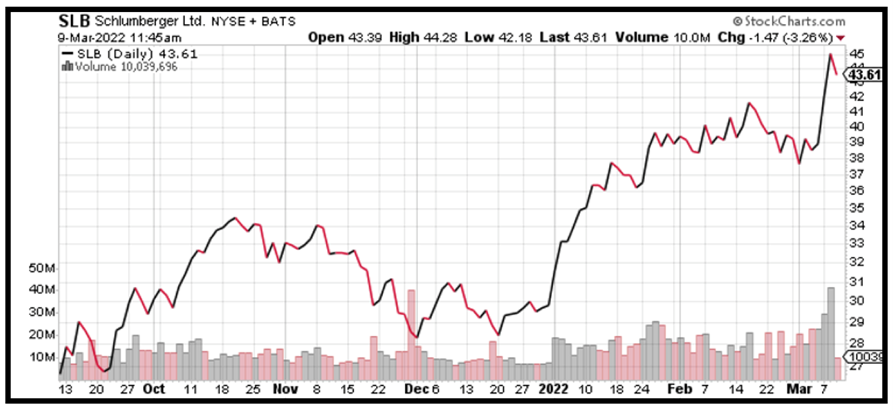 Savvy investors should strongly consider adding Schlumberger shares on any near-term pullback. Remember to always do your own due diligence before buying anything.
Best wishes,
Jon D. Markman