Wall Street Bankers on Trial
Wall Street investment banking is on trial this year, and the verdict is in: Bankers are guilty of fleecing investors yet again.
The tech-heavy Nasdaq Composite skidded 4.2% on Monday, but the carnage was far worse for new public companies. Investors slammed prominent gig economy, big data and electric vehicle (EV) firms.
Irreparable Damage
Uber Technologies (UBER), Palantir Technologies (PLTR) and Rivian Automotive (RIVN) rose to fame in the late 2010s. Hyped by Wall Street as emergent technology companies, they were supposed to be sitting atop a mountain of potential riches.
It was a good story that resonated with a lot of newer investors who felt they had missed out on the growth years of the internet.
The trio had wildly successful initial public offerings in 2019, 2020 and 2021, respectively. Unfortunately, the backstory never matched the hype.
Uber, the rideshare company based in San Francisco, was more of a cultural phenomenon than a business. Despite 13 years of effort, the company has never been profitable.
Related post: Chips Aren't Adding Up for Legacy Automakers
Continuing operations were funded with the issuance of new shares and debt. Executives explained that building a new-era logistics business to move everything is a really big idea that will require significant time and investment. So far, that idea hasn't worked out.
Shares of Uber slumped by 11.6% to $23.05 on Monday after executives explained the company will reduce spending to reach cash flow breakeven.
Palantir is a software business that was initially funded by the Central Intelligence Agency (CIA). It was essentially a Google for spies. Analysts type in queries and get reams of public and private company data, all neatly collated. The wider private sector applications seemed to invent themselves, an idea that was feverishly played up by the investment analyst community.
Although Palantir reported a wider-than-expected 8-cent loss in February 2021, analysts at The Goldman Sachs Group (GS) saw big promise for Foundry, a software platform aimed squarely at Fortune 100 companies looking to make sense of their data.
Goldman analysts upgraded the shares from "Neutral" to "Buy" and raised its price target to $34, a street high.
Shares fell 21.3% on Monday to close at $7.46.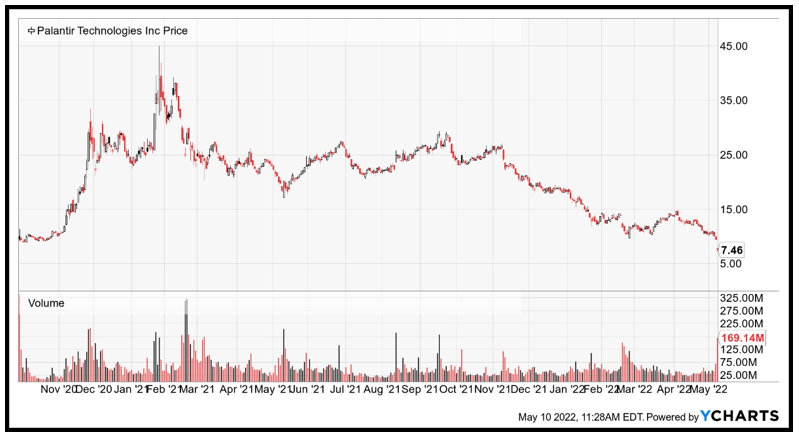 Cheerleading played a similar role in the rise of Rivian. The EV maker based in Irvine, California, debuted in November 2021 when underwriters offered 135 million shares at $78.
Related post: Put GM in Park
Within five days, the stock reached $179.47, pushing the value of the business near $170 billion. That was more than the combined value General Motors (GM) and Ford (F), an early investor in Rivian.
Rivian shares closed on Monday at $22.78, down 20.9%. Executives at Ford announced plans to sell 8 million shares at $26.90.
Uber, Planatir and Rivian are emblematic of the excesses of the 2010s investment banking scene. During 2019, only 232 initial public offerings (IPOs) were listed. A year later, that number swelled to a record 480 listings. Through the end of 2021, some 1,035 new issues hit the public markets, a staggering 120.4% increase.
There was not a surge in worthy new businesses. The increase was about investment bankers hyping narratives about the business case for emergent technologies.
According to data collected at StockAnalysis, only a handful of all those new issues now trade above their debut levels. The businesses have been a disappointment to investors because they were not ready to be public companies.
The situation is eerily similar to 2000 and the dot-com era. If history is any guide, many of these businesses are going to be acquired at significant discounts to their current valuations. Others will simply cease to exist.
With so many businesses offering bold claims but failing to follow through on their promises, investors must start identifying more reliable opportunities on which to base their portfolios — especially as the market struggles and inflation continues to hammer the economy.
For those seeking guidance on companies to include in their portfolios, consider a risk-free trial to Wealth Megatrends. Click here or call our Member Care Team at 855-278-9191 to get unrestricted access to the acclaimed publication and to receive $316 in added bonuses all for as low as 14 cents a day.
Best wishes,
Jon D. Markman