2 Sectors Cashing In on Wall Street's Growth-to-Value Rotation
"Buy when there's blood in the streets, even if the blood is your own." — Baron Rothschild, 18th century British nobleman
The markets got pounded to a pulp in the last week.
The Nasdaq-100 is leading the plunge, down more than 7.5% as tech stocks get slaughtered … and the rest of the market is bleeding so much red that it's ankle-deep on Wall Street.
The bad news is all this red ink can get deeper … a lot deeper.
The good news?
SOME sectors are actually going up ... and they can help you make a small fortune.
Look, I know it's tough to buy now.
You've probably taken a pounding on some of your stocks. But don't take it personally. It's part of the market's great rotation from value to growth, which I talked about in my Saturday column, "Profit While the Market Panics."
The market is running red because traders fear the Fed is shifting its focus to battling inflation, so it will raise interest rates higher and faster.
Goldman Sachs (NYSE: GM) is now forecasting that the Fed will hike rates four times this year, instead of the three hikes Fed Chair Powell previously discussed.
This isn't just due to the 6.8% inflation that's already being recorded ... but the market's perception that the Fed will overreact to Consumer Price Inflation (CPI) data that comes out Wednesday.
The forecast is for a CPI over 7%.
This fuels the great rotation.
Investors abandon growth stocks — many of which need low interest rates to keep their lights on due to lack of earnings — and pile into value stocks, which have real earnings.
Growth stocks have outperformed value stocks for years … but the rotation back could last a long time.
So, what will outperform going forward?
I think we got a clue in what led the pack in the past week: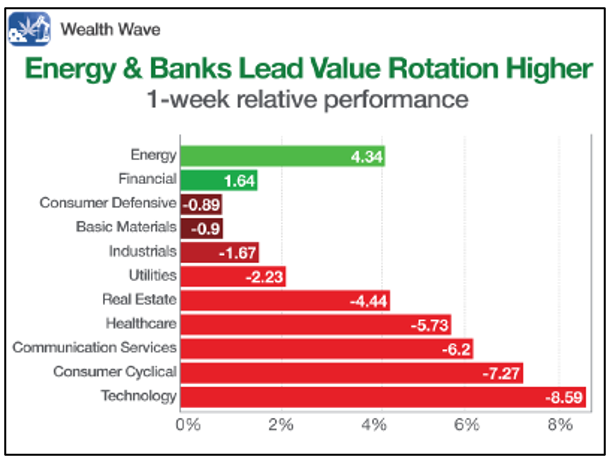 Energy stocks are going higher because …
History tells us that no sector is more leveraged to inflation than energy.
Financial stocks are going up because banks historically make more money when interest rates go higher.
It's not rocket science ... but many investors — panicked by the great rotation — are missing it.
Don't panic with the herd. Invest to make yourself some serious profits.
Last week, I recommended a leading energy exchange-traded fund (ETF). To that, you can add a financial ETF. There are plenty of them, but let's start with the Financial Select Sector SPDR Fund (NYSE: XLF).
It has an expense ratio of 0.12%, and it's packed with leading financial names, including Berkshire Hathaway (NYSE: BRK-B), JPMorgan Chase (NYSE: JPM), Wells Fargo (NYSE: WFC) and more.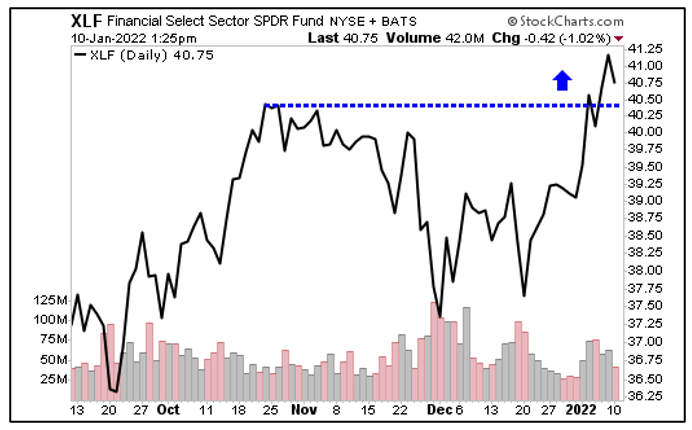 Look at that! The XLF is breaking out to the upside when much of the market is drowning in streets running red.
Nothing travels in a straight line. The XLF will pull back … and pullbacks can be bought.
The great rotation from growth to value is on. Make the most of it!
Best wishes,
Sean